Anthony Distefano's Absynth version of Aphex Twin's – Rhubarb. This was all done using the envelopes.
Just a simple tutorial on the Buchla Music Easel Envelope Detector
This video will provide instructional information on how to use the Envelope Generator onboard the Korg MS-20 mini.
For more information on the KORG MS-20 mini, head over to http://www.korg.com/ms20mini
This video will provide instructional information on how to use the Oscillators that are onboard the Korg MS-20 mini.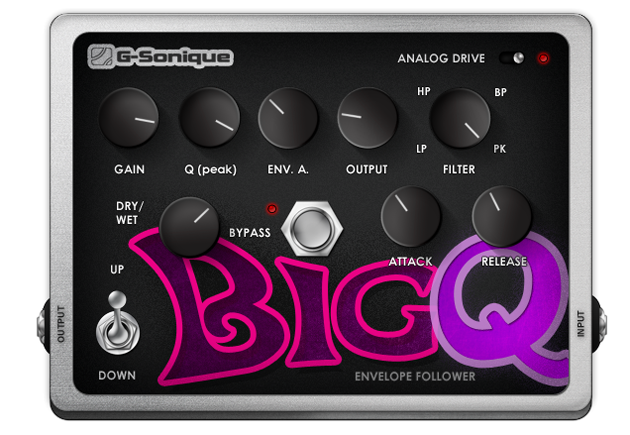 123 Creative, known for their Veldwerk synth, have released BigQ. It is a envelope follower/multifilter plugin. Cutoff (frequency) of the filter is controlled by the amplitude of the input signal. The louder you play, the more intensive the cutoff frequency of filter is modulated. Perfect for BASS guitar, Electric guitar and Drums.
Top features
– 4 selectable filters (low pass, high pass, band pass, peaking)
– Envelope follower module with attack and release knobs, which modulate filter´s cutoff frequency
– Envelope amount knob
– Input gain knob – louder is input signal more significantly is modulated filter frequency/cutoff
– Dry/Wet knob – set ratio between dry and wet (effected) signal
– Up/Down switch – cutoff frequency of filter can be modulated in negative or positive direction (up or down)
– Analog drive switch adds little bit of warm
– Bypass switch

A look at the filter envelope and how you can use it to modulate the filter over time.
Get the project here – http://goo.gl/s9hFG a detailed tutorial here – http://www.youtube.com/watch?v=4oueAwfdMUo
The Fruity Envelope Controller allows you to link any target, plugin or FL Studio, to a range of envelopes that can be triggered from a MIDI keyboard or other controller. Perfect for live performance based automation or those cases where a plugin doesn't have enough of its own internal controllers.
http://pittsburghmodular.com/adsr/
The Pittsburgh Modular ADSR is a four stage envelope generator with independently adjustable Attack, Decay, Sustain, and Release stages. An envelope generator is used to shape control voltages such as the gate of the Midi module or a square wave from the LFO2.
With a solid foundation of synth theory and even Thor's fundamentals under your belt, this week we'll be diving deeper into the filter types in Thor – looking at the State Variable Filter, the Comb Filter, and the Formant Filter. You'll also learn about the self-oscillator included with some of these filters. From there we'll move through Thor's semi-modular signal path to see how you can tap into the sound-bending power of the shaper, the mod envelope, and the Modulation Matrix.
As with all of these Synth School videos, the knowledge in here builds heavily off of previous tutorials so if you're jumping in to this one first I can highly recommend looking at past weeks to get a better understanding of the advanced concepts we're covering here.
Also: Don't forget to get your cap and gown measurements to the principle's office because graduation from Synth School is next week!
In the second installment of my "Synth School" series I'll be staying on the Subtractor synth but looking at the Filter sections, Amp Envelope, Filter Envelope, and Mod Envelope sections. The masters of synth production are masters of these tools. Something as simple as a Low Pass filter when paired with the right chord progression can lift the entire club crowd into a frenzy. The proper Amp Envelope can bring out the vibe in your song. These are powerful tools to conveying and even evoking strong emotion from what sometimes are rather sterile starting melodies or chords.
As always, I encourage you to play around with them on your own to get a feel for how they behave and interact with each other but today I'll walk you through each slider and button and show you a little of my own experimentation.