Alba Ecstasy has released a new 'analog' style patch library for the Korg MicroKorg.
Here's what he has to say about the Analog MicroKorg sound library:
It's time to improve your MicroKorg!
96 ANALOG style presets by Alba Ecstasy, containing powerful & phat basses, rhythms , leads, arps, pads.
MicroKorg is not an analog synth – but now, it can sound like one!
All you can eat KORG;
Inspired by the new MS-20 Mini, our friends in The Spinto Band recently embarked on a Korg-based remix project of their infectious single, "Shake It Off", taken from their latest LP, "Cool Cocoon". Making use of MS-20 Mini, Monotron Delay, Monotron Duo, Monotribe and plenty more from the Korg family, they offer a unique spin on their sound!
For more on The Spinto Band:
http://www.spintonic.net (You can buy "Cool Cocoon" here!)
https://www.facebook.com/SpintoBand
https://www.twitter.com/SpintoBand
Korg.com Artist Profile at http://www.korg.com/Artist.aspx?artis….
Download this exclusive remix of "Shake It Off" at http://snd.sc/19IojGV.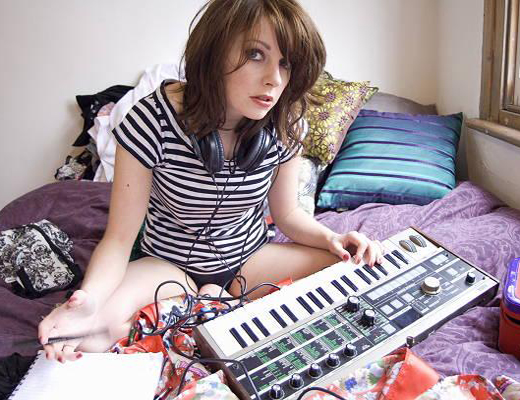 Korg has released a new free soundbank for the microKorg synthesizer.
Here's what they have to say about it:
These 128 custom sounds from Korg USA are truly a micro makeover, pushing the powerful microKORG analog modeling engine to deliver a fresh and wild collection of leads, basses, atmospheric textures, arpeggiations, motions synths, rhythmic grooves and much, much more to explore. Take your microKORG and your music to new levels with this exciting new sound set!
Download the new sound library right here >>
A look at the filter envelope and how you can use it to modulate the filter over time.
Background information and tutorial settings below:
This is a MicroKorg tutorial showing how to make the synth lead sound from my "Sunday Synth Jam" Video: http://www.youtube.com/watch?v=pp8620beSxY If you have questions or comments, go ahead and post them below!

Thanks for watching!
____SETTINGS:____
Initialize the sound on the MicroKorg by pressing SHIFT + 3 and then 3 again.
Pitch: 0 – 0 – 10 – 5 – /
Osc1: SIN – 0 – 0 – / – /
Osc2: SQU – SYC – 12 – 0 – /
Mixer: 127 – 54 – 0 – / – /
Filter: 12.L – 61 – 84 – 15 – 19
Filter EG: 0 – 0 – 33 – 31 – ON
AMP EG: 0 – 77 – 64 – 107 – ON
LFO 2: SIN – OFF – OFF – 12 – /
Patch 1: LFO.2 – CUT – 10 – / – /
Patch 2: LFO.2 – 2.TN – 10 – / – /
Mod FX: ENS – 50 – 99 – / – /
Delay: L-R – ON – 1.4 – 50 – /
Press SHIFT + WRITE and then WRITE again to save the sound to the current slot.
Background description:
www.atomosynth.com
Hello this is my cover of Daft punk derezzed, using the AtomoSynth Krakken analog synthesizer for the lead (great for knob tweaking !!), a MkorgXL for the sub bass and Motif for the 909 drums, all sequenced by midi and recorded in Cubase in one take…
DEMO by Katsunori UJIIE.
Playing the EMW WCS-1 synthesizer module using a microKorg and a reverb from a Behringer mixing console.
"I really do like the sounds of the MiniBrute and the MicroKorg, especial when they are together to make one."
Live Ambient Improv – Angstrom's Looper VST w/ Waldorf Blofeld, Roland XV-5050, Roland Alpha Juno 1, Roland HS-60, MicroKorg, and Arturia Minibrute.
"The audio and video isn't totally in sync – my camera doesn't have an audio in, and without a beat, it's hard to sync up. It's close enough for ambient though."