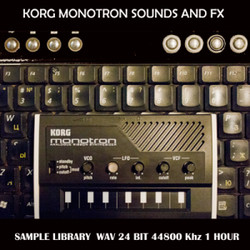 Softrave announced Korg Monotron Sounds and FX, a collection of analog synth samples and effects from the Monotron synthesizer by Korg.
This library represents 1 hours of recording mono 24 bit 44800 Khz flow of noise effects weird bleeps basses and fx

I did not make any loops, special melodies sample banks or any improvements. You are welcome to do that by yourself in a way it fits your sampler or DAW. I think you can find at least 1000 really cool analog sounds , loops & special effects in this recording
The sample pack is available to purchase for $9.99 USD / 7.39 EUR.
All you can eat KORG;
Inspired by the new MS-20 Mini, our friends in The Spinto Band recently embarked on a Korg-based remix project of their infectious single, "Shake It Off", taken from their latest LP, "Cool Cocoon". Making use of MS-20 Mini, Monotron Delay, Monotron Duo, Monotribe and plenty more from the Korg family, they offer a unique spin on their sound!
For more on The Spinto Band:
http://www.spintonic.net (You can buy "Cool Cocoon" here!)
https://www.facebook.com/SpintoBand
https://www.twitter.com/SpintoBand
Korg.com Artist Profile at http://www.korg.com/Artist.aspx?artis….
Download this exclusive remix of "Shake It Off" at http://snd.sc/19IojGV.
A 1st generation Nanoloop (cartridge for Gameboy classic) and a modified Korg Monotron are synced by a Roland TR-626. Nanoloop is triggered by the rimshot pattern of the 626. The sawtooth LFO (low frequency oscillator) of the Monotron is triggered by syncuino (http://chemiker1981.blogspot.com/) and the cutoff frequency of the Monotron analog filter is controlled by a sequence generated by Syncuino.
Home-made synth + modified Korg Monotron, both synced by Syncuino (http://chemiker1981.blogspot.com/)
A synth jam with the Standuino Trio.
Gear used in this video:
Standuino frauAngelico drum machine (www.standuino.eu),
Standuino fraAngelico digital synth,
Standuino MicroGranny granular sampler,
Korg Monotron (filter LFO effect),
Korg Monotron Delay (delay effect),
MIDI-Sequenced with an Akai MPC500.
Filmed with a Canon Rebel t2i (550D).
Background video description:
This is a live improv recorded with synthesizer and voice, I made up the song shortly before filming this in 2011. The MonoTribe was still new at that time – consider what can be done with the MS20 Mini will be when it arrives soon?
Instrument is KORG MonoTribe. Sound wave display on the screen is Modul8 VJ Software by Garage Cube.
Using the Korg Monotron (Pocket Synth) As Analog Video Filter.
PixiVisor is a revolutionary tool for audio-visual experiments. It is based on the video signal transmission over audio (you can listen to the sound of your image).
More info: http://warmplace.ru/soft/pixivisor
Music: http://soundcloud.com/nightradio/anal…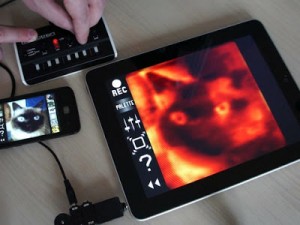 PixiVisor is a revolutionary tool for audio-visual experiments. Simple and fun, cross-platform application with unlimited potential for creativity!
It consists of two parts: Transmitter and Receiver.
* Transmitter converts the video (static 64×64 image or 10FPS animation) to sound, pixel by pixel (progressive scan). This lets you listen to the sound of your image. But the main function of the Transmitter is to transmit the signal to the receiving devices.
* Receiver converts the sound (from microphone or Line-in input) back to video. You can set the color palette for this video, and record it to animated GIF file.
Key features:
* file formats supported by Transmitter: JPEG, PNG, GIF (static and animated);
* real-time video export to animated GIF;
* 64 predefined color palettes;
* iTunes File Sharing;
* Wi-Fi Export/Import (in the File menu of the Transmitter);
* it also available for Android, Windows, Linux and OSX;
* more functions in the next PixiVisor updates…
Examples of use:
* wireless Lo-Fi video transmission over audio;
* video signal transmission through audio cable; you can then modify that signal by some mixers or audio FX processors;
* VJing;
* sound visualization;
* save any sound to animated GIF;
* hide some images and animation in your music;
* searching for hidden messages in the ambient noise; EVP;
* something else; reveal it first!
Official PixiVisor homepage + test broadcasts + more videos:
http://warmplace.ru/soft/pixivisor
This is a compilation of the possibilities of a LFO-sync modded Korg Monotron analog synthesizer.
In this mod (see also http://stevewoodward.posterous.com/lfo-reset-point-on-korg-monotron), the low-frequency oscillator (LFO) of the Monotron (sync slave) can be retriggered by pulse signals in this case from a Roland TR-626 rhyrtm computer (sync master). The trigger signals sent by the TR-626 can be programmed by its rimshot pattern. Shuffled notes of the sync master are directly introduced into the Monotron LFO, to give also a shuffle effect.
Advantages of this mod is the low-budget (~2$, only a few cables and a 3.5 mm plug are needed) and the possibility to sync other music devices to the TR-626 via MIDI at the same time. Like shown here a Nanoloop (http://www.nanoloop.de/gameboy) cadtridge for Gameboy Classic, can also be synced with the same pulses.
This LFO-sync Mod enhances the possibilities of the Korg Monotron significantly.
It allows to use the synchronized Monotron analog filter LFO for external audio, as well as for the internal voltage controlled oscillator (VCO).
If the Monotron LFO frequency is tuned higher the retrigger frequency of the sync master, there is also the possiblilty of cross-modulation effects, like for the unsynced version.
—————————————————————–
https://sites.google.com/site/synthaquarium/
WerkBench for the phone is here!
Just a quick jam to show off our newest release with the help of one of our favorite musical toys: the Korg Monotron.  WerkBench for iPhone is a streamlined sampling step sequencer based on our quirky and powerful iPad app.  It is simple and does its job very well. Press a button and make a sound.
WerkBench features:
–"Fancy Controls" (pitch, lowpass filters, envelopes, and more!)
–Edit pitch and level independently for every step!
–Funky lo-fi tape echo for spacey effects.
–Save and load loops or whole sets of 4 patterns.
–Export loops and recordings via Audio Copy, iTunes file sharing, and email.
–Custom scales (never play a wrong note!)
In the app store around the world on Friday the 14th:
https://itunes.apple.com/us/app/werkbench-for-iphone/id585758206?ls=1&mt=8
More info:
http://www.bolasol.com/werkbench
The cut-off frequency of the Korg Monotron analog low-pass filter is controlled by an Arduino micro controller and a DAC chip.