Toa Mata Band is known as the World's first LEGO robotic band controlled by Arduino Uno which is hooked up to a MIDI sequencer. In this video, the third episode, the robots are playing some unconventional drum-percussions made by some food packaging are captured by a contact microphone (piezo) and processed in real time in the D.A.W. Ableton Live. A brand new device appears for the first time, it's a moving platform on x-axis, made of Lego bricks, gears and servo motors that permits to move with semitones-steps the tiny synth.
The song is a cover of the famous synth-pop band Depeche Mode, it's a personal tribute to the band who made my days in the 80's.
The performance was recorded live in July 2014.
This video is only a showcase of my works, it's not for commercial
use.
Artwork:Giuseppe Acito
Camera: Luca Zanna for ZeD video project
Music: Martin Lee Gore
Performed: Acito & Toa Mata Band
opificiosonico@libero.it
http://www.opificiosonico.com
https://www.facebook.com/ToaMataBand
https://www.flickr.com/photos/opifici…
https://twitter.com/OpificioSonico
PS/2 Keyboard Synth with drum and bass sequences,
programmed on arduino Nano.
Sound generation by S1 Wavetable MIDI Waveblaster Compatible Synth (http://www.serdashop.com/)
Crappy noisy sound due to nikon camera microphone used in this video.
In reality it sounds like this : http://youtu.be/ZNzDZ4HZ4p8
Project information and link to source code :http://hackaday.io/project/2148
The Grassi Box is a MIDI-to-relay piece of hardware (built by Dan Wilson of Circitfied) based on an Arduino teensy and some accompanying software tools built in Max. The idea is to be able to control a variety of my ciat-lonbarde instruments from a computer.
In this video the audio from the guitar is being analyzed (in real-time) to find the nearest preset/combination/permutation from a set of 6884 pre-analyzed presets.
Filmed by Angela Guyton
For more information visit:
rodrigoconstanzo.com/grassi-box
angelaguyton.com
noizevil Shooting Star, WMD Geiger Counter, Mooer Ana Echo, Arduino, LED Strip Light
noizevil
http://www.noizevil.com/
A Lego Sliding Puzzle Sequencer Controls NI Maschine to sequence three littleBits Synth Kits through control voltage (CV) from an Arduino.
Also sends out OpenSoundControl OSC and audio to control reactive visuals on different computers.
Interacting with rythmic patterns through a tangible sliding puzzle allows for some interesting polyrythmic adventures.
What's going on there?
Lego bricks can be placed on a eight transparent Lego base plates (16×16) to create rhythmic beat patterns.
Each of the eight baseplates holding the patterns can be moved around on a transparent surface. Whatever pattern (or part of a pattern) is placed in the center of the surface is filmed from below using a Webcam. The image of the brick pattern is analyzed and converted into Midi and OSC Messages that are sent to an Ardunio board, the Maschine Software (and another computer that generates dynamic visuals from the OSC Messages and the audio). An Arduino board turns the Midi Messages into control voltages to control three littleBits Synth kits that generate the sounds. Additional sounds can be injected from the Maschine software.
Made at Music Hack Day 2014 at the Sonar Festival, Barcelona.
https://www.hackerleague.org/hackatho…
http://new.musichackday.org/2014/barc…
See the original LegoTechno Sequencer in action here: https://www.youtube.com/watch?v=B5uwn…
The Team:
Kristian Gohlke / Bauhaus-Universität Weimar
Michael Hlatky / Native Instruments
Tobias Baumbach / Native Instruments
Mickael Le Goff / Native Instruments
http://bauhausinteraction.org/
http://www.native-instruments.com/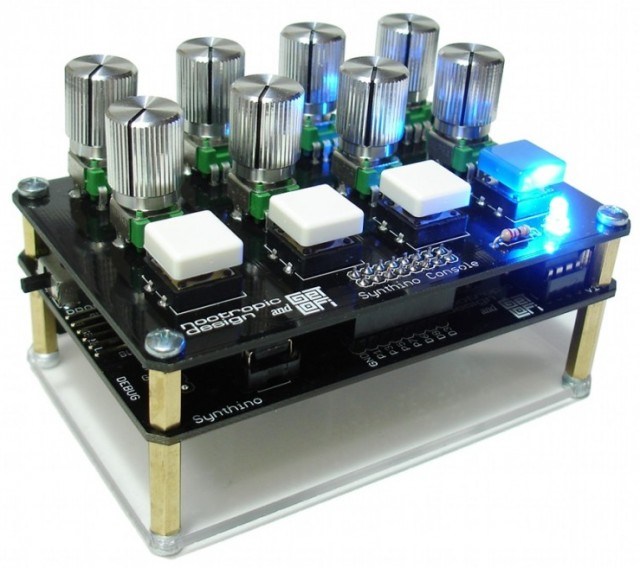 Synthino is a new Arduino-based synthesizer, a collaboration between two Minneapolis-based DIY kit makers (nootropic & GetLoFi) and members of TC Maker, a non-profit Minnesota based organization focused on growing the maker community.
The Synthino is designed to be powerful, compact, low-cost and hacker-friendly.
Features:
True 12 Bit DAC ( Digital Analog Converter )
MIDI IN standard 5 pin connector
4 Independent channels
4 Note polyphony
8 Analog potentiometer controls
True Envelope A-D-S-R
LFO with Rate and Depth
Upgrades planned
Arduino platform built-in
Software updates are easy to install
FTDI interface compatible
Easy to assemble
Highest quality components
1/4 and 1/8 Inch audio outputs
Over 4000 wave forms available!
Low cost synthesizer
DIY and Hacker friendly
2.1 mm Boss style connector
9 Volt battery power option
Compact customize-able design
Available as a kit or assembled
Acrylic or wood case options
An overview of all the features on my "Teensy Synth".
You can find the materials to make this synthesizer in the Arduino Projects section of www.brianpeters.net
Hear this synthesizer in action with 4 other chip-based synthesizers:
https://www.youtube.com/watch?v=D0git…
https://www.youtube.com/watch?v=ZfXdt…
This is a sequencer that Charlie Slick built with an Atmega arduino chip.
The chip basically replaces the CD4017-or the like-but adds a few features like gate controlled reverse and random. The modules also has an offset input so you can use it like an arpeggio. There is no gate output but it does have an externally trigger reset.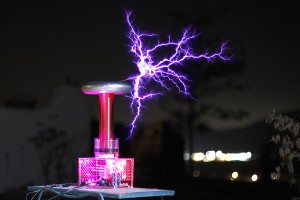 Peff has a new item out – a pulse wave oscillator called the oneTesla, here's what he has to say about it:
For those who follow my social media streams, you may have already seen the various DIYAudio, DIYSynth, DIYrepair projects going on around here for the past year. One of these projects is the oneTesla Musical Tesla Coil kit. In "synth speak" it's essentially a pulse wave oscillator. The oneTesla incorporates an arduino brain that receives MIDI note information, and the sparking plasma threads emitting from the coil oscillate at musical pitches. I certainly recommend the kit if you're looking for a fun weekend project, however it may require some debugging and may also require the need for a function generator and oscilloscope. Over the past year it seems that the development team has ironed out the kinks in the design and even novices generally have great success in their builds.
The link below is an archive of the multisampled notes generated from the oneTesla. I've provided the archive as a folder containing an NN-XT patch. The audio was recorded at quite a distance from the Tesla coil, mainly because I didn't want the coil to discharge through the microphone, but also because the output is incredibly loud. The recorded results aren't as impressive as having the real-time audio-visual experience, so get a better "feel" of the actual sound, it's recommended that you run the sampler output into a peak limiter and push the gain up 3dB to 9dB, and play the samples back at very high levels. The coil is sampled note-by-note from MIDI C0 to C5, and you will hear "spark" artifacts and a few obvious loop edits.
oneTesla-TeslaCoil_samples.zip
http://groovesizer.com
A demo of infinite random mode, accents, and pattern chaining on the Groovesizer Alpha.
The Groovesizer (pronounced groove-a-sizer) is a DIY 8-bit audio platform. It's a musical chameleon that can take on a number of different roles from sequencer to synth, drum machine, or midi controller. Exactly what the Groovesizer is at a given moment depends on the firmware it's running. Existing firmware can be freely hacked, or new firmware developed using the beginner friendly Arduino IDE. Firmware is loaded to the board directly from the Arduino IDE, either via an AVR ISP programmer, or by flashing the Atmega chip on an Arduino board and swapping it out.

The Groovesizer is based around a custom PCB that features 6 potentiometers and  5 rows of 8 tactile switches and leds  (4 rows for the sequencer / trigger buttons and 1 row dedicated to control functions). It features an integrated Arduino clone, an 8-bit DAC option, an LM386 amp output, MIDI in/out/sync and is configurable to work with some of the most popular existing Arduino audio projects.

Furthest along in its development is the Alpha firmware which features a 3 oscillator monosynth attached to a 32-step sequencer with 112 memory locations to store patches and patterns.