Play House is an automata that generates slow hypnotic acid house through mechanisms built from LEGO Technic. This piece was made for AudioGraft 2014 with a commission from Oxford Contemporary Music. A modular synth project created by Alex Allmont, that generates acid house music.
Behind the scenes: Today the plan was to hook this sequencer up to the TB303 but here was a lot more fiddly stuff than expected, so this video just demonstrates the note matrix which will eventually send CV note values over to the synth. Each note is triggered on a quarter note (I'm limiting the sequencer to 2 beats per bar rather than 4) and each relates to a single column in the note matrix. How far up or down that column makes contact with the row determines the note pitch value.
LegoTone Synth
ClearTone Synth with LFO inside a nice lego project box with a house, dog, flowers, LEDs and a female figure drinking away to the synths excellent sound!
.fd. online
Facebook – http://www.facebook.com/pages/freeform-delusion/144587583120
Twitter – http://twitter.com/#!/freeformd
eBay – http://www.ebay.co.uk/sch/freeform-delusion/m.html
Earlier this Summer, Stefan Poiss, the mastermind of THYX and mind.in.a.box announced about a new project he was starting. This was a project he was doing together with all of the fans to THYX and mind.in.a.box and everyone could send him sound material and Stefan would be creating a song from that material. The experiment is now finished and you can listen to the result. The video is created by Justin Arnold.
Background description from Thyx:
This is an experiment I did with all mind.in.a.box and THYX fans via facebook. Everyone could send me some sound material, noises, whatever they want and my challenge was to create a whole song with this material.
It was not so easy. Most of the people sent me whole songs not just sounds. So first I had to listen carefully what I can cut and use. Bassdrum and Snare for example was cutted out from some songs they've sent me. I created sample sets from every sound. but it was too less. I needed some more and different sounds and so I began to build waveforms from the sounds. Zoom in, cut only one wave… load it into the sampler and let it loop.
The Lyrics I got from two guys. I mixed it so half of the lyrics are coming from one guy, half from another guy. I hope they will forgive me.
After creating a structure of the song I did a small loop for the refrain and posted it on facebook. Everyone should play this loop and record their singing with their handy or whatever device they have. I got about 25 recordings and I tried to build a chorus with them. Most important was that the timing from the singing from every recording was good. So I had to cut and trim a lot (and laughing a lot

) but in the end it went far better than I expected.
So this was it. The experiment called "Tape Evidence". Every sound source from this song comes from the fans, except my voice of course. I really learned a lot and had a lot of fun during this project. I think even this song, where every sound source came from different people, sounds a little bit like mind.in.a.box or THYX. This is one of my big realizations of this project.
Big thanks to Justin Arnold who did this amazing LEGO style video!
…and thanks to everyone who was involved!
The song is free to download via our facebook page. I will post a link there soon.
http://www.facebook.com/thyxmusic
A little song made possible by the new Brick Shaft accessories!
SoundMachine is a 4 track 8-step drum sequencer that uses the LEGO Mindstorms NXT to scan a set of drum "notes" which are then played using Ableton Live. The NXT uses four colour sensors to detect the colour of 2×2 LEGO bricks as the plate is scanned in. A controller written in Processing interprets the colour pattern and sequences MIDI note messages to send to Ableton Live, which in turn plays the sounds you hear.
The music on the video was created by SoundMachine itself – music you can build!
The MOLECULE SYNTH is a unique musical instrument.  It is like a traditional keyboard synthesizer that has been broken into its elements:  speaker/amp, sound generator, and pitch control.  With the MOLECULE SYNTH SET you decide how to put those elements back together using simple, color-coded, interchangeable hexagons.  The MOLECULE SYNTH combines LEGO-interchangeability with Synthesizers with Physical Electronics.
I was inspired to create the MOLECULE SYNTH by experiences circuit bending toys and building my own electronic instruments, and I wanted to make something with sounds that were more wild and less predictable than what comes from traditional keyboards. I wanted an instrument that was more interesting than just pushing buttons, but I also wanted to get away from the "black box" pre-fab technologies that makes us all passive "consumers" using someone else's designs. So I made the MOLECULE SYNTH to be an open ended, hardware-based, stand-alone musical instrument that is easy to hack & modify, that is DIY to the core, that totally rocks, sounds amazing, and is guaranteed super fun to play!
There is a pretty weird group on Flickr building album covers in Lego. Tons of famous artists of all genres are represented here with their most memorable albums entirely done in Lego building blocks. As always, fun but entirely useless, hehe. Check it out here >>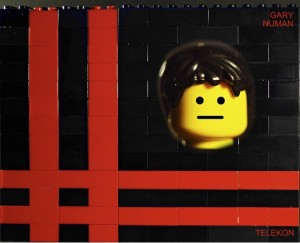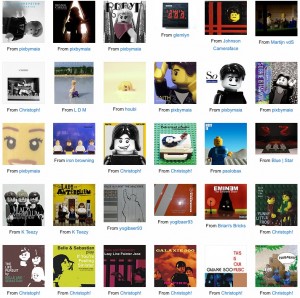 Moog Minimoog – Fully Operational MIDI Interface – Demo Video Coming Soon