"I really do like the sounds of the MiniBrute and the MicroKorg, especial when they are together to make one."
Live Ambient Improv – Angstrom's Looper VST w/ Waldorf Blofeld, Roland XV-5050, Roland Alpha Juno 1, Roland HS-60, MicroKorg, and Arturia Minibrute.
"The audio and video isn't totally in sync – my camera doesn't have an audio in, and without a beat, it's hard to sync up. It's close enough for ambient though."
Introducing the Krome Music Workstation. Powerful yet affordable, Krome provides sound quality and features unheard of in its class. Experience huge, Kronos-derived acoustic piano and drum sample libraries, large electric piano libraries, and hundreds of additional sounds to jump-start your creativity. The widescreen color TouchView™ display and hands-on controls make performing or creating your music easy, fun, and inspiring. For more information, please visit www.korg.com/krome.
The next step in the legendary Micro line of synthesizers is here! MicroKorg XL+ delivers a fresh update to the sounds and look of the MicroKorg XL, making it an ideally versatile compact keyboard. It includes a reimagined palette of analog modeled sounds, PLUS new dedicated PCM for Korg's SGproX piano and M1 organ, well-known VOX organs, and instantly recognizable "Tape" instruments. The new all-black panel ups the "New vintage" vibe that looks great on stage or in the studio.
microKORG XL: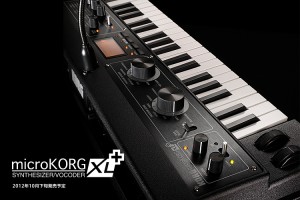 With its unmistakably unique exterior and its inimitable sound, the microKorg set the standard for analog modeling synthesizers. The year 2008 saw the introduction of the microKorg XL, which inherited the microKorg's fat and powerful sounds, while adding keyboard staples such as electric piano and the CX-3 organ. And now, in the next evolutionary step, the microKorg XL+ delivers a fresh update to the sounds and design of the microKorg XL, making it the ideal compact keyboard.
Googlish from Japnese:
Became the standard model microKORG analog modeling synthesizer with a unique look anything, the sound of the place of work is not authentic. MicroKORG XL to take over the powerful sound while its thick and enhanced, such as the CX-3 organ and electric piano, the function as a keyboard appeared in 2008. microKORG XL +, the brush-up and design of sound microKORG XL. Pursue the ideal that users expect in this compact keyboard, I have evolved further.
Piano SG, such as the organ of the VOX and M1, vintage sound is more comprehensive.
Program genre selector that matches the needs of the times.
New to nostalgic, vintage New design black panel.
Crystal analog modeling technology Korg, with MMT.
Comes with a gooseneck microphone, featuring vocoder function.
Effects engine adopted Korg boasts intense.
Equipped with a natural touch mini keyboard Korg's proprietary with an emphasis on ease of play.
Corresponds to the drive battery easy to carry.
"MicroKORG XL + Sound Editor", available for free download preset programs, such as further microKORG.
KORG Krome: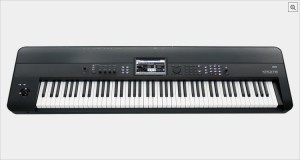 Googlish description from Japanese:
And 73 in KROME-61, Natural Touch keyboard employs a semi-weighted, from tone to tone synthesizer piano, you can play with a natural touch. In KROME-88, adopted the keyboard (Natural weighted Hammer Action) NH, in a tone that can be expressed, exhibits a strong power, such as electric piano piano and subtle nuances.
And aluminum panel to produce a sense of luxury, design full of personality.
Side surface to form a line flowing which made full use of the curve, body dressed in color very dark, making it the elaborate design that combines aluminum, two panels with different design to the panel surface. Unique design and it can be seen on stage lined with a lot of equipment, will leave a strong impression on the audience with a clear sound.
View with color LCD display with large touch with excellent visibility.
Excellent visibility to KROME, 7-inch color display that can be many parameters at once, with a large LCD display of WVGA (800 x 480 pixels). You can come into direct contact with a parameter that also features touch graphical user intuitive interface view is displayed on the display, and edit the parameters of the sound-making. We're also supports drag-and-edit feature that can be manipulated to direct the knob and slider also. In addition to this, I was with a number, such as a calculator handy stop watch handy, in numeric input features, convenient touch unique view started playing the piano roll editor, to count the time a live performance.
Updated with press releases from KORG:
KORG microKORG XL+ Synthesizer/Vocoder
Vintage … and more!
With its unmistakably unique exterior and its inimitable sound, the microKorg set the standard for analog modeling synthesizers. The year 2008 saw the introduction of the microKorg XL, which inherited the microKorg's fat and powerful sounds, while adding keyboard staples such as electric piano and the CX-3 organ. And now, in the next evolutionary step, the microKorg XL+ delivers a fresh update to the sounds and design of the microKorg XL, making it the ideal compact keyboard.
Highlights
Even more vintage sounds, including the KORG SGproX piano, the M1 and the VOX organs
New program genre selector that fits today's needs
New yet nostalgic – black panel "new vintage" design
Featuring MMT – the distillation of Korg's analog modeling technology
Vocoder feature with included gooseneck microphone
The powerful effect engine you expect from Korg
Korg's proprietary natural touch mini-keyboard, designed with an emphasis on playability
Battery powered operation is supported for increased portability
More Vintage Sounds than Ever
Lush analog modeled synthesizer sounds that are characteristic of the microKORG have been freshly added to the microKORG XL+. In addition, for band use, the microKORG XL+ comes equipped with the piano sound from Korg's classic stage piano, the SGproX (famous for its ability to stand out in your band's mix), as well as its hard-edged grand-type electric piano. This compact package also includes sounds from the M1 and the VOX organ, vintage tape-type string and flute machines, as well as other gorgeous sounds from keyboard history. Each of these 128 programs are genuinely usable sounds, giving the microKORG XL+ plenty of variety to serve as your main keyboard or of course as a secondary keyboard in your rig.
Program genre selector
The microKORG XL featured a sound selector that lets you choose your sound using two large dials: "music genre" and "instrument category." The new microKORG XL+ offers an additional selection of
these "music genres" to fit today's fast-moving music scene. Now you can select a program that matches your song more intuitively than ever. For even more convenience, you can also leave one of the dials fixed and only use the other dial to make program changes during a song (music genre fixed), or use the dial to select vocoder variations (instrument category fixed).
New Yet Nostalgic – "New Vintage" Design
The microKORG XL+ projects a style that's reminiscent of vintage electric pianos, featuring a futuristic yet retro design with a stylish black panel. High-quality parts such as metal levers, dials that move with an audible click, and knobs with a sturdy operating feel are some of the ways that the microKORG XL+ outclasses other instruments in its range and enhances your experience editing synthesizer sounds.
MMT — the distillation of Korg's analog modeling technology
The microKORG XL+'s sound engine uses MMT (Multiple Modeling Technology), borrowing from Korg's well proven wealth of analog modeling technology. The MMT sound engine has been featured on numerous products, and provides two oscillators that generate huge powerful sounds. Oscillator 1 (OSC1) gives you a total of seven types of oscillator algorithm to choose from, including formant waveforms such as human voice, and PCM/DWGS waveforms for vintage keyboard and strings. It also lets you use techniques that cannot be imitated on typical PCM synthesizers, such as cross modulation, unison, and VPM (Variable Phase Modulation). By taking advantage of modulation (sync or ring) with oscillator 2 (OSC2), it's easy to create complex and powerful sounds.
Vocoder Function with Included Gooseneck Microphone
The microKORG XL+ can function as a powerful vocoder that lets you connect a mic and use its audio input to shape the tonal character of the oscillator's sound to create "talking" effects. The vocoder consists of a 16-band filter bank that can simulate the vocoder sounds of the past and also shift the filter frequencies (Format Shift function) or adjust the level and pan of each band to dramatically change the sonic character. Using the Vocoder is an easy way to add sounds that can be found in today's popular electronic music. Since a gooseneck microphone is included, you can immediately start using thevocoder in your songs.
The Powerful Effect Engine You Expect From Korg
Two master effects utilize the effect engine that was brought to perfection in Korg's Kaoss Pad series, giving you a total of 17 powerful effect types including delay and echo effects as well as dramatic effects such as ring modulator and grain shifter. In addition, effects such as delay can be synchronized to MIDI clock for a wide range of possibilities in live performance.
Natural Touch Mini-keyboard
The new Natural Touch mini-keyboard offers an even better playing feel than ever before. The proportion of the keys has been adjusted to make chords easier to play, and the touch has been refined for greater ease when playing rapid phrases. The waterfall-type keys project an aura of sophistication, and they also help when playing a glissando.
Battery-powered for Convenient Portability
The microKORG XL+ can take advantage of the included AC adaptor or it can run on six AA alkaline batteries. Checking in at a mere 22 inches long and 4.4 lbs. in weight (main unit only; not including batteries or mic), the microKORG XL+ is a convenient size to take with you, opening up new performance possibilities on the go.
Expanded Sonic Possibilities via USB
By using a USB cable to connect the microKORG XL+ to your computer and using the sound editor software, you can edit all of the parameters easily from your computer. In addition to this software, you can also download preset program data from the microKORG and the MS2000/MS2000B free of charge to gain access to an even larger number of programs.
PRICE: £407.99 RRP (£339.99 RRP ex VAT) AVAILABLE: October 2012
KORG KROME MUSIC WORKSTATION
On Stage. On the Go. On Top.
Offering full-length, unlooped samples of every key for a spectacular piano sound, this new keyboard redefines your expectations for an instrument in this class. Taking its name from the Greek word meaning "color," KROME is the new standard for sonic excellence in a gigging musician's keyboard, providing a limitless palette of sound to bring vivid inspiration your music. Introducing the KROME Music Workstation.
Product Highlights:
The Korg workstation ideal for any style of piano playing
KRONOS-derived full length, unlooped piano and drum sounds, plus new electric pianos designed to shine on stage
Electric pianos with eight-level velocity switching for unmatched expressive power
Clear, intuitive control with Korg's exclusive 7-inch color TouchView™ display
Drums offering separately mixable direct and ambient sounds for studio-grade quality
Drum Track plays back realistic, inspiring grooves at the touch of a button
Expertly created, in-demand sounds including 640 Programs and 288 Combinations
Powerful Effects with 5 Inserts, 2 Master, and 1 Total FX, plus per track/timbre EQ
Distinctive aluminum panel design exudes a sense of quality
USB connection to your computer, plus an SD Card slot for data storage
You can use the KROME editor to edit sounds on your computer
Available in 61, 73, and 88 key models.
コブラ・スターシップのライランド・ブラッキントン、アレックス・スアレスより、KORG microKORG10周年記念、microMADNESSビデオ・コンテストの作品募集のお知らせ。
microMADNESSビデオ・コンテストの詳細はこちら。
http://www.korg.co.jp/micromadness/Japanese/
And in Googlish:
Cobra Starship t-Burakkin Rairando, from Alex Suarez, anniversary KORG microKORG10, Call for works of microMADNESS video contest.
Click here for more information on microMADNESS video contest.
http://www.korg.co.jp/micromadness/Japanese/
Brett Domino and Steven Peavis cover LMFAO's smash hit using only a MicroKORG, Mini Kaoss Pad II, and Kaossilator II.
Twitter the Trio: @BrettDomino and @StevenPeavis.
What's Battery Operated Girls Only?
We are a group of female music composers exclusively uses the battery operated electronic musical instruments, such as KORG DS-10, KORG M01, monotron, monotribe, kaosillator, mini-KP, microKORG, and so on, to make music.
Official Website:
http://denchikudoushiki.web.fc2.com/
SoundCloud:
http://soundcloud.com/battery-operated
In 2002, Korg launched the microKORG, Korg's compact analog modeling synthesizer with an outrageous Vocoder built right in! After a decade as one of the best-selling synths on the planet, the microKORG is still going strong. Chances are you've seen it on stage or heard it on a favorite song. But it is not just Korg that is excited about this great milestone. Join some of our special Korg friends as they wish the microKORG a Happy Birthday!
Can't believe I have already had mine for almost ten years now

Take a closer look at the microKORG; Korg's compact analog modeling synthesizer with an outrageous Vocoder built right in — we even include a cool gooseneck microphone. Chances are you've seen it on stage or heard it on a favorite song. Now is your chance to see it up close and hear some of 128 Killer sounds that are stashed inside. It's compact, battery powered, and fun to play. And there all kinds of extras to enjoy: an arpeggiator with mute-able steps, effects, delays, pitch & mod wheels, and more. In addition to keyboard players, the microKORG is great for bassists who need a synth bass-sound, vocalists who want to add some sonic extras, or really any musician. Heck, just watch the video! http://www.korg.com/microkorg
French synth pop featuring the Microkorg, but also Drumulator, Monopoly, TR707 etc
Is it good – well you have to judge for yourself