Beatport: http://www.beatport.com/release/tantr…
iTunes: https://itunes.apple.com/gb/album/tan…
Amazon: http://www.amazon.co.uk/Tantra-EP-Tim…
'Tantra' is the new single from Timo Maas. Taken from his latest artist album, 'Lifer', the release comes during a vintage year for the acclaimed German DJ and producer. The video for the single presents a fascinating nexus between human ingenuity, electronic music and mechanical design — whereby the 'audio' for 'Tantra' programmes a purpose built machine and brings it to 'life'.
The machinery that forms the art installation at the centre of the piece was designed, built, operated and then filmed by a group of Japanese artists and creatives, including Daito Manabe. Motoi Ishibashi, Muryo Homma and Youichi Sakamoto. They spent weeks researching and testing materials before building the final installation from Arduino controlled ball dispensers, motorised rotating steel plates and LED lights for filming.
'Tantra' was then deconstructed into MIDI parts (the computer code that runs the synths, drum machines and samplers in the musical composition), the data that specified notation, pitch and velocity, control signals for parameters such as volume, vibrato, audio panning, and cues from were then run through the machine to control its movement.
Daito Manabe explains:
"The first time I listened to 'Tantra', I imagined someone producing something endlessly in a base, deep underground. With this image in mind, we started testing different machines, systems and so on, and then we finally figured out the structure and how we'd control the machine — and the motion of the balls — with the music. We felt that this would give it a sense of reality and beauty that is impossible to realise with CGI.
Remixers on 'Tantra' include Tom Demac (who's about to drop a forthcoming collaboration with Will Saul on Aus), James Teej (the My Favourite Robot boss returns the favour for Timo's reworking of 'Liking Your Disorder'), Atelier Francesco (a new project and accompanying pseudonym from an already eclectic Italian producer) and Wolfgang Haffner (the ECHO music award-winning German drummer famous for his work with Nightmares On Wax and beyond).
Creative director/ Software engineer: Daito Manabe
Hardware engineer: Motoi Ishibashi
Video director: Muryo Homma
Installation designer: Youichi Sakamoto
https://www.timomaas.com
https://www.facebook.com/timomaasfans
https://www.twitter.com/timomaaslive
https://www.soundcloud/timo-maas
https://www.youtube.com/timomaasofficial
Make sure to listen to Junksista, very cool electro pop

Official Music Video for PANTALEIMON 'ANOTHER WORLD' from the new album 'The Butterfly Ate The Pearl'. Out Now. Available from Grass Girl Music: http://grassgirlmusic.greedbag.com
Video directed by Enrique Verdugo www.enriquever.com. Produced by Grass Girl Music 2012.
Song taken from the album BAD CASE OF FABULOUS, 8.11.13 – Alfa Matrix
Video directed by Noemie Alazard & Fabio Soares
Dancer – Luisa Raukopf
Costume Designer – Lady Mabelicious
Make Up – Kathy Brischar
Official website: http://www.junksista.de
Facebook: http://facebook.com/junksista
Alfa Matrix: http://www.alfa-matrix.com/bio-Junksi…
Fabio Soares: http://www.fabio.fr
Noemie Alazard: https://www.facebook.com/noemie.alaza…
Luisa Raukopf: https://www.facebook.com/pages/Loui-S…
Lady Mabellicious: https://www.facebook.com/LadyMabelici…
Get the music here:
http://www.alfa-matrix.com/shop_comme…
https://itunes.apple.com/us/album/bad…
http://www.amazon.de/Case-Fabulous-De…
http://alfamatrix.bandcamp.com/album/…
Waldorf Microwave XT synthesizer demo — playing a dreamy ambient electronica music soundscape on Microwave XT wavetable synth from Waldorf. Headphones recommended!
This ambient synth demo was created using 2 wavetables, delay, tremolo, filter/envelope adjustments and more.
Performed live, no external processing. Excerpt from a longer session.
Experimental electro, enjoy
Soft chill electronica from Noblesse, details below:
Director & concept: Carmen Lidia Vidu
Cristina Baciu: VFX
Horatiu Lazar: Photography
Special thanks to Oana Dorobantu, Cornelia & Raluna
Hotel California appears on the Noblesse Oblige Album "Affair of the Heart"
(RepoRecords, release date: May 24th 2013)
Buy the album:
Germany: http://www.amazon.de/Affair-heart-Nob…
UK: http://www.amazon.co.uk/Affair-The-He…
USA / Canada: http://www.stormingthebase.com/nobles…
France: http://www.amazon.fr/Affair-heart-Nob…
Italy: http://www.amazon.it/Affair-Heart-Nob…
iTunes: https://itunes.apple.com/album/affair…
Original version by The Eagles, written by Don Felder, Glenn Frey, Don Henley.
More infos on:
www.noblesseoblige.co.uk
www.facebook.com/noblesseobligemusic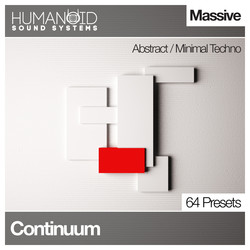 Humanoid Sound Systems has announced the release of Continuum, a new Abstract House/Minimal Techno soundset for the Massive software synthesizer by Native Instruments.
Continuum offers 64 inspirational patches for Native Instruments Massive, perfect for Abstract House, and Minimal Techno. You may also find this sound set perfect for chillout, and atmospheric music.

Special care was taken in designing these patches with forward abstract thinking in mind. We hope you find that little bit of character in each and every patch.
Continuum features
64 patches for Massive (NMSV).
Includes 18 basses, 9 FX, 11 leads, 5 pads, 21 sequences.
Suitable for Abstract House, Minimal Techno
Sounds designed by Hermie.
Requires NI Massive 1.3.0.
The soundset costs $19.95 USD.
Video details below:
"I like it when music makes you nervous or agressive."—BYETONE feature, taken from Slices Issue 4-12. Available in 1080p full HD video.
More info: http://www.electronicbeats.net/videop…
About the artist:
olaf benders (aka byetone) experimental work with film material started during school time.  the casual finding of a complete 16mm movie equipment gave the initiation. from this time on started an intensive dealing with the medium »film« as well as the raw material »film«.
technical limitations forced special methods: he scratched directly on the footage with objects to create geometrical figures. the results were archaic motion patterns. due to the experiments he came into contact with the east-german underground band AG-Geige.
in 1988 he became a permanent member of AG-Geige.
by working with this group he got into musical aspects. home computer made it possible for autodidacts like him to work multimedial without knowledge of practical musical skills.
after the falldown of berlin wall in 1989 he was working with a music distributor. the work experiences he collected there led to the idea of publishing own musical projects by himself.
together with frank bretschneider he founded the recordlabel rastermusic in 1996. rastermusic wanted to publish their own electronic music projects and those of other similar working artists. the special process of creating electronic sound should be reflected also in the graphical presentation of the label and his products.
one of the earliest rastermusic productions was the project signal, which olaf bender has been continuing together with bretschneider and nicolai until today. nicolai owned the sublabel noton, which finally merged with rastermusic to raster-noton in 1999.
beside the management of raster-noton he is responsible  for graphic design and public appearance of the label. additionally bender performs solo under the pseudonym byetone.
bender creates his music digitally. he assembles sine tones to complex sound fabrics. digital clicks and effect plug-ins are essential to create the rhythms. all this is brought in a timely relation and so a track is born — an artificial world without any physical effort.
computer music is often hard to perform in front of an audience. although possibilities seem almost unlimited it is difficult to present this music in a concert setting without an immense deal of technology.
bender therefore uses visuals in the sense of animated light. abstract animations support the abstract pieces of music — in this way the rhythm of music is transformed into a graphic equivalent. by using the computer bender controls the animations in realtime. in connection with sound effect processing this enables him to interact live on stage.
1968 born in karl-marx-stadt / GDR
1974 – 87 secondary school and apprenticeship as tailor
1990 – 93 work as graphik designer with different agencys
1993 – 95 agent in mediadistribution
1996 founded rastermusic, works independently in chemnitz
1999 rastermusic and noton, merged in raster-noton
for more information and releases see http://www.myspace.com/benderbyetone
Nice ambient piece

WOW is a vinyl record containing a single ultra-low frequency which will alter slightly depending on the mechanical components of your record player. Use more than one system to play several records simultaneously and the air around you will start pulsating.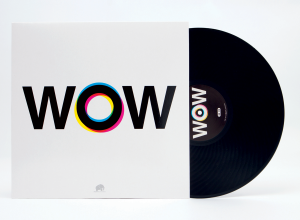 Play 33 ⅓ Hz on 33 ⅓ rpm or 45 Hz on 45 rpm. Feel free to use the pitch wheel or even touch the record to control the sub-sonic wave field. Your choice of record players, the number of records and the character of your room create your individual listening experience.
Get it here >> http://heavylistening.com/wow
Both sides of WOW contain just a single sine tone, the most simple sound there is. Its frequency is directly proportional to the rotation speed of the record player. This means on a standard setting of 33 ⅓ rounds per minute (rpm) you'll hear an extremely low tone of 33 ⅓ cycles per second (Hz). Play it at 45 rpm and you'll hear a slightly higher bass tone of 45 Hz.
These frequencies are very close to the lower limit of human hearing and will be more felt than heard. This sensation can be irritating for some, pleasant for others.
Move around and you will experience your room's reaction to the sound – some spaces will be shaking, others may be still.