Cwejman MX4S is where all of the panning is coming from for each of the 4 channels. The Harvestman Piston Honda is making the static style noise on Channel 4: WMD Synchrodyne is making the semi step filter sound with help from the Harvestman Double Andore on Channel 3: The other strange drone sound is stacked audio out from the Wogglebug on Channel 2: And the Make Noise Phonogene is on channel 1. On the Phonogene I just hit some random notes with my Teenage Engineering OP-1 and recorded in a random off time loop and threw in some random slices.
Apart from showing off quite a basic stand for the Maschine, the song played definitely makes it worth while watching, details below:
For studio and stage – demonstrated by Berlin beatsmith Comfort Fit. The Maschine Stand fits both first generation Maschine models and the new black and white MK2 hardware controllers. Find out more: http://www.native-instruments.com/maschinestand
Credits:
Music and performance by Comfort Fit:
http://www.facebook.com/comfortfit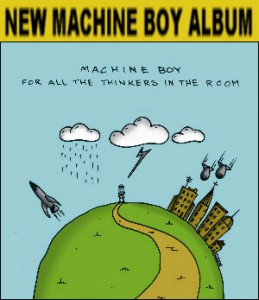 The new Machine Boy album has been released and its called 'For all the thinkers in the room'. The album features nice electronic pop songs to spice up this Monday morning, listen below and order it here >>
Music iOS app demo of Drone FX. A great app for making ambient music and atmospheric sounds.
"This is my first go at it and still working out a few things, such as ending a sound. A few of the sliders don't seem to do much but perhaps they do! I like though. You can get it through the app store, with a link below, for $2.99. "
http://itunes.apple.com/us/app/drone-fx/id499500746?mt=8
Drone FX has the following modes of operation:
- Auto (Generative music in all it's glory)
- Manual (For the musician in you)
- Hybrid (Auto + Manual)
Users can play along with soundscapes generated in auto mode, or create ambient music without automation using the built-in keyboard(s).
Nice quirky synth sounds from Ellen Alien, enjoy
Artist: Ellen Allien
Title: Take Me Out
Title Album: Galactic Horse
Release Date: 23.03.2012
Label: BPitch Control
Comp: Pfadfinderei
DOP: Lisa Wassmann
Cut: Annikki
Dancer: Elsa Loy
Year: 2012
Length: 03:35
LC: 11753
CAT NR.: BPC248
ISRC: DEAE6-12-10224
EAN VIDEO: 4050486076774
Genre: House, Electronic
Nationality: German
Music produced by: Ellen Allien, co-produced by Skinnerbox
Composer: Ellen Allien
Vocals written and performed by: Ellen Allien
published by BPitch Control Music Publishing
under courtesy of BPitch Control
Taken from the single "GALACTIC HORSE" (BPC248)
www.bpitchcontrol.de
BPC Webshop
https://www.bpitchcontrol.de/market/browse?search=galactic+horse
THE CENTURY'S ENTRANCE – This is the third song to Craig Padilla's February 2000 "Music for the Mind" performance at the historical State Theater in Red Bluff, CA. Padilla uses a variety of older synthesizers in this performance.
Craig Padilla is an American ambient musician and film score composer, actor, and video producer from Redding, California. Since the mid-90′s he has released more than a dozen albums with music primarily inspired by the Berlin School of electronic music and space music on the labels Space For Music, Spotted Peccary Music, Lotuspike and Groove Unlimited, and contributed to numerous compilations, including a tribute album to Michael Garrison.
He also edits and produces videos for local television commercials, infomercials, corporate events, and music videos (he recently created the new video for Bruce Turgon's and Philip Bardowell's new collaborative project PLACES OF POWER) through his production company known as Craig Padilla Creative Video and Sound Productions.
New nice instrumental electronica track from BT. Please be patient and listen till the drums get going

To be additive. I wish in some small way to bend the collective human narrative towards the positive.

To inspire untold (even to me) small leaps of faith that germinate and grow in people I will never know.

To make music that makes people feel connected & less alone. That inspires people to face life and even if they fail to do so with dignity.
BT's "Le Nocturne de Lumière" is available on These Hopeful Machines:
iTunes: http://bit.ly/oWif9n
Amazon: http://amzn.to/obimPt
www.btmusic.com
From patten's 'GLAQJO XAACSSO' album, out now through No Pain In Pop.
Buy limited 12″ and DL : bit.ly/​nNuWwg
"…appears as if from some parallel world; prismatic and mirage-like, soaked in the searing heat of urgency."
Directed by Jane Eastlight.
'Remarkable. One of the year's most exciting debuts.' – FACT
'Among the albums of the year' – Boomkat
'Excellent' – the Quietus
'9/10′ – Drowned In Sound
'4/5′ – Resident Advisor
–
nopaininpop.tumblr.com/
patttten.com/
Soft electro pop from Canada – not really sure if I like it or not !!
Taken from the album http://www.newlook-thealbum.com
Available on itunes:
http://itunes.apple.com/gb/album/new-look-bonus-track-version/id465683098
Video Credits:
Director,producer, Dop: Tim&Joe
Post fx: Chris Bristow at Munky London
Hair& make up: Sally Marshall
Commissioner: Nadja Rangel
Executive producer: Tamsin Glasson
"Curtains" by Solvent. Toronto based Jason Amm (aka Solvent) has been making underground electro pop for over a decade now – since electro's second wave. He loves analogue synthesizers – which date back to the early days of the genre, and he loves singing through a vocoder. What's not to love? His greatest hits CD Demonstration Tape (1997-2007) is essential listening, and his song "My Radio" should be heard by anyone who likes any kind of pop music.
Video directed by Jonathan Morris. Please be sure to check out his excellent video work via his YouTube channel:
http://www.youtube.com/user/roadkillcopulator
Footage shot by Solvent.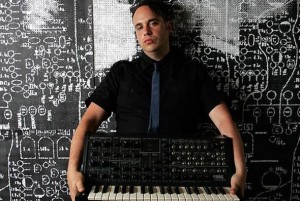 "Curtains" is taken from the 12-inch-vinyl/digital release "RDJCS5-ep" (09/2011, Suction Records – suction022).
Available to purchase through BandCamp:
http://solvent.bandcamp.com
In-depth technical info:
http://modyfier.wordpress.com/2011/07/25/solvent-process-part-271/
In April 2006, a Yamaha CS5 monosynth, having been owned by Richard D James (Aphex Twin), with the actual liner notes for his landmark "Selected Ambient Works Volume II" etched into the bottom, was sold at VEMIA auction for approximately $1200 – a bargain in retrospect. The winning bidder was, in fact, a friend of Solvent's, and the synth resides not in a display case, but in Solvent's studio, on generous long-term loan.
"RDJCS5″, a new 4-track 12-inch / digital EP by Solvent, is the result. Each and every sound on this record came from RDJ's old CS5, painstakingly programmed and multi-tracked by Solvent over the course of several months. The limited capabilities and sound palette of this humble little synth provided quite a challenge, but ultimately the results are not merely an exercise in technical synthnerdery; "RDJCS5″ speaks more of Solvent's musical kinship to thee Analord.
The 12″ vinyl edition is limited to 300 copies, in brown chipboard sleeve with sticker, and also contains an additional noise/drone piece at the end of side B. Entitled "Sandpaper", this cut will be individually hand-etched by Solvent, for a 1-of-a-kind cut/click/loop experience.