http://appstore.com/conductr || http://www.conductr.net
http://facebook.com/c0nductr || http://twitter.com/c0nductr
CONDUCTR ABLETON USER MODULES
• 2 fully customizable module types: Default and XY-4D pads.
• Each Default User Module can contain up to 8 parameter controllers from any device on any track featured in your Ableton Live set.
• 4 different control interfaces: faders, crossfaders, buttons and quantized scales.
• Default User Modules can be quickly created and edited at any time, even while playing, by browsing and selecting any of your set's parameters on the iPad or through the LEARN feature.
• RESET feature: create parameter's values memories and recover them whenever you want.
• GESTURAL MODE: automatic gesture detection to play without looking at the iPad!
DOWNLOAD CONDUCTR NOW AND TRY THE USER MODULES FOR FREE: http://appstore.com/conductr
Puremagnetik has released Frequencizer, which they describe as an effect that brings the vintage sound sculpting capabilities of the Moog 914 and Doepfer A-128 fixed filterbanks right to your desktop.
A spokesperson told us, "With 12 fixed band filters, LP / HP controls and even a 'vintage' mode, this filterbank adds a unique sonic dimension to Ableton Live. Frequencizer even goes beyond the hardware it emulates to include a realtime spectroscope. Shape your sounds into something completely new or get instantly inspired with this no-nonsense Max for Live audio effect."
System Requirements
Ableton Live 9.1 or higher with Max for Live 6.1.9 or higher
Pricing and Availability:
Frequencizer  is free through the end of March 2015. It will cost $15 thereafter.
DanceFair 2015: Ableton Push Tips Certified trainer
There was a dedicated room for Ableton at the DanceFair in Utrecht, where you could rock up and quiz a team of Live ninjas (Certified trainers) about the finer points of producing using Ableton Live.
We caught up with Menno Keij who gave us some insight into incorporating VST plugins using instrument racks and mapping the named parameters on the Push, MAX for Live devices and a couple of neat button combinations – watch out for those.
more info:
http://www.ableton.com/en/packs/time-…
Ableton has released Time and Timbre, a Max for Live percussion instrument and 'time engine' that they say is the result of three years of development by the duo Skinnerbox.
The pack consists of five individual drum synthesis modules (Timbre) and a polymetric sequencer (Time), as well as a built-in mastering plug-in (Master Blaster).
About Time & Timbre
The first of Time & Timbre's sections is a six­ voice polyrhythmic and polymetric sequencer called – you guessed it – 'Time'.
Taking the drum sequencer concept a few steps further, Time not only lets you make and chain together patterns, add accents and rolls to individual steps, but also define sequence length and beat divisions freely and independently for each of its six channels.
Another unique feature of Time is the ability to apply swing to any notes in a pattern (not just 4ths, 8ths, 16ths), thus providing highly unusual and interesting varieties of 'feel' for your rhythms. Time also includes four internal LFOs that can modulate anything within the device (or even any parameter in Live) and can be synced to follow the swing.
The second section, Timbre, consists of five drum synthesis modules capable of producing a broad spectrum of sounds. Timbre gives you direct control over key parameters of each drum voice including envelope, tonality and noise (a fundamental element of percussive synthesis). All this allows you to craft a broad range of drum sounds that can be as classic or as unconventional as you like.
Going even further, each drum voice can be randomized and have its parameters modulated by internal LFO, letting you infuse your patterns with any degree of subtle sound variation or controlled chaos.
Time & Timbre comes with a set of tools that present an alternative to preset browsing. For instance, the panel labelled Morph Master Mike lets you save two sound snapshots and morph between them
Push Integration
Time & Timbre is also integrated with Push, letting you take its= creative potential into the hands-­on realm of hardware.
Note: This pack requires Max version 6.1.9 and Live version 9.1.6.
Pricing and Availability
Time and Timbre is available now. It normally retails for US $69, but is currently 20% off during Ableton's Holiday Sale, for $55.
4DSOUND presented their system with artists like Vladislav Delay, Max Cooper, an evening with artists from the Raster Noton label, and various talks and workshops.
4DSOUND is a new immersive system which allows for evolving changes in three-dimensional positioning of sound. An expansive array of speakers, a Max-based core, and custom Max for Live devices allow for sound to be positioned anywhere within the system's space (and beyond).
In the video above, learn about the conception of 4DSOUND from founder Paul Oomen, plus follow musician Stimming as he prepares a custom performance for the system.
In the second video, learn how Ableton Live and Max for Live facilitate an artist's control over 4DSOUND: https://www.youtube.com/watch?v=DMWEE…
More about 4DSOUND at Ableton.com: https://www.ableton.com/en/blog/4dsou…
Product specialist Mike Greig popped in to show us just what can be done with Ableton's Push controller as the only interface. Did he succeed? Take a look.
Kits and enclosures are available at http://groovesizer.com
An introduction of the Foxtrot firmware for the Groovesizer platform. The Foxtrot firmware is a (mute) MIDI controller, specifically intended as a clip and scene for Ableton Live. The firmware is now available for download at the Groovesizer website.
The Clipper is a compact, portable and programmable LED-lit fingerboard that can remotely run an Ableton Live session. With 144 touch-sensitive buttons you can record and play a Live set in one area and perform guitar, bass, drums, add Live beat-repeats, whatever, in another area of the Lightboard. You can now record and play clips into the Live Session View interface and control Live at the tips of your fingers while you're moving across the stage or interacting with your audience. The Clipper's Lightboard offers 32,000 colors and can match the colors from the Live session running in your computer, and completely wirelessly when the AirPower option is installed.
This full-color LED fingerboard controller is also very versatile and can easily be programmed to display text messages, JPEGs, and animations. In addition to that, you can set up separate colored zones on the fingerboard to play bass, drums, piano, or any sounds using Live while connecting to hardware synths via MIDI.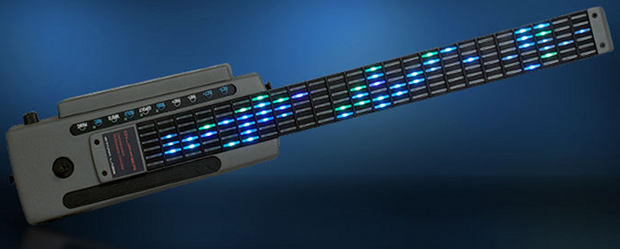 Gaining more popularity in the electronic music genre, Ztar fingerboard controllers are a welcome alternative for Electronic Music performers who want to interact with their audience. Noteworthy clientele include Pendulum and Excision as well as the Chemical Brothers, Linkin Park, Maroon5, Vernon Reid, Bob Weir, Lou Reed and many others. Electronic musicians and DJs can now better express themselves and interact with the audience with this advancement in MIDI controllers.
In addition to portability and convenience, the Clipper's LED fingerboard can be programmed to display text messages, JPEG images, animations and lighting FX in response to your touch or streamed in from an external computer. The fingerboard offers 32,000 colors that can be matched to your computer's Ableton Live session. Separate colored zones can also be set up on the fingerboard to play clips, bass, drums, piano, or any other sounds by using Live or connecting to hardware synths with MIDI. With 144 touch-sensitive keys, a live set can be recorded in one zone while solo performances can be played in another.
Ableton Live Portable Control Surface
At the core of the Clipper's lighting control is a library of lighting commands that can be programmed on the Clipper and performed directly by playing the Clipper's fretboard, drumpads, ribbon, knobs, joystick, and pedals. By connecting the Clipper's USB port to a computer, you can stream live lighting FX from Max-for-Live, any sequencer, or create your own software.
Now you can control all your sounds with animated colors at the tips of your fingers, and all while moving across the stage. This Ztar Clipper LightBoard Controller is unlike any other and offers an entirely new experience to electronic musicians everywhere.
The Clipper has a full complement of hardware and software features:
144 velocity-sensitive RGB LED keys with over 32,000 colors
6 programmable Knobs
6 Programmable touchpads for Notes, Chords, Loops, MIDI CC's, Lighting EFX
Embedded bi-directional MIDI Wireless capability as an option. Be completely cable-free!
Multi-purpose programmable Slider
4 way programmable joystick
Sustain and Volume Pedal inputs
MIDI I/O and USB2.
Onboard Programming interface
Easy user command set for controlling the LED lighting with any external MIDI sequencer or computer. Display and scroll text, images, and lighting effects. Get creative with Max for Live.
Embedded step sequencer and arpeggiator
Clipper – Clip-based Live Interactive Performance Controller
Price for the basic Clipper: $1695 MSRP, $1995 MSRP for the Clipper with bi-directional MIDI Wireless and Battery Pack
Background video description:
Last week I finally got the Ableton Push, so this sunday I've tried to recreate a song on the push only to find out what you can do on the push itself and as a learning experiment. I've recreated a very old trance classic called Alphabet Blue – Cybertrance.
Composed with Ableton Push // yehezkelraz.com
Controllerist Yehezkel Raz gives Ableton Push a workout on Paganini Etude for Push, a series of original variations on a theme by classical composer Niccolò Paganini.