Music and video performed by the developers of Triqtraq and Elastic Drums.
Triqtraq web page: http://www.triqtraq.com
Elastic Drums web page: http://mominstruments.com/elasticdrums/
Ableton Link: https://www.ableton.com/de/link/
Elastic Drums: https://geo.itunes.apple.com/us/app/e…
triqtraq: https://geo.itunes.apple.com/us/app/t…
Fugue: https://geo.itunes.apple.com/us/app/f…
Ableton Link Link is a new technology developed by Ableton that lets you play in time with multiple iOS devices and multiple instances of Ableton Live music software over a wireless network.
For more information visit https://www.ableton.com/link/
Tested out Ableton Link and Patterning on the iPad w/ my wife.
Read the article: http://www.theproducerskitchen.com/ab…
Tempo from Live, iPad and Mac in separate rooms: 0:00
Tempo from Patterning: 2:52
Live and iPad in same room: 4:09
Ableton Link: https://www.ableton.com/en/link/
Patterning: Drum Machine: http://www.olympianoiseco.com/apps/pa…
3 Devices with Elastic Drums and an early implementation of Link playing together in sync perfectly


This version of Elastic Drums is NOT YET IN THE STORE, but soon, with the next update
Link is a technology that keeps devices in time over a wireless network, so you can forget the hassle of setting up and focus on playing music. Link will soon be available to Live users as a free update, and to the wider music-making community as a built-in feature of a growing number of iOS apps.
Learn more about Link: https://www.ableton.com/link
Elastic Drums: https://geo.itunes.apple.com/de/app/e…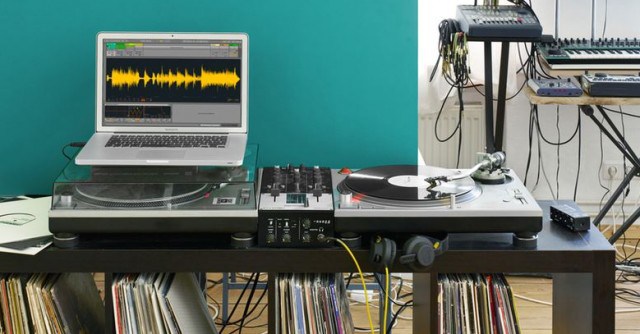 Ableton has announced Live 9.5, a free upgrade for Live users that introduces a number of new features. The Simpler device has been overhauled, waveform displays and metering have been improved and new analog-modelled filter modes have been introduced. Designed in collaboration with Cytomic, the filters are integrated within the Sampler, Simpler, Operator and Auto Filter devices.
Live 9.5 introduces new analog-modeled filters based on classic vintage hardware models that will self-resonate, feedback, and distort beautifully. These filters were built in collaboration with Cytomic and are included in Simpler, Sampler, Operator, and Auto Filter.
Simpler, Live's powerful but easy-to-use sampling instrument, has been completely overhauled with a new interface, warping, slicing, and new analog-modeled filters built in conjunction with Cytomic.
Additionals:
Improved waveforms and coloring
Peak and RMS meters
More sounds, samples, and drums
New Max Essentials
Play in time with Link
Create a song with Push 2
See the Ableton site for full details on Live 9.5.
Ableton also introduced Push 2 – a major update to their hardware controller for Live. The second-generation Push features a larger, multi-color display, improved hands-on sampling options and softer, more expressive pads.
Ableton is offering a trade-in program for Push 1 users wanting to upgrade.
Owners of the original Push can trade in their unit for a 30% discount on the new model. Returned Push 1s will be refurbished and donated to music education programs for young people.
Ableton Push 2 is priced at us $799. See the Ableton site for details.
http://appstore.com/conductr || http://www.conductr.net
http://facebook.com/c0nductr || http://twitter.com/c0nductr
CONDUCTR ABLETON USER MODULES
• 2 fully customizable module types: Default and XY-4D pads.
• Each Default User Module can contain up to 8 parameter controllers from any device on any track featured in your Ableton Live set.
• 4 different control interfaces: faders, crossfaders, buttons and quantized scales.
• Default User Modules can be quickly created and edited at any time, even while playing, by browsing and selecting any of your set's parameters on the iPad or through the LEARN feature.
• RESET feature: create parameter's values memories and recover them whenever you want.
• GESTURAL MODE: automatic gesture detection to play without looking at the iPad!
DOWNLOAD CONDUCTR NOW AND TRY THE USER MODULES FOR FREE: http://appstore.com/conductr
Puremagnetik has released Frequencizer, which they describe as an effect that brings the vintage sound sculpting capabilities of the Moog 914 and Doepfer A-128 fixed filterbanks right to your desktop.
A spokesperson told us, "With 12 fixed band filters, LP / HP controls and even a 'vintage' mode, this filterbank adds a unique sonic dimension to Ableton Live. Frequencizer even goes beyond the hardware it emulates to include a realtime spectroscope. Shape your sounds into something completely new or get instantly inspired with this no-nonsense Max for Live audio effect."
System Requirements
Ableton Live 9.1 or higher with Max for Live 6.1.9 or higher
Pricing and Availability:
Frequencizer  is free through the end of March 2015. It will cost $15 thereafter.
DanceFair 2015: Ableton Push Tips Certified trainer
There was a dedicated room for Ableton at the DanceFair in Utrecht, where you could rock up and quiz a team of Live ninjas (Certified trainers) about the finer points of producing using Ableton Live.
We caught up with Menno Keij who gave us some insight into incorporating VST plugins using instrument racks and mapping the named parameters on the Push, MAX for Live devices and a couple of neat button combinations – watch out for those.
more info:
http://www.ableton.com/en/packs/time-…
Ableton has released Time and Timbre, a Max for Live percussion instrument and 'time engine' that they say is the result of three years of development by the duo Skinnerbox.
The pack consists of five individual drum synthesis modules (Timbre) and a polymetric sequencer (Time), as well as a built-in mastering plug-in (Master Blaster).
About Time & Timbre
The first of Time & Timbre's sections is a six­ voice polyrhythmic and polymetric sequencer called – you guessed it – 'Time'.
Taking the drum sequencer concept a few steps further, Time not only lets you make and chain together patterns, add accents and rolls to individual steps, but also define sequence length and beat divisions freely and independently for each of its six channels.
Another unique feature of Time is the ability to apply swing to any notes in a pattern (not just 4ths, 8ths, 16ths), thus providing highly unusual and interesting varieties of 'feel' for your rhythms. Time also includes four internal LFOs that can modulate anything within the device (or even any parameter in Live) and can be synced to follow the swing.
The second section, Timbre, consists of five drum synthesis modules capable of producing a broad spectrum of sounds. Timbre gives you direct control over key parameters of each drum voice including envelope, tonality and noise (a fundamental element of percussive synthesis). All this allows you to craft a broad range of drum sounds that can be as classic or as unconventional as you like.
Going even further, each drum voice can be randomized and have its parameters modulated by internal LFO, letting you infuse your patterns with any degree of subtle sound variation or controlled chaos.
Time & Timbre comes with a set of tools that present an alternative to preset browsing. For instance, the panel labelled Morph Master Mike lets you save two sound snapshots and morph between them
Push Integration
Time & Timbre is also integrated with Push, letting you take its= creative potential into the hands-­on realm of hardware.
Note: This pack requires Max version 6.1.9 and Live version 9.1.6.
Pricing and Availability
Time and Timbre is available now. It normally retails for US $69, but is currently 20% off during Ableton's Holiday Sale, for $55.
4DSOUND presented their system with artists like Vladislav Delay, Max Cooper, an evening with artists from the Raster Noton label, and various talks and workshops.
4DSOUND is a new immersive system which allows for evolving changes in three-dimensional positioning of sound. An expansive array of speakers, a Max-based core, and custom Max for Live devices allow for sound to be positioned anywhere within the system's space (and beyond).
In the video above, learn about the conception of 4DSOUND from founder Paul Oomen, plus follow musician Stimming as he prepares a custom performance for the system.
In the second video, learn how Ableton Live and Max for Live facilitate an artist's control over 4DSOUND: https://www.youtube.com/watch?v=DMWEE…
More about 4DSOUND at Ableton.com: https://www.ableton.com/en/blog/4dsou…
Product specialist Mike Greig popped in to show us just what can be done with Ableton's Push controller as the only interface. Did he succeed? Take a look.