Kits and enclosures are available at http://groovesizer.com
An introduction of the Foxtrot firmware for the Groovesizer platform. The Foxtrot firmware is a (mute) MIDI controller, specifically intended as a clip and scene for Ableton Live. The firmware is now available for download at the Groovesizer website.
The Clipper is a compact, portable and programmable LED-lit fingerboard that can remotely run an Ableton Live session. With 144 touch-sensitive buttons you can record and play a Live set in one area and perform guitar, bass, drums, add Live beat-repeats, whatever, in another area of the Lightboard. You can now record and play clips into the Live Session View interface and control Live at the tips of your fingers while you're moving across the stage or interacting with your audience. The Clipper's Lightboard offers 32,000 colors and can match the colors from the Live session running in your computer, and completely wirelessly when the AirPower option is installed.
This full-color LED fingerboard controller is also very versatile and can easily be programmed to display text messages, JPEGs, and animations. In addition to that, you can set up separate colored zones on the fingerboard to play bass, drums, piano, or any sounds using Live while connecting to hardware synths via MIDI.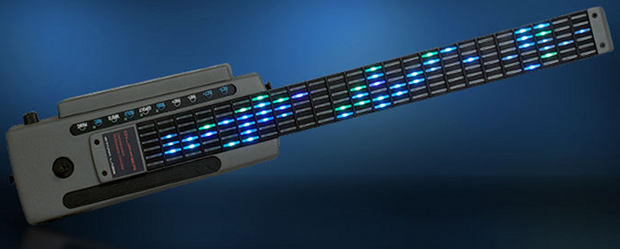 Gaining more popularity in the electronic music genre, Ztar fingerboard controllers are a welcome alternative for Electronic Music performers who want to interact with their audience. Noteworthy clientele include Pendulum and Excision as well as the Chemical Brothers, Linkin Park, Maroon5, Vernon Reid, Bob Weir, Lou Reed and many others. Electronic musicians and DJs can now better express themselves and interact with the audience with this advancement in MIDI controllers.
In addition to portability and convenience, the Clipper's LED fingerboard can be programmed to display text messages, JPEG images, animations and lighting FX in response to your touch or streamed in from an external computer. The fingerboard offers 32,000 colors that can be matched to your computer's Ableton Live session. Separate colored zones can also be set up on the fingerboard to play clips, bass, drums, piano, or any other sounds by using Live or connecting to hardware synths with MIDI. With 144 touch-sensitive keys, a live set can be recorded in one zone while solo performances can be played in another.
Ableton Live Portable Control Surface
At the core of the Clipper's lighting control is a library of lighting commands that can be programmed on the Clipper and performed directly by playing the Clipper's fretboard, drumpads, ribbon, knobs, joystick, and pedals. By connecting the Clipper's USB port to a computer, you can stream live lighting FX from Max-for-Live, any sequencer, or create your own software.
Now you can control all your sounds with animated colors at the tips of your fingers, and all while moving across the stage. This Ztar Clipper LightBoard Controller is unlike any other and offers an entirely new experience to electronic musicians everywhere.
The Clipper has a full complement of hardware and software features:
144 velocity-sensitive RGB LED keys with over 32,000 colors
6 programmable Knobs
6 Programmable touchpads for Notes, Chords, Loops, MIDI CC's, Lighting EFX
Embedded bi-directional MIDI Wireless capability as an option. Be completely cable-free!
Multi-purpose programmable Slider
4 way programmable joystick
Sustain and Volume Pedal inputs
MIDI I/O and USB2.
Onboard Programming interface
Easy user command set for controlling the LED lighting with any external MIDI sequencer or computer. Display and scroll text, images, and lighting effects. Get creative with Max for Live.
Embedded step sequencer and arpeggiator
Clipper – Clip-based Live Interactive Performance Controller
Price for the basic Clipper: $1695 MSRP, $1995 MSRP for the Clipper with bi-directional MIDI Wireless and Battery Pack
Background video description:
Last week I finally got the Ableton Push, so this sunday I've tried to recreate a song on the push only to find out what you can do on the push itself and as a learning experiment. I've recreated a very old trance classic called Alphabet Blue – Cybertrance.
Composed with Ableton Push // yehezkelraz.com
Controllerist Yehezkel Raz gives Ableton Push a workout on Paganini Etude for Push, a series of original variations on a theme by classical composer Niccolò Paganini.
AfroDJMac explores Ableton Push from an 8bit perspective, details below:
As a guitar player, I'm really enjoying Ableton Push's chromatic note mode. The intervals are just like on guitar, so this new instrument feels very familiar! Here's some goofing around.
Songs: "Crazy Train" Ozzy Osbourne – "Purple Haze" Jimi Hendrix – "Ain't Talking Bout Love" Van Halen
Visit my site for more stuff like this, including Live Instrument downloads, tutorials and music! http://www.afrodjmac.com
AfroDJMac
http://www.facebook.com/afrodjmac
http://www.twitter.com/afrodjmac
http://www.afrodjmac.tumblr.com
Here is a demo Jordan Passmore recorded that is composed solely of tones from the Yamaha MU80. Ableton is sequencing most parts while he plays one patch manually. The track's clips are all triggered by me with a Novation Launchpad. No effects were added to the MU-80.
"I feel like a lot of producers dismiss ROMplers like the Yamaha MU80 but I really, really enjoy using these things. They're limited in a fantastic way; paired up with a solid sequencer (like Ableton) you can arrive to a place in your productions you may never thought existed."
More info: http://blog.dubspot.com/atropolis-tra…
In the final installment of his three-part Ableton Live video tutorial on how to create a custom instrument rack for trap music production, Dubspot instructor Adam Partridge a.k.a. DJ/producer Atropolis explores the fundamental rhythm of trap.
Every genre of music has a distinct rhythm that defines the style. Understanding the attributes is the first step to creating any specific type of rhythm. I like to refer to these key rhythmic characters as "anchors". For example, in trap, the common snare pattern falls on the third down beat of every bar. So I like to set these anchor points first. Once I have that consistant snare pattern, I am free to color in the beat with the kick pattern. Music is all about feeling. Experiment with different grid sizes, and place the kick where ever you feel like it works bests. Make sure the loop is playing while you are doing this. After you complete this step, add the hi-hat pattern. – Adam Partridge
This video shows how to first record and overdub clips in Note Mode and then how to play and combine them in Session Mode.
In this video Mitch Lee, Ableton Certified Trainer and Course Developer at Beat Drop walks through building a track while showcasing some of the new features in Ableton Live 9.
Please note. The version of Ableton Live used in this video is a Beta version which may offer features or workflows that differ from the release version when it comes out.