Launchpad S — the next generation of Launchpad
How "KTR" setup the Launchpad: http://youtu.be/KLUqYpMJNpY
~ LIKE our video and click 'show more' for additional information.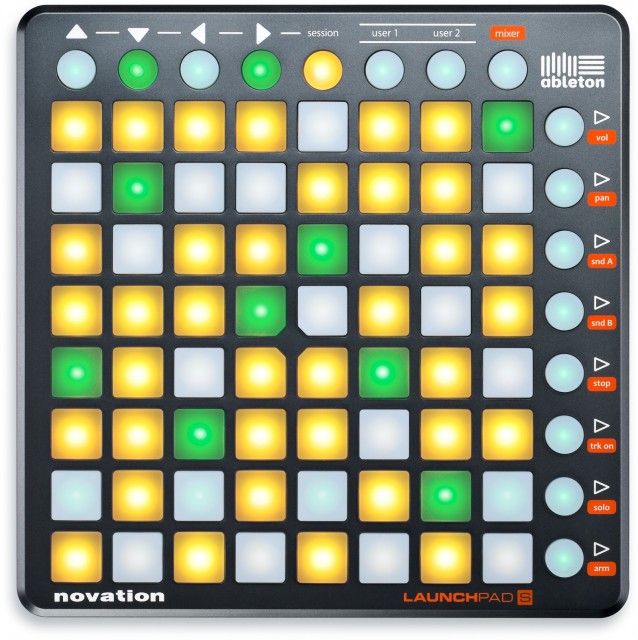 Novation's Launchpad may have begun its life focused mainly on controlling Ableton Live. But a new update, while not radically different from the original, is more flexible, working with more software and more operating systems – including the iPad. It's also brighter and refreshes faster than the original.
For all the details on Launchpad S visit:
http://bit.ly/Launchpad_S
Track: RoboSonic
Artist: KillTheRobot
http://www.facebook.com/killtherobotm…
http://twitter.com/kill_the_robot
http://soundcloud.com/killtherobot
http://www.youtube.com/user/killthero…
Download the samples and Ableton session here:
http://bit.ly/KillTheRobotSamples
Launchpad S is the evolution of Novation's best-selling Launchpad 64-button grid music controller — with much brighter buttons, significantly faster refresh rate and it supports multiple software. It's MIDI Class Compliant so it works with any MIDI software on your Mac or Windows PC. It even works on your iPad via a Camera Connection Kit (not included): Launchpad S converts your iPad into a grid-based music system: no additional power supply required, just plug in and play.

Key Features:
•The new 64-button grid music controller with MORE
All the features of the original — now with much brighter buttons, faster refresh and expanded app/system support
•Supports Ableton Live and other grid music applications
Ableton Live software is in the box — also supports FL Studio with no additional drivers. And your iPad!
•Control your mix
Including volume, pans, sends, track arming, soloing and muting. Launchpad S lets you jump to different levels across eight channels at once
•Launchpad iPad app
Trigger loops and effects using the Launchpad app on iPad — Launchpad S can be plugged into your iPad and fully powered with a Camera Connection Kit
•Take it anywhere
Launchpad S is fully USB bus powered — no need for power sockets or batteries — and it's lightweight and easy to carry anywhere.
•More software and sample content
Comes with the Novation Bass Station synth plug-in and over one gigabyte of Loopmasters samples
Here is a demo Jordan Passmore recorded that is composed solely of tones from the Yamaha MU80. Ableton is sequencing most parts while he plays one patch manually. The track's clips are all triggered by me with a Novation Launchpad. No effects were added to the MU-80.
"I feel like a lot of producers dismiss ROMplers like the Yamaha MU80 but I really, really enjoy using these things. They're limited in a fantastic way; paired up with a solid sequencer (like Ableton) you can arrive to a place in your productions you may never thought existed."
Demo of a stepsequencer programmed with PureData and controlled by a Novation Launchpad.
First stage was a proof-of-concept with one track. Patch will be available soon at
http://pdberlin.hotglue.me/MalteSteiner
and used in my part at Restlichtverstärker concerts
http://soundcloud.com/restlicht
At NAMM 2013 Akai show Future Music their new MPX8 eight-pad sample launcher complete with SD card slot, built in effects and MIDI I/O.
AfroDJMac provides us with yet another useful tip for Ableton, worth checking out:
"This Ableton Quick Tip shows you how to get the LEDs on the Novation LaunchPad to Light up when you play notes, or whenever midi is sent to it. I'll show you how to create a visual metronome with the LaunchPad!
Visit my site for more stuff like this, including Live Instrument downloads, tutorials and music! http://www.afrodjmac.com"
Background information:
I'm experimenting with different sequencer approaches on the Launchpad. The code is running on a DIY microcontroller board, turning the Launchpad into a standalone MIDI hardware sequencer.
In this clip the top 6 rows of the Launchpad grid are mapped to MIDI notes (counting along and upwards from note C3). When the step counter in the lower 2 rows hits a green square it plays the next green note selected in the grid, same goes for red notes.
A yellow square in the step counter plays next red and green notes together. A yellow note in the grid behaves like both a red and green. The result is two cycling note lines that fall in and out of synch with each other depending on how many notes are selected of each colour. It comes out kind of hypnotic and spooky – not really what I was originally going for, but I ran with it anyway.
The hardware is an FTDI VNC2 chip on a DIY board. I am fighting with the buggy IDE and compiler to try to get a useful standalone hard sequencer/control surface from the Launchpad.
Numerology 3 Pro and analog step sequencers in the modular. A real-time studio recording in Cubase 6. Synths used were the modular synths, Waldorf MWXT, MicroQ, TX816, Nord Lead 2X, Prophet 8, DX7II and Korg ES-1. Using a Novation Launchpad to control the Numerology tracks. Step sequencers are dotcom Q960, Q119 and STG Soundlabs Time Suite. The opening and closing sound is a new SSL1130 DDVCO through a CGS01 harmonic sequencer and back into the DDVCO exponential and linear modulation inputs. Video editing in Final Cut Pro X.
More info:
Discuss here – http://forum.image-line.com/viewtopic.php?f=100&t=83958
Thanks to nucleon for the performance.
Music: unreleased Yo Soy Sauce tune.
plasticsoundsupply.com/​release/​yo_soy_sauce_-_juke_box/​
Built with the following components:
processing.org
tree-axis.com/​Ess/​
rngtng.github.com/​launchpad/​
A library by rngtng – Tobias Bielohlawek for the programming environment processing.
This library provides an interface to access novation's launchpad programmatically. It's based on Thomas Jachmanns ruby launchpad gem. LEDs can be lighted and button presses can be listened to. In addition, it includes a wrapper for the Monomic Library as well.
Download
Download launchpad version 0.3 in .zip format.
A video of a live mashup is impressing general audiences as much as it is enthusiasts. It's not a complex work, but it's brilliantly performed, and in incorporating some 39 songs into one epic mash-up of Ableton-synced clips, it presents plenty of touchstones for audience members. The ingredients: FL Studio, Ableton Live, a Novation Launchpad, and a Novation ReMOTE Zero SL MKII.
"This is a little idea i've been playing around with to implement in my set, hope you like it."
Tracklist:
Alphabeat – Boyfriend
Alphabeat – Fascination
Bag Raiders – Shooting Stars
Black Eyed Peas – Gotta Feeling
Britney Spears – …Baby One More Time
Capsule – Can I Have A Word
Chromeo – Momma's Boy
Coldplay – Viva La Vida
Daft Punk – Aerodynamic
Daft Punk – Around The World
Deadmau5 – Raise Your Weapon (Madeon Remix)
Deadmau5 – Right This Second
Ellie Goulding – Starry Eyed
ELO – Mr. Blue Sky
Girls Aloud – Biology
Gorillaz – Dare
Gossip – Heavy Cross (Fred Falke Remix)
Gwen Stefani – What You Waitin For (Jacques Lu Cont Mix)
Housse de Racket – Oh Yeah
Justice – DVNO
Justice – Phantom Part II
Katy Perry – One Of The Boys
Ke$ha – Take It Off
Kylie Minogue – Wow
Lady Gaga – Alejandro
Linkin Park – Crawling
Madonna – Hung Up
Martin Solveig ft. Dragonette – Boys and Girls
Michael Jackson – Billie Jean
Nero – Me and You
One Republic – All The Right Moves (Danger Remix)
One-T – Magic Key
Ratatat – Shempi
Solange – I Decided (Freemasons Remix)
Stardust – Music Sounds Better With You
The Buggles – Video Killed The Radio Star
The Killers – Losing Touch
The Who – Baba O'Riley (SebastiAn Remix)
Yelle – Que Veux Tu (Madeon Remix)
Made with FL Studio & Ableton Live, played on a Novation Launchpad & Novation Zero SL MKII.