The Gear Fiend Presents: TR-909 Bass Drum Recorded Through 13 Distortion Units
1) Dunlop Fuzz Face
2) Electro-Harmonix Metal Muff with Top Boost
3) Maxon OD-9
4) Boss OS-2
5) Boss DS-1
6) Boss DS-2
7) Pro Co RAT
8) Tech 21 VT Bass
9) MXR Bass D.I. +
10) Electro-Harmonix English Muff'n
11) Moog Moogerfooger Lowpass Filter
12) Electro-Harmonix Bass Big Muff Pi
13) Elektron SidStation
SAMPLE PACK NOW AVAILABLE HERE:
http://thegearfiend.com/
Marc Adamo fires up Massive for another S2S video tutorial exclusive. Discover how to make off-the-wall evolving Neurofunk D&B basslines pioneered by TeeBee and Noisia.
A quick rundown of different sounds you can achieve with polychord's synthesizers. We're using the strum keys and making changes to the envelope, wave, cutoff & resonance, tremolo, and more.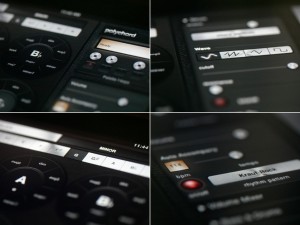 Shoulda Woulda Coulda has released Polychord 2, a music app for the iPad.
Polychord is drums, bass, chords, and accompaniment all wrapped into one.

Simply press one of the chord circles and your on you're way to writing a song. Drums and bass follow the chords automatically, but the coolest part is probably the strum keys on the right: simply swipe your finger over the yellow keys (or chrome keys in version 2) to strum a chord.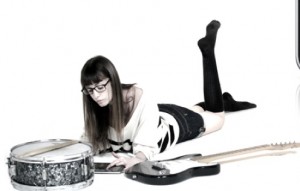 Changes in Polychord 2
Record and share songs with SoundCloud.
Sleek new UI made in collaboration with Jonas Eriksson.
Palettes, so you can save your settings.
Palette f-keys, for fast switching between palettes.
Sine, Sawtooth, Triangle and Square Waves for each instrument. (We used an 'analogue simulation' technique for generating the synthesizer waves, which warms them up a bit.)
Bitshift features for drums: full control over the reduction of bits / bitrate, allowing you to completely decimate the sound or just add a touch of noise.
Basic low-pass filtering, resonance for each instrument.
Tremolo Depth controls.
Scale mode for the strum keys: rather than the strum keys playing the notes of the current chord, you can set them to numerous other scales.
Arpeggiator based on time-signatures. Full control over the speed and count of the arpeggiator — allows you to mix a different time signature over the beat. Arpeggiator now has all of the same synth controls as the other instruments.
The UI now highlights the last chord you pressed, rather than always highlighting the root-note.
Octave control for every instrument.
Precise BPM control, with text input.
A global on/off switch for Auto Accompany.
File manager for renaming/deleting/loading palettes, songs, etc.
Pitch bending on strum keys (sends out MIDI too).
Skins panel lets you switch back to the classic color scheme.
Polychord 2 is available to purchase for $9.99 USD.
…by request!

*Watch in HQ for best video/audio quality!

Here's a recreation of the classic bass line from Depeche Mode's "Enjoy the Silence" (Violator!) using DM-style methodologies.

By utilising a step sequencer and a flexible analogue synth (Analogue Solutions Oberkorn & Telemark respectively), you can produce the moving / transitional effects inherent in a complex bass sequence such as this one.

Given the timing of the pattern, the Oberkorn was MIDI-stepped manually (see Midi-Stepping an Analogue Sequencer video for more information) and the pitch transposition was handled via MIDI as well. Alternatively, the pitch could be played live via MIDI.

The key is to take advantage of the precise opening and closing of the filter via Oberkorn CVB.

All settings will ultimately be approximate, as analogue synths will differ from machine to machine. Use the settings as starting points and then tweak away!

Enjoy (the Silence).
http://www.youtube.com/watch?v=WDE980r71zw
Background info:
I wanted to see if I could create a beat using only a filter and a white noise source. What I ended up creating was more of a bassline once the Filter was fully resonant.
Here is the result in a high quality audio.
Music is usually broken down into melody, rhythm and harmony. But what about the very lowest notes in music, that can have an impact on all three? In this film Howard looks at the abiding fascination musicians and composers have had with the bass.
For half a millennium instrument makers have been trying to construct instruments of all shapes and sizes capable of thudding, sonorous low notes. Only with the arrival of the synthesizer did they succeed in producing a rival to the mighty organ. With disco, dance, and drum 'n' bass, the bass has arrived centre stage.
But bass notes have another, crucial role. Far from just plodding away in the background, bass lines can have a critical effect on the whole structure of a piece of music, helping to drive the chord progressions.
Howard looks at the dark horse of the musical family, and its use in the hands of such diverse musical talents as Johann (and Richard) Strauss, John Philip Sousa, Stevie Wonder, Elton John, Albinoni, Bach and Motown's resident bass maestro, James Jamerson.
Part 2
Ableton Certified Trainer and Dubspot Instructor Michael Hatsis aka !banginclude explains how to make 'dubstep talking wobble bass' in Ableton Live using Operator (If you don't already own Operator, check out the tutorial video Dubstep Wobble Bass Part 1 in which Hatsis used the sampler to create the mid-range bass sound and load up that preset.) Starting with the Operator sound he created in the previous video tutorial Dubstep Wobble Bass Part 2, and using the patch as a launching point, he turns off Operators B, C, and D and keeps Operator A on a square-wave, sets the LFO rate to a 1/2 a bar, and switch up the Filter resonance to 5, which gives us a somewhat mild whomp bass sound. To add the talking effect, Hatsis used Ableton Live device Redux effect to bring the sample-rate down a few levels, set the Downsample to Hard, somewhere between 15 to 24 to get the talking sound. As the LFO sweeps through the Filter's frequency, the Redux adds a vocal effect to the wobble, and as you increase the value of the Downsample, the deeper and heavier the voice gets; as you decrease, the voice gets lighter. The technique known as "digital downsampling." Hatsis returns Operator to add a little FM/make the sound grittier by turning on Operator B. Be aware of the odd effects, as the Redux plugin enhances the grittiness of the FM. Furthermore, Hatsis demonstrates other effects within Operator including Coarse value, LFO rate, and Filter settings and options, frequencies, resonance, and recaps the steps and methods at the end.
Electronic music production tutorial by Brian Trifon of Trifonic
Via NSA
Some tricks how you can pimp up the sound of your basslines.
Note: All of those steps can also screw up the bassline, so use them carefully.
Kamui Virus Soundbank Preview
http://www.youtube.com/watch?v=yn1oZR…
Tracks that we created using these tweaks:
Kamui – Electro Slut
Kamui – Thrill Kill
Loopbased has released a new kick drum library called "Deep and Hard Kicks", more info from Loopbased below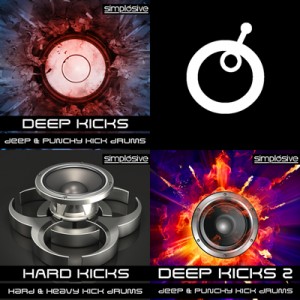 Simplosive's line of kick drum libraries is still extremely popular. With the "Deep and Hard Kicks Bundle" now all 3 best-selling sample packs are available together and for an insane price.
You save 50% (!) compared to buying all 3 packs individually.
"Deep Kicks 1+2" includes a whopping 1000 kick drums suitable for Tech, House, Minimal, Electro, Trance and even Ambient.
"Hard Kicks" features another 500 heavy kicks treated with high-end digital filters to create some nasty bass drums for Hardstyle, Hardcore, Jumpstyle, Gabber and Dubstep.
Get those 1.500 kick drums now for half the price.
Price: 30 Euro
http://www.loopbased.com/techno-minimal-loops/deep-and-hard-kicks-bundle.html