November 12, 2010 · Posted in
Uncategorized
·
Comments Off

on Arctic Drum and Bass from Bluezone
Bluezone has released a samples pack Arctic Drum and Bass, check out below for details
Bluezone Corporation is proud to present Arctic Drum and Bass. This new Drum and Bass sample pack has been meticulously prepared and covers a broad range of audio samples, including drum loops, syncopations, deep bass lines, synth loops, atmospheric sounds, sound effects and looped synth pads recorded at 160 bpm. This new sound library comes with free usage rights and is sure to get your creative juices flowing for original Drum n Bass compositions, jingles and soundtracks.
After the release of Austral Drum and Bass, Bluezone Corporation adds to its extensive percussion range with this new resource-packed collection: Arctic Drum and Bass. Easy to use and adapt, the 126 loops and samples contained in this set have been worked to provide the highest quality, not just in musical ideas and themes but also in the stereo spread. Recorded at 160 bpm, the rhythms will provide solid foundations for your compositions.  Arctic Drum and Bass gives you tons of tight kicks, hi-hats, rides and snares, synth loops ranging from calm to high-octane, as well as loads of rich atmospheric sounds. Backed with complex and varied sound effects, this pack's warm sounds will be a perfect addition to your library.
Suitable for style such as: DNB, Breaks, Dubstep, music for video games, TV series, Soundtrack, Hardstyle, Experimental and more.
Price: €10.95
November 1, 2010 · Posted in
Uncategorized
·
Comments Off

on Creating Twisted Leads with Logic's EXS24
Electronic music production tutorial by Brian Trifon of Trifonic for NextStepAudio.com
This time, Brian demonstrates some of Trifonic's techniques for creating filthy bass and lead sounds using Logic's EXS24 in combination with the old-school hardware sampler, EMu E6400.
October 5, 2010 · Posted in
Uncategorized
·
Comments Off

on Promising pure satisfaction
NTS Audio Labs has introduced Benassi Bass VST, a free synth VST for Windows that promises Satisfaction.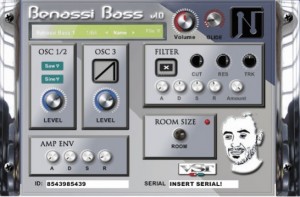 Here's what they have to say about it:
You need the well knowed ultra fat Bass than Benny Benassy used in his top productions? Well we made the first 'Benassi' dedicated virtual analogue synthesizer to fit this needings!!
This is not the same synthesizer but a fully customized Benassi bass virtual analogue synthesizer. It follow the original 'Benassi' technique to synthesize that type of sound and best of all we have coded one of the best sawtooth waveforms around.
Best of all it is FREE!!!
Features:
Preset Manager (64 Presets)
32 Factory 'Benassi Bass' presets included
2 Sine/Saw OSC (LP Filtered)
1 Double Saw OSC (BP Filtered)
Glide
Resonant Filter
Reverb
You can download the free Benassi Bass VST for Windows PC at ntsaudio. Registration is required.
September 25, 2010 · Posted in
Uncategorized
·
Comments Off

on How to get that trance sound going
This tutorial shows you how to create a trance arpeggio by hand using ableton live, massive, and a sound set from Adam Szabo.
Video tutorial on creating rolling basslines using Ableton Live and Native Instruments Massive.
Bass patch is from 7Skies Massive Soundset available at http://www.standalone-music.com
Kick sample from Sounds of Revolution Club Revolution Vol. 1. available at http://www.sounds-of-revolution.com

This is a follow up ableton live tutorial on creating trance rolling basslines.
Short video that walks through the steps listed in my blog tutorial on creating a trance pluck sound like the one heard in Cosmic Gate's "Barra".
August 20, 2010 · Posted in
Uncategorized
·
Comments Off

on Rob Papen has done it again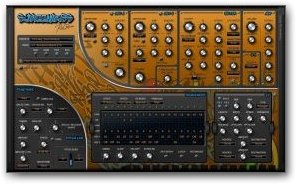 SubBoomBass is filled with excessive amounts of low end ammunition to detonate your tracks! With presets designed by the legendary Rob Papen and other guest artists, this dedicated bass synth will supply you with huge cone-rattling sounds that will devastate any music track. This software instrument is great for Hip Hop and RnB but can also be used for Dubstep, video game music, film scores and more…
Based on the award winning Predator engine, SubBoomBass has been carefully crafted to provide you with the tools to create fresh new bass lines. It includes unique tuned drum percussion samples which are great for Hip Hop and RnB basses but can also be used to add rhythm flavour to your tracks. Also check out the innovative 'Wave-sequence' feature which will open up brand new sonic possibilities for your music.
Features:
* VST2.4, AU and RTAS plug-in synthesizer for PC (Xp/Vista 32/Vista 64)and Mac OS-X 10.4 > (IntelMac)
Oscillators section:
* 2 Oscillators with Analogue types waveforms and tuned percussion waveforms.
* Oscillator waveform Symmetry control for each oscillator.
* Free running option for each oscillator and Oscillator Syncing of oscillator 2 to oscillator 1.
* Extended semitone range going from -48 semitones up to +48 semitones.
* Separate octave control and fine-tuning.
* Keyboard tracking on/off for each oscillator.
* Each Oscillator offers Pulse Width Modulation (PWM) using an independent LFO for each oscillator with individual speed
and amount controls.
* FM and Ring modulation modes for Oscillator 2.
* Each oscillator has a (PWM) square wave or sinus wave Sub-oscillator .
* Volume control for each oscillator and output on/off for Oscillator 1.
Filter section:
* Main filter is an analogue modelled stereo Multimode Filter, offering 6dB LowPass and HighPass, 12dB, 18dB and 24dB LowPass and HighPass, 12dB and 24dB BandPass,
12dB and 24dB Notch, Comb and Vocal Filter
* Pre-filtering distortion.
* Easy Filter control by pre-defined Cutoff Frequency modulation controllers: Envelope, Velocity, Key-tracking, LFO and Modulation Wheel.
* Built-in Filter Envelope with Attack, Decay, Sustain, Fade and Release.
* Build in Filter LFO with various waveforms, modulation amount control and tempo sync option with speed settings between 16/1 and 1/32t.
* LFO Poly, free or mono mode options.
Filter2 section:
* Additional Filter with cutoff control offering 6dB, 12dB and 24dB LowPass or HighPass setting.
August 11, 2010 · Posted in
Uncategorized
·
Comments Off

on And if one weird's not enough, check out Barbie
Switchable Mono mini jack output
Green and Blue Ultra Bright LED eyes
Pitch Up/Down Control
Switchable Pitch Up/Down LDR
Mute the voices Switch (constant low noise synth sound)
Two Noise Synth switches – these noises react to Barbies voice and mounth movements, they add extra bass and noise to her voices and when Barbies voice is switched off it just leaves these sounds which are really good!
August 7, 2010 · Posted in
Uncategorized
·
Comments Off

on Exploring bass pedals
Nice intro to the Moog Taurus bass pedal
Keyboard Magazine video review (my full print review shall be available in the October, 2010 edition) of the amazing Moog Taurus 3 Bass Pedals. True to historical form laid out by the '70s-era Taurus I, this is a wide-bottomed 100% analog synthesizer. I got to spend some time with one of the 1,000 units made, plaster my feet all over it and figure out if it actually possible to shred on this 13-pedal, 1-octave beast.
Anyine else tried it, leave a comment
July 31, 2010 · Posted in
Uncategorized
·
Comments Off

on Genobazz, a freeware monophonic bass synthesizer
Tek'it Audio has released version 1.2 of Genobazz, a freeware monophonic bass synthesizer plug-in for Windows.
Genobazz 1.2 has some bugs fixed and many new features, like a new high-pass filter with a slope of 12dB/oct , the "Sub boost" to give punch to your sound when is needed, "Randomize" and "Reset" knobs on the new "Patch Edit" screen, reset the knobs on initial patch value simply by double-clicking on it, some SSE optimizations, an improved user interface and many more improvements.
Changes in Genobazz v1.2
12dB/oct high-pass filter added.
Sub-boost added.
Pitch pop-up issues fixed.
Patch manager pop-up on the "Patch Edit" screen added.
Clickable zone on "waveform" are now larger.
"3D style" knobs and other improvements on the GUI.
New system for knob parameters , lighter on CPU.
Knob can be reset to patch value on double-click.
Randomize and Reset All knobs added.
Some SSE optimizations added.
Patch instruments and Banks from previous version are no longer compatible.
Revised user manual.
Genobazz is available to download as a freeware VST instrument for Windows PC.
More information: Tek'it Audio / Genobazz
July 9, 2010 · Posted in
Uncategorized
·
Comments Off

on iShred LIVE is a free mobile app with amp modeling and stomp box effects for guitar, bass and other instruments
iShred LIVE is a free mobile app with amp modeling and stomp box effects for guitar, bass and other instruments. Based on the virtual guitar app from Frontier Design Group, iShred LIVE gives musicians of all skill levels the ability to play a real instrument through their iPhone, iPad or iPod touch. The app opens to reveal a sight familiar to most musicians: an amp and pedalboard with life-like effects pedals. The built-in amp simulator features clean and overdrive settings for added tonal color. Each pedal features fully adjustable controls for accurate reproductions of classic guitar tones. Just tap the controls and iShred LIVE zooms in on the effect for easy manipulation. The first three effects are included for free with download of iShred LIVE are HK-2000 Digital Delay (with tap tempo), Q-36 Space Modulator/Flanger and Buzz Kill (noise gate).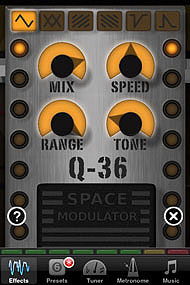 Players looking for added tonal flexibility can download these additional effects through in-app purchase: Hot Fuzz (super fuzz pedal), Sybil (dual chorus), Trembler (variable waveform tremolo), Adrenaline (adjustable treble booster) and Kömpressör (compressor pedal).
Favorite sounds can be saved in one of 48 user-programmable presets, organized as eight color-coded banks for easy organization. A chromatic tuner allows quick and accurate tuning; the adjustable metronome includes tap tempo and selectable accent sounds. The app also features a looping audio player.
Find out more about iShred LIVE.
June 29, 2010 · Posted in
Uncategorized
·
Comments Off

on Great analog bundle
G-Sonique has introduced the Analog Bundle, a collection of its "analog" effects plug-ins for Windows.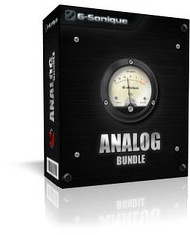 G-Sonique Analog Bundle includes
XBass4000L – Analog Bass saturation / Enhance processor: Designed to facilitate the maximization the bass frequencies, enriches your kick-drum & bass to give them the energy you need to drive your track.
Pultronic EQ-110P – Vintage vacuum tube equalizer: Equalizer emulating classic professional parametric vacuum tube equalizer from '50s and '60s. It can add real and hearable warm, color and dynamics of the vacuum tube devices into your music.
FSQ1964 – Vacuum tube high frequency / transient vitaliser: With this plug-in your records gain professional, expressive and crystal clear sound. It is capable of giving them a true sound, sharpness and boldness, everything the modern records should have.
Twisthead VS-206 – Vintage vacuum tube preamp: This machine behaves like a real analog hardware, it behaves in non-linear way and unexpectedly. Combining the quality and possibilities of digital sound with a heat, grandiosity and charisma of vintage analog vacuum tube machines.
The Analog Bundle offers a 25% savings on the regular price when purchasing the plug-ins separately. It is currently available to purchase for 58 EUR (additional 10% discount in G-Sonique's Summer Sale 2010).
More information: G-Sonique