Alba Ecstasy has released a new patch library for Sunrizer, 69 Trance Presets:
69 patches for Sunrizer synthesizer for iPad (iPhone) TRANCE style: plucks, leads, vibrating pads. 100% royalty free!
Store link: http://www.albaecstasy.ro/sunrizer-pr…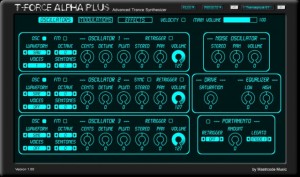 Alpha Plus is a free 'advanced trance synthesizer' for Windows.
It's a three-oscillator subtractive/FM synth with built-in delay and reverb.
Details and audio demos for Alpha Plus below:
Features:
Synthesis: Subtractive/FM.
3 Multiwave Oscillators with voice control (adjustable from 1 to 8 voices per osc), adjustable stereo width and panning, with Sine, Saw, Ramp (reversed Saw), Triangle, Pulse (square with PWM) waveforms and retrigger option for each oscillator (with "retrigger off" the oscillator is in free running mode, the oscillator starts with random phase positions everytime played a note, with "retrigger on" the oscillator's phase starts from position 0 everytime played a note.
1 Noise Oscillator with adjustable stereo width and volume.
1 Resonance Four Pole State Variable Filter, switchable between Low Pass, High Pass, Bandpass and switchable 12/24 dB slope, Resonance can be driven up to self oscillation.
1 ADSR Filter Envelope.
1 ADSR Amp Envelope.
2 ADSR Mod Envelopes.
2 host syncable LFOs.
Adjustable Drive function for Saturation/Distortion.
two band Low Freq/High Freq Equalizer.
Bitcrusher.
Portamento.
32 step Envelope Controlled Trance Gate.
Velocity control (on/off).
Dual Delay, switchable between Stereo mode and Ping-pong mode (right and left channels have their own tempo settings).
Stereo Reverb.
integrated Sidechain FX, optional with internal bpm synced triggering or external triggering via MIDI In (triggered by MIDI Note On, on MIDI channel 2). Note: see the manual of Your DAW for informations how to route a second MIDI Track to a VST/VSTi, because some DAW's have different ways of MIDI routing.
all functions fully automatable.
Background description:
This part may only be 11 seconds long, but it's my favorite sound that I've made with the Kraftzwerg to this day. In previous parts, I wasn't going for anything specific. This time, I wanted to make a classic trance percussion loop. Hope you enjoy it.
A quick tutorial on creating a simple Trance-type arpeggio sound with the Roland Juno-60.
Among the first in Roland's amazing Juno family! Six analog voices of polyphony and patch memory storage!! The Juno-60 sounds great, however, like the Juno-6 it lacks MIDI control. The Juno-60 includes 56 patches of memory storage. The Juno-60 is still popular due in part to opinions that it sounds better (punchier) than the Juno-106. The Juno-6 and 60 are very rich sounding synthesizers and are great analog machines as long as you can withstand the absence of MIDI control. The JSQ-60 sequencer is an external sequencer controller for the Juno-60 and is usually worth acquiring.
This is the first of 12 Ableton Live Session View Templates, ready to download and jam with. Each month there will be a new one, covering a different genre each month. It's free bro, go get it – no catches I promise. http://www.cosm.co.nz/template
Background information:
Some plug-ins include stutter effects inspired by the sidechain gates used in classic '90s trance tracks – just think of The Age of Love's eponymous hit.
You can gain more control over the sound if you do it the old-fashioned way, though; in the video above, you'll see how it's done in Cubase.
You can download the audio files that the video refers to by clicking here.
Background info: This is a video that takes an in-depth look at how I create trance music and all the instruments that make up a powerful and atmospheric sound. I've cropped out 15 measures from my track Spirit Within You and I go through instrument by instrument how it is played (the notes), what presets are used in Nexus2, VanGuard, and Sylenth1.
In the video I use Cubase 5, but this tutorial / howto is universal to any sequencing software and the aim is to let you know:
* Simple trance drums
* Two simple and simultaneous trance basslines
* A massively layered lead using 5 lead instruments
* Padding the sound with trance gates and pads
* Adding a trance piano
I will try to make another tutorial as well where I go through the building blocks of the entire track with intro, chorus, breakdowns, outro etc.
Background info:
I use this sound in nearly every song I make. Lots of people have asked me to make a tutorial on how I make it – so this is for you. Using this tutorial you will be able to produce the Supersaw/Trance Synthn
How To Make Lead and Bass Like Dash Berlin Disarm Yourself feat. Emma Hewitt (Club Mix)
In this video:
I received a request for this tutorial and this is the result. This video is my take on reproducing the lead and bass sequence from the track "Disarm Youself feat. Emma Hewitt (Club Mix)" by Dash Berlin. It uses Sylenth1, compression, eq, and saturator in Abelton Live. In the actual track, there's also a piano part present that I did not replicate in this tutorial.
Mogar demonstrating the potential of the new powerful synth section in the Nord Stage 2, including the new Arpeggiator and the Master Clock sync-features!
Read more about the Nord Stage 2 here: http://bit.ly/nordstage2
Nord Stage 2:
The Nord Stage 2 is compatible with the Nord Sample Library and also the Nord Sample Editor software that lets you create your own sample instruments, for infinite possibilities! Combined with Nord Piano Library compatibility the Nord Stage 2 is an instrument that offers huge expandability.

The Stage 2's powerful new synthesizer engine was built from the DNA of the Nord Wave. Capable of classic analogue synthesis, three operator FM synthesis, Wavetable synthesis and, crucially, compatibility with the Nord Sample Library. The Nord Sample Library not only give Stage 2 owners access to the huge free library of world-class sounds, including the famous vintage Mellotron and Chamberlin samples previously only available to Nord Wave and Nord Electro 3 users, but thanks to the included Nord Sample Editor for Mac and PC, allows user-created samples to be loaded into the instrument and thus opening up a whole new creative world of sound. The Synth engine itself features classic analogue synthesis with dual saw, hard sync and pulse wave modulation, three-operator FM synthesis with 32 different modulation frequencies, Wavetable synthesis with 62 waveforms and Sample based synthesis. A new great-sounding multimode filter features 12 and 24dB low pass, high pass, band pass and notch filters. And with an Amp envelope, Modulation envelope, an LFO, and Unison control, the Stage 2's synth capabilities are hugely powerful, delivering amazing on-stage sound.
The Synth section also features a new Arpeggiator that can be easily synced to the Stage 2's Master Clock for perfect timing with other elements of the Stage 2, including its effects.