Eiosis has released AirEQ, a plugin for AAX32 & AAX64, VST3, VST2, AU, RTAS, OSX and Windows, 32 and 64 bits formats.
http://www.eiosis.com/aireq.html
AirEQ was designed with a vision of achieving musical, technical and sonic excellence.
Simple, intuitive and quick to use, AirEQ always sounds great : it is the best equalizer plugin for efficient every day mixing, mastering and post production equalization.
The Water and Fire curves as well as the Character and Strength parameters were adjusted by ear, so mixing engineers can focus on one thing – making music sound great.
Advanced Filter
Sneak preview of DensityGS apeFilter, an advanced filter effect of iPad and Audiobus.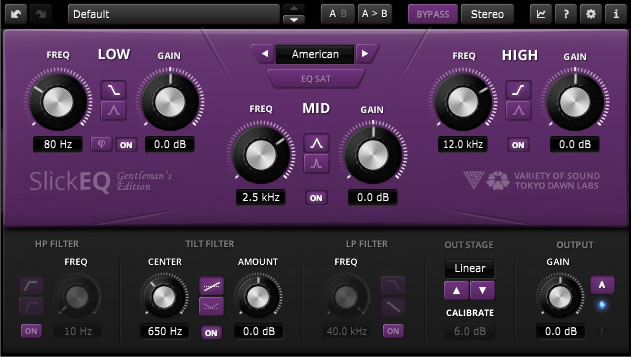 Tokyo Dawn Records and Variety of Sound have released SlickEQ – Gentleman's Edition, an equalizer effect plug-in for Windows and Mac.
SlickEQ – Gentleman's Edition takes SlickEQ's concept to new heights and adds an exotic "Tilt"-filter flanked by flexible low-pass and high-pass filters. Five distinct EQ models provide a rich set of predefined EQ curves and behaviours for the three main semi parametric filter bands.

SlickEQ GE offers a switchable EQ non-linearity as well as six different output stages. These options offer subtle and interesting textures, from the typical "mojo" often associated with high quality analogue audio gear, up to more obvious saturation.
SlickEQ – Gentleman's Edition features
Modern user interface with outstanding usability and ergonomics.
Carefully designed 64bit "delta" multi-rate structure.
Three semi-parametric filter bands, each with two shape options.
Five distinct EQ models: American, British, German, Soviet and Japanese.
Low band offers an optional phase-lag able to delay low frequencies relative to higher frequencies.
High pass filter with optional "Bump" mode.
Low pass filter with two different slopes (6dB/Oct and 12dB/Oct).
Parametric Tilt filter with optional "V" mode..
Six output stages: Linear, Silky, Mellow, Deep, Excited and Toasted.
Advanced saturation algorithms by VoS ("Stateful saturation").
Highly effective loudness compensated auto gain control.
Stereo, mono and sum/difference (mid/side) processing options.
Frequency magnitude plot.
Tool-bar with undo/redo, A/B, advanced preset management and more.
SlickEQ – Gentleman's Edition for Windows and Mac (VST/AU/AAX) is available for purchase for 30 EUR.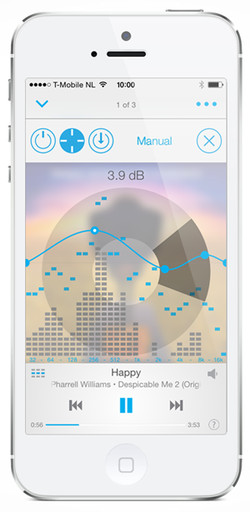 elephantcandy has announced the release of EQu for Spotify, the first quality equalizer for Spotify.
In 2010, audio software company Elephantcandy introduced audio equalizing for iPhone. With the EQu app, Elephantcandy created the famous equalizing curve that has become the standard in audio equalizing apps ever since. Now we take it to the next level with EQu for Spotify.
EQu for Spotify features
Pounding bass and crispy highs — Equalizing is the key to get the perfect sound from your system. EQu for Spotify is the first iPhone app that allows premium Spotify users to equalize their Spotify music. Subtly adjusting the spectral balance makes it possible to optimize audio to your speakers, headphones and acoustic environment. Top-notch technology wrapped up in a user-friendly interface.
FFT Equalizing — Whereas conventional equalizers allow you to amplify or attenuate predefined bands, Elephantcandy's equalizer makes it possible to design an extremely precise and smooth frequency response by directly manipulating more than 1.000 discrete bands. EQu's linear phase design also preserves all of the music's fidelity and introduces no spatial distortion.
Extra options — The standard version of EQu for Spotify is free. In-app purchases allow for more presets and offer a full version of the app, including extra precise tuning and the option to make and save personal presets.
EQu for Spotify is now available in the AppStore as a free download. The full version is available as an in-app purchase for $2.99 USD, and a presets pack is $0.99 USD.
The TDR VOS SlickEQ is a collaborative effort from the likes of Variety of Sound (Herbert Goldberg) and Tokyo Dawn Labs (Vladislav Goncharov and Fabien Schivre).
The SlickEQ is a mixing/Mastering EQ that was designed for ease of use and of course great sound. It's arranged in a LOW/MID/HIGH semi parametric layout for a fast and intuitive workflow when mixing. It also comes with access to four distinct EQ modes, each one having a set of pre-defined EQ curves and behaviors.
Download SlickEQ here http://bit.ly/1mInrKZ
RAZ Audio has released the N6 stereo EQ VST for Windows. They say that the N6 offers a natural work flow – just pick an EQ band and move it around to get the desired effect.  If you prefer to use knobs, they are there for you with "control+click" for returning to default and "shift+click" for fine tuning. They tell us that the users interface keeps all the data you need without creating "graphical noise" or clogging the control screen and that N6 uses their brand new computational engine and controls for high precision, low CPU and rock solid stability.
"Music production tools should serve the user, not the other way round. This is why we offer the N6 EQ for free, no licensing, registration or locking devices needed. We did our best to get you what you need – a free 'no strings attached' precision tool, which is easy and intuitive to use. We hope you enjoy it."
Features:
High precision EQ tool
+/- 18 [Db] gain per band
Various band shapes: low Pass, high pass, peak (& notch), low shelf and high shelf
Precision FFT reading with: Off, Pre-EQ & Post-EQ mode
Zero latency
Easy, natural GUI
Supports any sample rate (auto detection from host)
Clipping LED's and Input/Output controls for avoiding signal clipping
Pricing and Availability:
Free download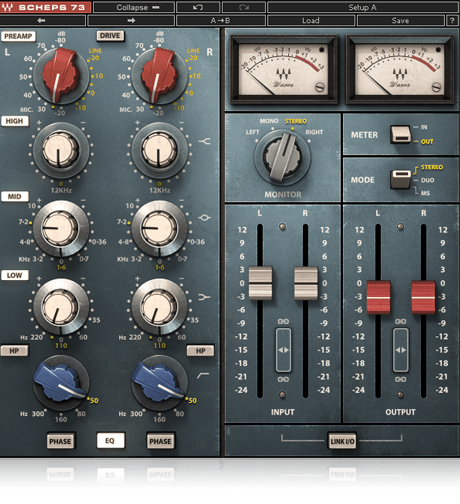 Waves has released the Scheps 73 plug-in. Scheps 73 is a 3-band EQ modeled on the classic 1073 console's EQ and mic preamp module and developed in association with world-renowned mixing engineer Andrew Scheps (Adele, Red Hot Chili Peppers, Black Sabbath, Lana Del Ray, Metallica, Jay-Z.)
The Scheps 73 EQ features interrelated bands that adhere to the 1073's original specs and emulate its behavior: a fixed 12kHz high-frequency band, switchable low and midrange bands with cut and boost controls, and an 18dB/octave high-pass filter. Additionally, a little-known 10kHz midrange band discovered in the original 1073 schematics, but operable only on the rare 1078 channel strip has been modeled and incorporated into the plugin.
Using innovative procedures to model the acclaimed Marinair transformer, Waves has meticulously captured all the sonic characteristics of the 1073, including its harmonic distortion. These overtones were tweaked by Andrew Scheps himself.
Price: $149 – There is an introductory price of $99.
EQ is probably the most important tool to make sure your mix sounds good. But how do you know where to cut or boost? What frequencies are important? In this video Propellerhead product specialist Mattias lets you in on four EQ tips for a better mix. Learn basic EQ usage, what frequencies matter in a kick drum and more!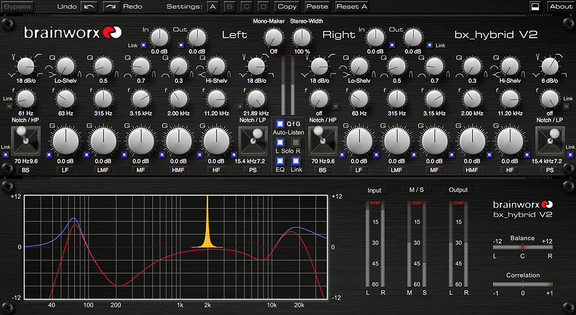 Plugin Alliance has announced the release of bx_hybrid V2, a mono and stereo equalizer bundle by Brainworx.
bx_hybrid V2 was re-designed from the ground up, using Brainworx´ latest filter-designs. Bringing you unrivaled analog-style filters and awesome digital workflow. The EQs will map any & all features of the AVID / Digidesign ICON center section EQ plus the Surround Joysticks.

Artifact-free EQ-ing up to 26(!)kHz, even in low-resolution sessions (44.1k & 48k).

5-band EQ plus Lo- and Hi-Pass filters with various adjustable filter orders (up to 5th order / – 30dB per octave), Lo- and Hi-Shelving EQs, Peak filters, 2 Notch-filters (with adjustable Q!), and Shifter EQs which can be controlled with Surround Joysticks or your mouse.
bx_hybrid V2 features
New: Brainworx critically acclaimed filters.
Artifact-free EQ-ing up to 26kHz.
64-Bit & AAX (DSP & Native) Support.
New and innovative Solo Modes.
Shelving Filters, Hi- & Low-Pass, Notch Filters, Peak Bands, 11 Bands in total.
"Mouse Over" feature: adjust the parameters by holding the mouse over any knob and turning your mouse wheel.
Direct access: type in any valid number into the text fields for direct access to the exact value.
EQ graphic panel switch-able.
Fully automatable.
The bx_hybrid V2 is available to purchase for $199 USD.

J1000 has released two new free VST plug-ins for Windows. Here's the details:
MQ55
Parametric mixing equalizer based on MQ57. Most of the functions are the same, except that MQ55 operates only in stereo mode, has more flexible pass filters and has gain ratio that acts like dry/wet control. This is my go-to EQ for music production.
SX36
Three-band stereo processor that separates audio into low, mid and high frequencies and lets you manipulate their stereo properties – width and panning or rotation. Crossover points are easily adjusted with single knob. It has simple meters for each range showing correlation or panning. High-pass filter cuts unwanted frequencies on side channel for more stable bass.