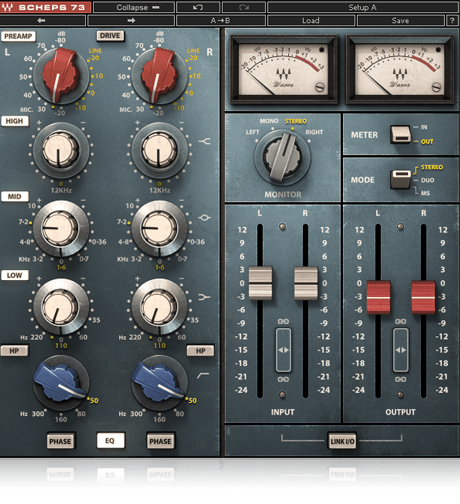 Waves has released the Scheps 73 plug-in. Scheps 73 is a 3-band EQ modeled on the classic 1073 console's EQ and mic preamp module and developed in association with world-renowned mixing engineer Andrew Scheps (Adele, Red Hot Chili Peppers, Black Sabbath, Lana Del Ray, Metallica, Jay-Z.)
The Scheps 73 EQ features interrelated bands that adhere to the 1073′s original specs and emulate its behavior: a fixed 12kHz high-frequency band, switchable low and midrange bands with cut and boost controls, and an 18dB/octave high-pass filter. Additionally, a little-known 10kHz midrange band discovered in the original 1073 schematics, but operable only on the rare 1078 channel strip has been modeled and incorporated into the plugin.
Using innovative procedures to model the acclaimed Marinair transformer, Waves has meticulously captured all the sonic characteristics of the 1073, including its harmonic distortion. These overtones were tweaked by Andrew Scheps himself.
Price: $149 – There is an introductory price of $99.
EQ is probably the most important tool to make sure your mix sounds good. But how do you know where to cut or boost? What frequencies are important? In this video Propellerhead product specialist Mattias lets you in on four EQ tips for a better mix. Learn basic EQ usage, what frequencies matter in a kick drum and more!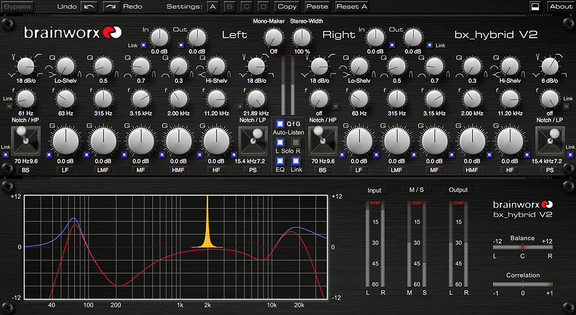 Plugin Alliance has announced the release of bx_hybrid V2, a mono and stereo equalizer bundle by Brainworx.
bx_hybrid V2 was re-designed from the ground up, using Brainworx´ latest filter-designs. Bringing you unrivaled analog-style filters and awesome digital workflow. The EQs will map any & all features of the AVID / Digidesign ICON center section EQ plus the Surround Joysticks.

Artifact-free EQ-ing up to 26(!)kHz, even in low-resolution sessions (44.1k & 48k).

5-band EQ plus Lo- and Hi-Pass filters with various adjustable filter orders (up to 5th order / – 30dB per octave), Lo- and Hi-Shelving EQs, Peak filters, 2 Notch-filters (with adjustable Q!), and Shifter EQs which can be controlled with Surround Joysticks or your mouse.
bx_hybrid V2 features
New: Brainworx critically acclaimed filters.
Artifact-free EQ-ing up to 26kHz.
64-Bit & AAX (DSP & Native) Support.
New and innovative Solo Modes.
Shelving Filters, Hi- & Low-Pass, Notch Filters, Peak Bands, 11 Bands in total.
"Mouse Over" feature: adjust the parameters by holding the mouse over any knob and turning your mouse wheel.
Direct access: type in any valid number into the text fields for direct access to the exact value.
EQ graphic panel switch-able.
Fully automatable.
The bx_hybrid V2 is available to purchase for $199 USD.

J1000 has released two new free VST plug-ins for Windows. Here's the details:
MQ55
Parametric mixing equalizer based on MQ57. Most of the functions are the same, except that MQ55 operates only in stereo mode, has more flexible pass filters and has gain ratio that acts like dry/wet control. This is my go-to EQ for music production.
SX36
Three-band stereo processor that separates audio into low, mid and high frequencies and lets you manipulate their stereo properties – width and panning or rotation. Crossover points are easily adjusted with single knob. It has simple meters for each range showing correlation or panning. High-pass filter cuts unwanted frequencies on side channel for more stable bass.

MaxSynths lets us know that DSP-2 is a high precision insert effect for vocal processing which includes an Intelligent Dynamic Processor, a saturator, a four band equalizer fixed on vocal key frequencies and a room emulator based on the Schroeder reverberator. They say that DSP-2 has been designed to be an easy to understand solution for all your vocal processing needs.
Features:
Intelligent Dynamic Processor (IDP)
Four different automatic operative modes:
Fast attack, fast release
Fast A, slow R
Slow A, fast R
Slow A, slow R
Selectable compression ratio
Saturator with three different operation modes
EQ fixed on vocal key frequencies
Room emulator based on Schroeder reverb model
Transparent increment of the perceived volume level
High precision input/output VU-meter
Low CPU usage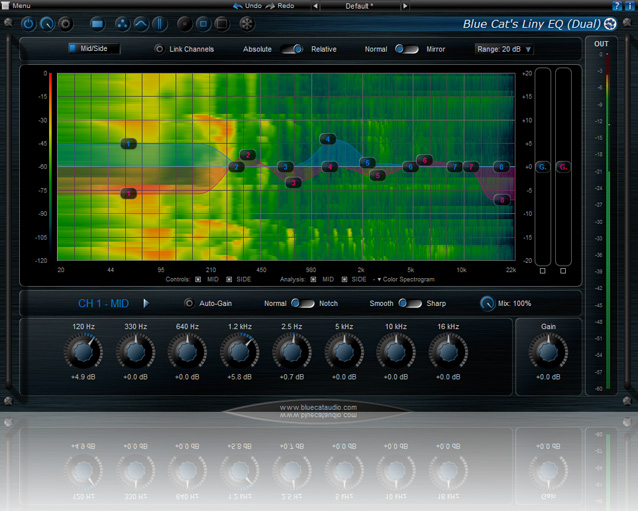 Blue Cat's Liny EQ 5.0 is a complete rewrite of their low latency linear phase EQ plug-ins. Liny EQ is an 8 bands linear phase graphic equalizer with very low latency and comprehensive visual feedback: it processes audio signals without phase distortion, with an unusually short latency (less than 3 milliseconds). Version 5.0 has now a brand new, fully customizable user interface, and includes many new features and enhancements: premium visual feedback with EQ curves, spectrum and spectrogram displays, new EQ shapes, single and dual channels modes, a new presets manager, Windows AAX support, multiple display sizes, new MIDI and automation mapping capabilities, and much more.
The plug-in is available alone or as part of Blue Cat's Master Pack, a bundle including the company's recommended plug-ins for mastering. A special introduction offer is available to new customers until June 15th: 25% off the plug-in and 15% off the bundle. Customers who recently purchased the software (in the past 3 months) will receive the upgrade for free, and others can upgrade to the new version for a small fee. Other Blue Cat Audio customers can purchase the plug-in with 40% discount.
Demo versions are available for download on www.bluecataudio.com, in VST, RTAS, AAX, Audio Unit and DirectX formats, for both Mac and PC (32 and 64-bit).
New Features:
- Brand new, fully customizable user interface:
–  New look and feel.
–  Show/hide what you need.
–  New EQ curve display.
–  New instant spectrum curves display.
–  New color or greyscale overlayed spectrogram view.
–  New output peak levels meters.
–  Multiple display sizes.
–  Improved readability.
–  Animated transitions.
- New "mix" parameter for instant dry/wet control or side chain dynamic equalization.
- New interpolation mode for up to four different EQ shapes.
- Now includes both single and dual channels versions and superseds the three plug-ins previously included in the Blue Cat's Liny EQ Pack bundle.
- Spectrum and spectrogram displays can be frozen to capture spectral snapshots.
- New integrated presets manager:
–  Load/save presets from the plug-in's user interface.
–  Organize presets with folders.
–  Customize the default preset.
–  Exchange presets easily.
- Automation range and response curve can now be customized for each parameter (in and out).
- Automation and MIDI settings (channel, MIDI learn etc.) are now accessible from the main user interface.
- AAX plug-in format is now also supported on Windows (Pro Tools 10.2 required).
Blue Cat's Liny EQ 5: 74 EUR or $96 (instead of 99 EUR or $129) , until June 15th. Upgrade from Blue Cat's Liny EQ 4: 19 EUR or $25. Blue Cat's Master Pack: 390 EUR or $509 (instead of 459 EUR or $599), until June 15th.
Dynamic EQ really is a versatile and useful tool, and for many producers it can be a fantastic, and much-needed, problem solver. In short, it is a virtual processor which can be used for eliminating the shortcomings of static EQ by providing a dynamically applied equalization to your work. Watch as Glowcast mastering engineer, Conor Dalton explains how to use it.

Acidgrooves has announced the LSD-525 amplifier and parallel EQ plug-in with Entropy technology.
This is the first of a new breed of Plug-Ins developed by Acidgrooves that feature the Acidgrooves Entropy Technology™.

This patent pending technology brings to the Audio Plug-In world one of the characteristics of analog hardware that provides them with some of their unique sound qualities: the passage of time.

With time, capacitors, resistors, transformers and other analog components will decay and lose some of their original specifications which will effectively change the sound and personality of that particular unit.

Our technology tries to recreate exactly that.
LSD-525 features
4 channel parallel equalizer: bass lift, low, mid and highs.
Mix knob for dry /wet control.
2 Entropy Sound Technologies: TAD & USP.
A / B Setups, Presets, Undo & Redo capabilities.
Designed from day one with low cpu usage in mind.
Ideal to be used along virtual synths.
Up to 64x oversample.
Built-in limiter.
Lifetime updates.
The LSD-525 for Windows and Mac (VST/AU) is available to purchase for the introductory price of $39 USD until May 11th, 2013 (regular $49 USD).

u-he has announced the release of Uhbik-Q, the "uhbiquitous equalizer" for Propellerhead's Rack Extensions.
Equalizer, the perfect balance between simplicity and flexibility required a unique approach… Uhbik-Q is a revelation!

Maximum flexibility from a minimum of controls, low CPU without compromising transparency. Uhbik-Q combines freely tunable frequency bands (4-pole filters, not the usual 2-pole!) with presets for other options. Q-factors automatically adjust to gain, an optional 'mid' bell curve filter adjusts to the two main bands… judging by the simple GUI, you would never guess just how much this EQ can do!
Uhbik-Q is available to purchase for the introductory price of $19 USD until November 5th, 2012 (regular $39 USD).
Free 30-Band Graphic Equalizer

Mildon Studios has released a free 30-Band Graphic Equalizer VST plug-in for Windows with a look that blends perfectly with Cubase.
Pricing and Availability:
Free download
More information:
AudioThing has released TX-101 for Native Instruments Kontakt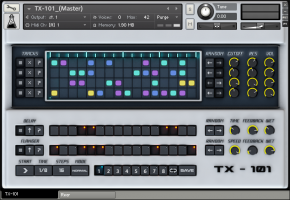 TX-101 is a 4-track sequencer designed for the creation of evolving rhythm patterns. Each track has 4 different samples (for a total of 16 samples), including organic glitches and metal hits. It is possible to store eight presets that can be joined and looped together to build a 128 steps sequence (16×8). It is also possible to sequence Delay and Flanger effects as two additional tracks. Both parameters (cutoff, resonance, effects) and steps can be randomized separately.
There are 6 different variations (.nki instruments) of TX-101 for different mood/styles. The modulation wheel is also assigned to a different set of parameters for each instrument.
Details:
Sequencer: 4 Tracks and 16 Steps + tracks for Delay and Flanger.
8 Patterns presets.
6 Kontakt Instruments (.nki) presets.
Mod. Wheel assigned to different parameters for each preset.
Size: 16 MB installed / 9 MB Download.
Price: $18. TX-101 is available for the introductory price of $14 until October 11th, 2012.
Native Instruments Kontakt 4.2.4+ full version is required.
Cableguys Curve 2
Curve 2 out now!
FULLY FUNCTIONAL DEMO: http://www.cableguys.de/downloads.html
MORE INFO: http://www.cableguys.de/curve.html
Curve is a software synthesizer with an irresistible waveform editor, huge sound library and slick interface. Ideal for both experimentation and detailed tweaking at an excellent sound quality.
• Sound Features - Curve features aliasing-free oscillators with custom waveforms, noise generation and broad FM options. Waveform crossfades provide for changing timbres; a comprehensive unison mode delivers fat lead sounds, wide pads and massive sound. Drawable LFOs deliver everything from melodic and rhythmic patterns to dubstep wobbles and punishing bit-crushing effects. Flexible filter routing, a feature-rich mono mode plus legato and glide, are all designed for great depth of control.
• Preset Library - Curve's preset library is a shared online database, providing a constant source of inspirational sound. Public preset sharing allows an ever-increasing number of great presets, public preset voting will help you manage the vast number of sounds, all from within the plugin. Curve ships with an excerpt of this ever-growing sound library. Macro knobs let you explore vast sound variations quickly, for quick access to those parameters that define the core of a sound.
• Elegant Interface - Curve shows you everything important at a glance, featuring high contrasts and a fresh color scheme. Inbuilt MIDI assignment allows you to set up external MIDI controllers quickly.
• Curve Community - Since the first beta of Curve 1.0, the Curve community has steered the synthesizer's future by submitting feature requests, comments and bug reports, and by sharing presets. Curve 2 is the result of our users submitting wishes and uploading great sounds. Big thanks to all of you!"