MaxSynths lets us know that DSP-2 is a high precision insert effect for vocal processing which includes an Intelligent Dynamic Processor, a saturator, a four band equalizer fixed on vocal key frequencies and a room emulator based on the Schroeder reverberator. They say that DSP-2 has been designed to be an easy to understand solution for all your vocal processing needs.
Features:
Intelligent Dynamic Processor (IDP)
Four different automatic operative modes:
Fast attack, fast release
Fast A, slow R
Slow A, fast R
Slow A, slow R
Selectable compression ratio
Saturator with three different operation modes
EQ fixed on vocal key frequencies
Room emulator based on Schroeder reverb model
Transparent increment of the perceived volume level
High precision input/output VU-meter
Low CPU usage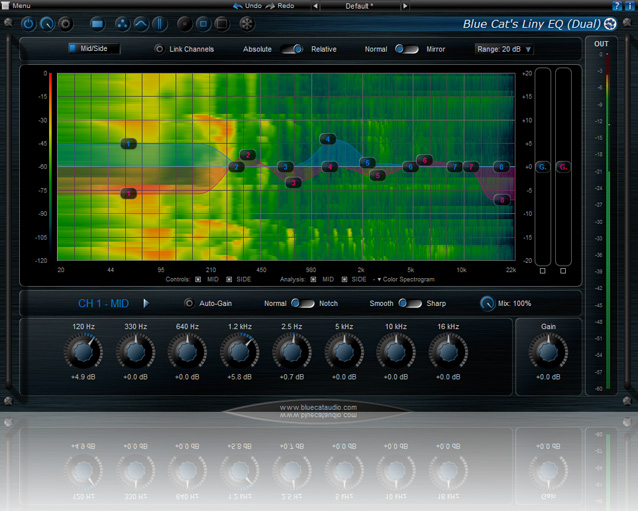 Blue Cat's Liny EQ 5.0 is a complete rewrite of their low latency linear phase EQ plug-ins. Liny EQ is an 8 bands linear phase graphic equalizer with very low latency and comprehensive visual feedback: it processes audio signals without phase distortion, with an unusually short latency (less than 3 milliseconds). Version 5.0 has now a brand new, fully customizable user interface, and includes many new features and enhancements: premium visual feedback with EQ curves, spectrum and spectrogram displays, new EQ shapes, single and dual channels modes, a new presets manager, Windows AAX support, multiple display sizes, new MIDI and automation mapping capabilities, and much more.
The plug-in is available alone or as part of Blue Cat's Master Pack, a bundle including the company's recommended plug-ins for mastering. A special introduction offer is available to new customers until June 15th: 25% off the plug-in and 15% off the bundle. Customers who recently purchased the software (in the past 3 months) will receive the upgrade for free, and others can upgrade to the new version for a small fee. Other Blue Cat Audio customers can purchase the plug-in with 40% discount.
Demo versions are available for download on www.bluecataudio.com, in VST, RTAS, AAX, Audio Unit and DirectX formats, for both Mac and PC (32 and 64-bit).
New Features:
– Brand new, fully customizable user interface:
—  New look and feel.
—  Show/hide what you need.
—  New EQ curve display.
—  New instant spectrum curves display.
—  New color or greyscale overlayed spectrogram view.
—  New output peak levels meters.
—  Multiple display sizes.
—  Improved readability.
—  Animated transitions.
– New "mix" parameter for instant dry/wet control or side chain dynamic equalization.
– New interpolation mode for up to four different EQ shapes.
– Now includes both single and dual channels versions and superseds the three plug-ins previously included in the Blue Cat's Liny EQ Pack bundle.
– Spectrum and spectrogram displays can be frozen to capture spectral snapshots.
– New integrated presets manager:
—  Load/save presets from the plug-in's user interface.
—  Organize presets with folders.
—  Customize the default preset.
—  Exchange presets easily.
– Automation range and response curve can now be customized for each parameter (in and out).
– Automation and MIDI settings (channel, MIDI learn etc.) are now accessible from the main user interface.
– AAX plug-in format is now also supported on Windows (Pro Tools 10.2 required).
Blue Cat's Liny EQ 5: 74 EUR or $96 (instead of 99 EUR or $129) , until June 15th. Upgrade from Blue Cat's Liny EQ 4: 19 EUR or $25. Blue Cat's Master Pack: 390 EUR or $509 (instead of 459 EUR or $599), until June 15th.
Dynamic EQ really is a versatile and useful tool, and for many producers it can be a fantastic, and much-needed, problem solver. In short, it is a virtual processor which can be used for eliminating the shortcomings of static EQ by providing a dynamically applied equalization to your work. Watch as Glowcast mastering engineer, Conor Dalton explains how to use it.

Acidgrooves has announced the LSD-525 amplifier and parallel EQ plug-in with Entropy technology.
This is the first of a new breed of Plug-Ins developed by Acidgrooves that feature the Acidgrooves Entropy Technology™.

This patent pending technology brings to the Audio Plug-In world one of the characteristics of analog hardware that provides them with some of their unique sound qualities: the passage of time.

With time, capacitors, resistors, transformers and other analog components will decay and lose some of their original specifications which will effectively change the sound and personality of that particular unit.

Our technology tries to recreate exactly that.
LSD-525 features
4 channel parallel equalizer: bass lift, low, mid and highs.
Mix knob for dry /wet control.
2 Entropy Sound Technologies: TAD & USP.
A / B Setups, Presets, Undo & Redo capabilities.
Designed from day one with low cpu usage in mind.
Ideal to be used along virtual synths.
Up to 64x oversample.
Built-in limiter.
Lifetime updates.
The LSD-525 for Windows and Mac (VST/AU) is available to purchase for the introductory price of $39 USD until May 11th, 2013 (regular $49 USD).

u-he has announced the release of Uhbik-Q, the "uhbiquitous equalizer" for Propellerhead's Rack Extensions.
Equalizer, the perfect balance between simplicity and flexibility required a unique approach… Uhbik-Q is a revelation!

Maximum flexibility from a minimum of controls, low CPU without compromising transparency. Uhbik-Q combines freely tunable frequency bands (4-pole filters, not the usual 2-pole!) with presets for other options. Q-factors automatically adjust to gain, an optional 'mid' bell curve filter adjusts to the two main bands… judging by the simple GUI, you would never guess just how much this EQ can do!
Uhbik-Q is available to purchase for the introductory price of $19 USD until November 5th, 2012 (regular $39 USD).
Free 30-Band Graphic Equalizer

Mildon Studios has released a free 30-Band Graphic Equalizer VST plug-in for Windows with a look that blends perfectly with Cubase.
Pricing and Availability:
Free download
More information:
AudioThing has released TX-101 for Native Instruments Kontakt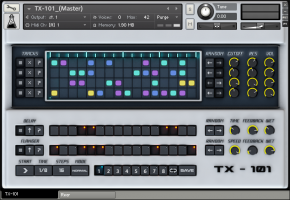 TX-101 is a 4-track sequencer designed for the creation of evolving rhythm patterns. Each track has 4 different samples (for a total of 16 samples), including organic glitches and metal hits. It is possible to store eight presets that can be joined and looped together to build a 128 steps sequence (16×8). It is also possible to sequence Delay and Flanger effects as two additional tracks. Both parameters (cutoff, resonance, effects) and steps can be randomized separately.
There are 6 different variations (.nki instruments) of TX-101 for different mood/styles. The modulation wheel is also assigned to a different set of parameters for each instrument.
Details:
Sequencer: 4 Tracks and 16 Steps + tracks for Delay and Flanger.
8 Patterns presets.
6 Kontakt Instruments (.nki) presets.
Mod. Wheel assigned to different parameters for each preset.
Size: 16 MB installed / 9 MB Download.
Price: $18. TX-101 is available for the introductory price of $14 until October 11th, 2012.
Native Instruments Kontakt 4.2.4+ full version is required.
Cableguys Curve 2
Curve 2 out now!
FULLY FUNCTIONAL DEMO: http://www.cableguys.de/downloads.html
MORE INFO: http://www.cableguys.de/curve.html
Curve is a software synthesizer with an irresistible waveform editor, huge sound library and slick interface. Ideal for both experimentation and detailed tweaking at an excellent sound quality.
• Sound Features – Curve features aliasing-free oscillators with custom waveforms, noise generation and broad FM options. Waveform crossfades provide for changing timbres; a comprehensive unison mode delivers fat lead sounds, wide pads and massive sound. Drawable LFOs deliver everything from melodic and rhythmic patterns to dubstep wobbles and punishing bit-crushing effects. Flexible filter routing, a feature-rich mono mode plus legato and glide, are all designed for great depth of control.
• Preset Library – Curve's preset library is a shared online database, providing a constant source of inspirational sound. Public preset sharing allows an ever-increasing number of great presets, public preset voting will help you manage the vast number of sounds, all from within the plugin. Curve ships with an excerpt of this ever-growing sound library. Macro knobs let you explore vast sound variations quickly, for quick access to those parameters that define the core of a sound.
• Elegant Interface – Curve shows you everything important at a glance, featuring high contrasts and a fresh color scheme. Inbuilt MIDI assignment allows you to set up external MIDI controllers quickly.
• Curve Community – Since the first beta of Curve 1.0, the Curve community has steered the synthesizer's future by submitting feature requests, comments and bug reports, and by sharing presets. Curve 2 is the result of our users submitting wishes and uploading great sounds. Big thanks to all of you!"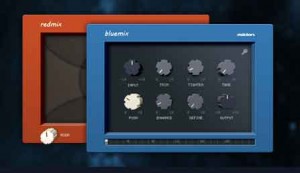 Mildon Studios has released the Redmix and Bluemix plug-ins.
"Get your mix done in no time with these powerful mixing plugins. Get your tracks to sit with Bluemix and then move them around with Redmix. It's simple and easy. Start mixing like a pro!"
Here's the details:
Ready to mix your next inspiring song? Bluemix can help you iron-out individual tracks from powerful kicks to high-flying guitars to make them sound just right.
Bluemix combines smart EQ, automatic compression, and high-frequency excitation to give you a clean signal that sits better in the mix. Use it in tandem with Redmix to create space and to add just the right amount of moisture to your mix.
Bluemix Features:
Smart EQ: Trim, Tighten, Tame
Auto Compressor: Push
Gain Reduction Meter
Exciters: Enhance, Define
Redmix puts your tracks on a virtual stage, allowing you to pan from left to right and front to back! It lets you create a lot of space just by moving things around, something that's hard to achieve with a conventional panner.
Redmix makes effective use of Haas' principles combined with spectral shaping and room reverb to create space. Use it in tandem with Bluemix for a better mix.
Redmix Features:
2-Dimensional Panning (L-R + F-B)
Automatic Haas Effect
Room Control
Pricing and Availability:
Redmix: $19
Bluemix: $19
Bundle: $28.50
More information: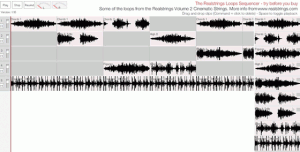 Loopmasters has introduced the Realstrings Online Loops Sequencer, a web-based sequencer by Chris Savage, offering a new way to demo loops from Realstrings sample packs. The sequencer allows you to play with some of the loops before you decide to buy, so you get a better idea of whether your music would benefit from these packs than you might get from the usual audio demos.
We are always looking at new ways to showcase loops packs; here's an innovative tool from string loops producer Pete Whitfield at realstrings.com – an online loops sequencer.

For loops packs that are construction kits, what better way to try before you buy? Sequence and layer the loops to see how they work in an interactive, musical context.
An iPad version is coming soon, plus some more functionality, based on user feedback.
More information: LoopBlog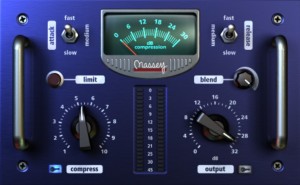 The CT5 is a revision of their popular CT4 compressor. The sonic characteristics that made the CT4 such a versatile and easy-to-use compressor remain intact.  'The core sound remains 99% the same; I'm tweaking one of the internal filters for the better and improving the dynamic range of the compression circuit,' says Steven Massey.
The new model improves on a good thing by adding a more aggressive, higher ratio compression curve option, a wet-dry signal blending control, and sidechain input capability.  Further, Steven explains, 'The highest compression setting on the CT4 is equivalent to about 8 on the CT5, even without the limit option enabled.  Thus, more compression is available to the user, which is, of course, better.'
Many of these new features were implemented due to customer requests.  'We encourage feedback, not just from the beta testers, but from everyday users,' says the newest guy at Massey Plugins, Kevin Weber. 'I truly enjoy checking in on our web forum and seeing what folks have to say. Sure there are some unrealistic requests, but some spot on ones as well. We take those ideas to heart, even the crazy ones.

High-Resolution AAX EQ Plug-in For Pro Tools
Developed by the creator of the parametric EQ, George Massenburg,Avid says that the new Massenburg DesignWorks (MDW) Hi-Res Parametric EQ Plug-In for AAX continues to define the state-of-the-art in digital equalization. Here's all the details in their own words…
Designed for Pro Tools|HD systems, version 5 offers new AAX DSP and AAX Native support, giving operators the flexibility to use the EQ across the entire Pro Tools product line, including Pro Tools|HDX systems. With its nearly unmeasurable low distortion, unprecedented clarity, unmatched smoothness, consistent EQ parameter representation, and superb high-frequency response (especially near Nyquist frequency at 44.1/48k), MDW Hi-Res Parametric EQ is designed for optimal definition in the mixing environment.
MDW Hi-Res Parametric EQ operates in double precision 64-bit floating point processing to take advantage of the maximum capability of the ProTools system. This new generation plug-in emulates the constant shape reciprocal filter curves of Massenburg's legendary GML 8200 equalizer — the industry-standard reference. The plug-in offers a choice of three or five bands of equalization (both versions support the ultra-wide 10 Hz to 41 kHz frequency range) to target certain frequencies, or conserve DSP resources when only three bands of EQ are needed.
Professional Features
MDW Hi-Res Parametric EQ offers a number of features to help achieve better mixes. It allows viewing the frequency grid in 6, 12, or 24 dB resolution for more accurate representation of the equalizer settings. It also offers various filter types and a wide selection of Q and frequency values.
IsoPeak lets the operator quickly isolate and sweep through the frequency spectrum to find a targeted frequency quickly, a benefit of parametric equalization. One can also toggle between two EQ band settings using A/B snapshots, copy one setting to the other, and invert the phase of a track. And when used with Avid control surfaces, the EQ organizes the bands into ergonomic groups on the channel strips.
High-Resolution Filtering
MDW Hi-Res Parametric EQ 5.0 assures true high-resolution operation. The plug-in delivers double-precision 64-bit processing for vanishingly low distortion for optimal clarity and transparency (think natural-sounding). It also provides high-resolution 96 kHz sample-rate processing for audio recorded at 48 kHz or 96 kHz, and 192 kHz sample-rate processing for 92 kHz audio, allowing for maximum resolution, increased headroom, and fewer artifacts, including lower noise typical of generic equalizers. And with variable Qs (adjustable bandwidths) from 25.6 (1/18 of an octave) to 0.1 (6-2/3 octaves), MDW Hi-Res Parametric EQ 5 delivers unmatched precision and maintains predictable filter curves.
Excellent DSP Efficiency
MDW Hi-Res Parametric EQ 5 allows the operator to select five bands of EQ for enhanced efficiency on Pro Tools|HDX systems or three-band mode for even greater instance counts. On Pro Tools|HDX, the five-band version delivers seven, eight and three instances for 48 kHz, 96 kHz and 192 kHz, respectively, while the three-band version delivers instance counts of ten, eleven and five for sessions of 48 kHx, 96 kHz and 192 kHz, respectively.
Wide frequency selection, from 10 Hz to 41 kHz, with variable Q and choice of three- or five-band EQ
Double-precision 64-bit processing for unprecedented clarity
Emulates GML 8200 constant shape reciprocal filter curves – the industry-standard reference
IsoPeak(r) functionality quickly solos a target frequency quickly and precisely
A/B snapshots allow settings comparisons
Supports both AAX and AAX Native plug-in formats
System Requirements
AAX and AAX DSP versions require Pro Tools version 10.2 or later. AAX DSP plug-in requires Pro Tools|HDX.
Pricing and Availability:
See Avid website.
More information:
http://www.joetunon.com/music – Showing off the new WaveMachine Labs Auria app and its abilities to master a mix on the iPad using the Fabfilter Pro-Q plugin
Sound Magic has released Neo Harmonic, an equalizer/exciter hybrid effect plug-in for Windows featuring a custom shaped filter response curve.

There's an EQ theory called "Yin and Yang" which says that adjusting one band will automatically influence the others. Neo Harmonic takes this theory to a new level by not only boosting/cutting the selected frequency, but also exciting the harmonic partials of that frequency, extending changes throughout the whole audible frequency band. The result is a unique sound which traditional parametric EQs would be hard pressed to achieve.
Neo Harmonic will give you a fuller sound, with more detail and clarity than is possible with a traditional parametric EQ.
Neo Harmonic features
Innovative Harmonic Excite Technology.
Innovative Custom Curve Shape enables users the define their own harmonic curve to achieve unique sound.
Super Wide Bandwith adjusting range gives users more controls on final sound.
Sample and hold fuction enables users to analyze an audio signal first, then hold its harmonic information and apply to another audio track.
Up to 32Bit/384KHz resolution.
Neo Harmonic for Windows (VST/Supreme Piano 2 add-on) is available to purchase for 49 EUR.