G-Sonique has released the new GSXL4070 parametric equalizer , inspired by and based on "famous British mix console equalizers." Keep it clean with the new GSXL4070 parametric EQ from G-Sonique. A VST plugin that is PC-only for now and available for 28 Euro ($36.85 at today's exchange rates), the GSXL4070 offers modern, solid state analog electronics sound without any unwanted/oversaturated coloring of signal (such as with vacuum tube or vintage EQs).
A VST plugin that is PC-only for now and available for 28 Euro ($36.85 at today's exchange rates), the GSXL4070 offers modern, solid state analog electronics sound without any unwanted/oversaturated coloring of signal (such as with vacuum tube or vintage EQs). The result is a very intensive, rich and significant sound, according to G-Sonique. df
Ideal for mixing and mastering purpose, GSXL4070 is a fully parametric stereo equalizer with four bands (LF, LMF, HMF, HF) and HP (BASS CUT), Q control, and +-12db attenuation/boosting of every band.
For best possible clarity of sound and minimum artifacts, 2X internal oversampling algorithms were used.
Notable features:
– British mix-console EQ "solid state electronics" style of sound without unwanted over-colored or over saturated sound. With 2X internal oversampling for double precision dsp algorithms calculations and minimum of unwanted artifacts.
– 4 fully parametric EQ bands:
LF – Low frequency, (20-500Hz)
LMF – Low mid frequency, (200 Hz – 3 kHz)
HMF – high mid frequency, (700 Hz – 12 kHz)
HF – high frequency ( 1.5 kHz – 20 kHz)
HP (High pass – Bass cut) filter 15 – 400 Hz bass cut with on/off switch with Q-control (bandwidth), attenuation/boost ( + / –  12db per band),
– Output Volume knob
– Bypass switch
– Preset manager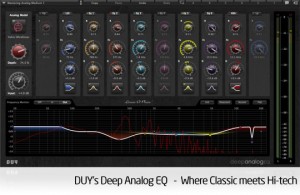 DUY tells us that their new Deep Analog EQ is a very special equalizer which can be used like any other standard EQ, though with DUY's Analog-modelled Active Circuit Synthesis technology.
MAIN FEATURES:
Pure analogue sound with full digital control.
Great depth control allows a virtually unlimited definition of analog warmth nuances.
Fully interactive graphic control blends traditional knob adjust and graphic EQ.
Proprietary & exclusive Modelled Active Circuit Synthesis (MACS) integrated to resemble full analog operation in the digital domain.
9 bell modes on each band, with an unheard-of sound colour variety.
Noiseless hyperrealistic traditional filter nets, based on classic EQ circuitry.
10 bands of total frequency control.
Comes with some 100 presets for easy-access operation
System Requirements:
Supports RTAS, Audio Units (AU), VST and MAS for Mac. AAX for Mac available December 14. Windows not supported.
Mac with Intel processor required.
Mac OSX 10.5 or higher required.
Same system requirements as your host software (ProTools, Logic, Cubase, Digital Performer…)
Pricing and Availability:
€ 199.00
More information:

Overtone DSP tells us that the VTE-2A Vintage EQ, available now for Windows XP / 7 is based on innovative DSP technology originally developed by linuxDSP for the CH-EQ2B.
Modelled on some of the classic analogue EQ designs, it features fully adjustable low and high frequency shelving filters and a swept mid-range parametric with a de-cramped response. Overtone DSP say that this provides a more analogue characteristic than conventional digital filters, without the need for CPU intensive upsampling.
Features:
De-cramped Mid Filter: More natural analogue filter response without requiring CPU intensive upsampling.
Interpolated Controls: Two stage interpolation provides responsive, smoothly adjustable controls without clicks or 'zipper' noise.
Adjustable Shelving Filters: LF and HF shelf filters with fully adjustable frequency and gain.
Realtime parameter display: Accurate display of control parameters as they are adjusted.
Pricing and Availability:
£24.95
More information: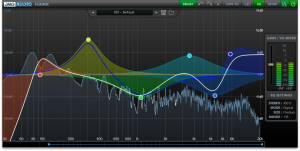 DMG Audio has released EQuick, an equalizer effect plug-in for Windows and Mac.
EQuick is a streamlined, ultramodern EQ built to help you make your mixes magnificent. Fast, intuitive and unbelievably flexible, we've packed it with digital functionality. We built its beautiful, clear graph with accessibility and efficiency in mind, and it'll refine your workflow forever; but don't take our word for it – test the claim and download the demo! We wanted to play with the idea of the interface; we wondered whether EQ could be made more intuitive, more direct, and how one would go about making an EQ that made the process even faster. EQuality speeds up your workflow because it sounds great, and you don't waste any time compensating for defects in what it does. For EQuick we wanted to delve deeper into the design of the interface. Perfection is when there's nothing more to take away, so we started by stripping down the interface to its most essential element – the graph. EQuick has nothing else. We had to work in all the controls (like Range and Shift) that made EQuality so special and we found that we could do that with the graph. Also, we took account of the fact that different people have different size screens – so you can pick your size for EQuick. But we couldn't do that at the expense of control, so we built the tooltip system that provides you will all the data you need, when you need it.
EQuick features
Overview

Unbelievably low CPU usage for high instance counts.
Generates super-high-quality prototypes. Clear undistorted top.
Linear phase mode for mastering and special channels.
32 bands of EQ, Q 0.1->50, +/-36dB range.
Each band can be Peak, HPF, LPF, High Shelf, Low Shelf or Notch.
Each bank can process Mid, Side or the full stereo image.
Fully parametric filters (high and low-pass), 6/12/18/24/30/36/42/48db/oct.
Five different UI sizes.
M/S processing per-band with listen.
Windows VST and VST3 as 32+64bit, RTAS 32bit.
Mac VST, VST3 and AU as 32+64bit, RTAS 32bit.

Sound

Bells and notches, with a +/-36dB range, and a Q range from 0.1 to 50.
Shelves which let you move the resonance above or below the curve.
Filters at 6/12/18/24/30/36/42/48 db/octave, sweepable resonance.
Adjustable gain-q interaction for 'musical' usage.

Vision

Beautiful, clutter-free modern interface.
Big, clear, antialiased graph.
Hi-res Spectrum analyser.
Range, to scale the EQ response, both +ve and -ve.
Frequency shift, to allow you to retune the response.
Large, configurable spectrum-analyser with readout.
Control linking to move sets of bands together.
Configurable VU, with variable ballistics.
8 banks of A/B.
Full preset management system.
Undo/redo.
Autolisten mode, for quick finding/adjustment of frequencies.
EQuick is available to purchase for £74.99 GBP. A bundle with EQuality and EQuick is £124.99 GBP, and the EQuality, EQuick and Compassion Bundle is £224.98 GBP. Previous EQuality customers get EQuick at no cost.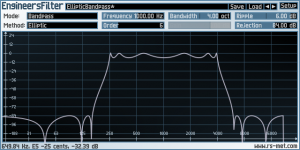 rs-met has released updated versions of EasyQ and EngineersFilter, two free effect plug-ins for Windows.
after some beta testing and bugfixing (thx to all who participated), it's now done. updated versions for EasyQ and EngineersFilter have been released. for EasyQ, it's only a maintenence update with a little bugfix related to colorscheme handling.

EngineersFilter now includes two new approximation methods: Bessel and Papoulis. The Bessel design approximates a linear phase response in its passband and the Papoulis design achieves the maximum negative slope at the cutoff frequency when a monotonically decreasing magnitude response is assumed.
EasyQ and EngineersFilter are available as freeware VST plugins for Windows.
More information: rs-met
I would like to introduce Sir Elliot's Eighteen Band Graphic Equaliser.
The 18-Band Graphic Equaliser performs best on midrange, which appears to be a dieing art in a lot of commercial music these days."
Eighteen Band Graphic Equaliser features
18 selectable frequency bands ranging from 20 cycles to 19,000 cycles.
Level Control.
A.C. Switch.
LED Power Indicator.
Adjustable Frequency Range: 20 – 19,000 kHz.
Frequency Bandwidth: 5 – 24,000 kHz +/- 2.4 dB.
Note: Frequency Bandwidth is based on 88.2, 96, 176.4, 192 and, 384 kHz sample rates.
Optimised for high sample rates ranging from 88.1 kHz – 384 kHz, however will perform fine on lower sample rates such as 48 – 44.1 kHz.
Fixed Delay.
Power Consumption: 44.1 kHz: 5.9 % / 88.2 kHz: 12.3 % / 96 kHz: 15.0 % (based on a Pentium 4 single-core 2.8 GHZ computer using Windows XP (Non Service Pack) operating system).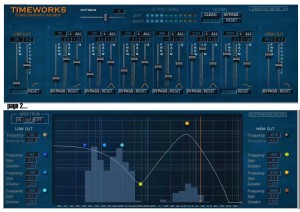 Weldroid has released a beta of Synesthesia, an effect plug-in for Windows.
Synesthesia is a combined waveshaper / EQ / dynamics processor that is designed to be very light on the CPU, but sounds hi-fi enough to be put on the master buss without hesitation. A special combination of frequency-dependent harmonics generation and oversampling reduces aliasing way below audible levels, allowing smooth coloration of input material free of unwanted artifacts.

Synesthesia features highly flexible – per harmonic definition of distortion / waveshaping characteristics, opening up possibilities to emulate static distortion of many nonlinear devices. It is also possible to use it as a dynamics processor by setting up the dynamic waveshaper curve with respective attack and release time constants.

Synesthesia features
VST 2.4 effect plugin for Windows (32-bit).
2 channels in / 2 channels out.
All parameters subject to automation except for the distortion characteristics graphs.
Demo is fully functional but injects some white noise every 40 seconds.
Synesthesia for Windows (VST) is available to purchase at the introductory price of 30 EUR. All "beta" licenses are full licenses (available for reduced price until the product reaches revision A).
More information: Weldroid / Synesthesia
Izotope will be releasing a vocal plug-in this month called Nectar. The software will have Pitch Correction, Breath Control, Compressors, a DeEsser, Doubler, Saturation, EQ, Gate, Limiter, Delay and a Reverb. It will be $199 at launch then jump to $299 shortly after. As with other Izotope plug-ins there will be an extensive preset browser too.
"Nectar offers dozens of professionally designed vocal production styles powered by eleven processing modules. Users will select an included style and then customize it with faders tailored to that style. For further customization of their vocal sound, users can switch to the Advanced View and access all of the controls of the underlying modules that power the plug-in… iZotope Nectar is ideal for audio engineers, voice over artists, singer/songwriters, recording enthusiasts, podcasters, and anyone else who records sung or spoken vocals. Its dozens of styles cover genres including: Alternative & Indie, Blues/R&B, Classical, Country, Dance & Electronica, Hip Hop & Rap, Jazz, Pop, Rock, and Spoken Word." – izotope.com
For more info: izotope.com/products/audio/nectar/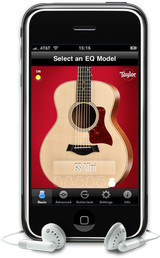 Sonoma Wire Works has released Taylor EQ, a free app for iOS.
Sonoma Wire Works has teamed up with Taylor Guitars to create the free Taylor EQ app: an input EQ for enhancing the sound of a Taylor guitar when played through GuitarJack on an iOS device. Select from a range of EQ presets that complement Taylor's signature guitar body shapes, including the Grand Auditorium, Grand Symphony, Grand Concert, Dreadnought, T5, or the new GS Mini.

Each EQ preset was custom designed by Taylor Guitars' engineers to optimize the tone of each body shape for use with the GuitarJack. Customize your own presets and play along with songs from your iTunes library, making the Taylor EQ the perfect practice tool for any guitar owner. Taylor EQ is the first free app to include the GuitarJack control panel, which allows users to configure the GuitarJack settings.
Taylor EQ features
Six Taylor Guitar EQ Presets: Select from a range of EQ presets that complement Taylor's signature guitar body shapes, including the Grand Auditorium, Grand Symphony, Grand Concert, Dreadnought, T5, or the GS Mini.
Advanced Mode: Use the 6 band Parametric EQ with frequency, gain and pinch-for-Q gesture control to create a custom tone for your Taylor Guitar or any guitar. Then save the settings for later use. Toggle between basic and advanced to hear the difference.
iPod Playthrough: Play along with your iPod songs on your iPhone or iPod touch while in the Taylor EQ app.
Compressor/Limiter: A factory configured compressor-limiter sweetens the sound and keeps the output from clipping, or turn it off to hear the unprocessed output.
Monitor Level: Balance the level when playing along with iPod songs. Turn it up to push the compressor harder.
GuitarJack Control Panel: GuitarJack connects instruments, stereo line inputs and mics to the iPhone 3G, 3GS and iPod Touch (2nd and 3rd gen.) via 1/4 inch instrument and 1/8 inch stereo mic/line inputs. GuitarJack features a 1/4 inch instrument with configurable pad, Lo-Z and Hi-Z modes, a 1/8 inch stereo mic/line input that includes pad, normal and boost modes, and a 1/8 inch stereo output with increased drive for headphones. Each input has 60dB of continuous gain/level control. Configure GuitarJack's levels in Taylor EQ for the best possible sound, and what you'll hear through the improved headphone jack sounds better than through the iOS device headphone jack. Levels set using Taylor EQ's GuitarJack Control Panel settings can remain set when you switch to compatible audio apps, even if they do not include the GuitarJack Control Panel.
The Taylor EQ app for iOS is available as a free download from the iTunes App Store.
More information: Sonoma Wire Works / Taylor EQ