New powerful EQ for magnificent mixes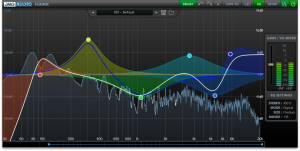 DMG Audio has released EQuick, an equalizer effect plug-in for Windows and Mac.
EQuick is a streamlined, ultramodern EQ built to help you make your mixes magnificent. Fast, intuitive and unbelievably flexible, we've packed it with digital functionality. We built its beautiful, clear graph with accessibility and efficiency in mind, and it'll refine your workflow forever; but don't take our word for it – test the claim and download the demo! We wanted to play with the idea of the interface; we wondered whether EQ could be made more intuitive, more direct, and how one would go about making an EQ that made the process even faster. EQuality speeds up your workflow because it sounds great, and you don't waste any time compensating for defects in what it does. For EQuick we wanted to delve deeper into the design of the interface. Perfection is when there's nothing more to take away, so we started by stripping down the interface to its most essential element – the graph. EQuick has nothing else. We had to work in all the controls (like Range and Shift) that made EQuality so special and we found that we could do that with the graph. Also, we took account of the fact that different people have different size screens – so you can pick your size for EQuick. But we couldn't do that at the expense of control, so we built the tooltip system that provides you will all the data you need, when you need it.
EQuick features
Overview

Unbelievably low CPU usage for high instance counts.
Generates super-high-quality prototypes. Clear undistorted top.
Linear phase mode for mastering and special channels.
32 bands of EQ, Q 0.1->50, +/-36dB range.
Each band can be Peak, HPF, LPF, High Shelf, Low Shelf or Notch.
Each bank can process Mid, Side or the full stereo image.
Fully parametric filters (high and low-pass), 6/12/18/24/30/36/42/48db/oct.
Five different UI sizes.
M/S processing per-band with listen.
Windows VST and VST3 as 32+64bit, RTAS 32bit.
Mac VST, VST3 and AU as 32+64bit, RTAS 32bit.

Sound

Bells and notches, with a +/-36dB range, and a Q range from 0.1 to 50.
Shelves which let you move the resonance above or below the curve.
Filters at 6/12/18/24/30/36/42/48 db/octave, sweepable resonance.
Adjustable gain-q interaction for 'musical' usage.

Vision

Beautiful, clutter-free modern interface.
Big, clear, antialiased graph.
Hi-res Spectrum analyser.
Range, to scale the EQ response, both +ve and -ve.
Frequency shift, to allow you to retune the response.
Large, configurable spectrum-analyser with readout.
Control linking to move sets of bands together.
Configurable VU, with variable ballistics.
8 banks of A/B.
Full preset management system.
Undo/redo.
Autolisten mode, for quick finding/adjustment of frequencies.
EQuick is available to purchase for £74.99 GBP. A bundle with EQuality and EQuick is £124.99 GBP, and the EQuality, EQuick and Compassion Bundle is £224.98 GBP. Previous EQuality customers get EQuick at no cost.
Comments