A short video demonstration of Delta Modulator VST/AU plugin by Xfer Records.
Xfer Records has released Delta Modulator, a free bitcrusher VST/AU plugin based on a signal modulation technique found in Nintendo NES video game console's delta modulation channel.
I just threw Delta Modulator together out of mild curiosity of how it sounded compared to traditional sr/bit-reduction.
more info: http://bedroomproducersblog.com/2012/06/03/delta-modulator-free-nintendo-nes-…
download: http://xferrecords.com/freeware/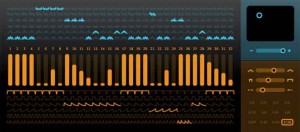 Sinevibes has announced Turbulence, an AudioUnit effect plugin for creating rich animated synth textures. At it's core it employs unique waveshaping algorithms that drastically transform the input signal, enriching it's spectral content. But most fun stuff comes from it's flexible step sequencer which drives waveshape modulation, envelope matrix and model matrix, allowing you, say Sinevibes, to create almost any rhythmical pattern imaginable. With all these tools combined, Sinevibes believes that Turbulence can easily turn simple waveforms into a huge variety of complex motion sounds with incredible richness and character.
Turbulence features:
Sequencer with up to 32 steps, variable swing and speed.
Waveshape matrix with 6 high-definition algorithms.
Envelope matrix with 6 shapes, adjustable time and smoothness.
Intuitive, high-contrast user interface.
Pricing and Availability:
Turbulence is immediately available as a download for $39. It requires Mac OS 10.5 or later, and a 32 or 64 bit AudioUnit host application that supports Cocoa user interface technology.
More information: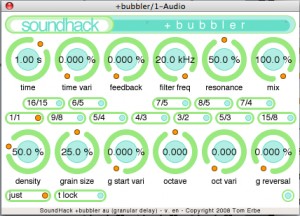 Soundhack's Tom Erbe has released new versions of all of his plugins for Mac, in Audio Unit and VST forms.
The free plugins include:
+spectralcompand – Performs smooth timbral filtering. Can be used to tame resonant frequencies or for radical changes of tone. In expansion mode, +spectralcompand becomes a highly tunable broadband noise remover, capable of removing hiss, hum and machine noise, without damaging the original sound.
+morphfilter – Holds two filter shapes. These shapes are set by drawing, or by capturing the spectra from the incoming sound. You can morph between these two filters. +morphfilter's depth control can change the strength of filtering, or even invert the filter for an "anti-filtered" sound.
+binaural – This filter places a sound at a specific position around the listener's head. Use it with a reverb to create a virtual environment. When used with it's LFO, +binaural can place various beats or parts of a loop in specific repeatable positions.
+spectralgate – A spectral version of the noise gate/ducker dynamics processor. Combines a noise gate/ducker and a multiband processor to give you a plugin that can used both as a frequency dependent gate or as a level dependent filter.
SoundHack Delay Trio – a group of three plugins derived from the same basic delay algorithm: a hermite interpolated delay line with variable modulation, and a feedback loop with dc blocking and saturation. Pitch shifting is achieved with a dual head crossfading delay (ala Eltro Tempophon/Dennis Gabor/Pierre Schaeffer phonogene) and is decidedly low-?. The saturating feedback also allows them to be great drone and noise generators.
+chebyshev – a distortion unit which uses various low-order chebyshev polynomials to add even or odd harmonic distortion.
+compand – a combined compressor/expander plugin. It has a softknee control as well as a switchable rms/peak level detector.
+decimate – bit depth and sample rate reduction for added aliasing and decimation noise. a very noisy plugin.
+matrix – a mid-side to left-right encoder and decoder. for mid-side microphone arrays, but also useful when needing to apply effects to only the center or the sides of a stereo mix.
+phasescope – the standard studio tool for seeing the phase relation between your left and right channels. also includes a bit meter.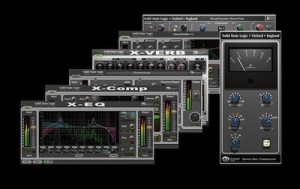 The Duende Native Plug-in suite is a collection of audio processing tools which bring professional audio quality, sophistication and benchmark performance within reach of all DAW users.
Duende plug-ins provide the superior precision, advanced feature set and legendary tonal characteristics of SSL console products in affordable VST/AU/RTAS* plug-in form. They are quite simply the easiest way to get your hands on professional tools that will help you achieve professional mixes that sound like a record.
More info and 30 day demo download here
Via AUB
bleep!BOX, the drum and synth hit from the iPhone and iPad has arrived on the desktop as a Mac and PC compatible VST & AU Plugin. In addition to being able to load all your patterns from the iPhone version, bleep!BOX is a powerful drum synthesizer in it's own right.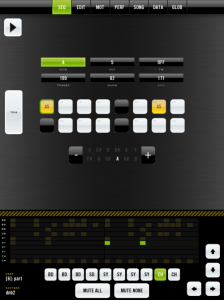 It features 10 synthesis parts which can play the role of percussion or instruments and has 50+ parameters enabling you to recreate all kinds of classic drum sounds. Specialized parts for replicating vintage snare and hi-hat sounds are also included.
bleep!BOX is even more capable as a Plugin, since almost all parameters can be automated by your host. You can choose to use bleep!BOX's pattern playback or sequence notes using your host's piano roll allowing bleep!BOX to act as a tone generator or a full groove box.
Features List
* – VST & AU Compatible plugin, which means it runs on the majority of hosts.
* – 10 Synth / Drum parts (aka voices)
* – Emulations of 'classic' x0x drum sounds (snares, hihats, claps, bassdrums, toms, cymbals)
* – Ringmod, FM, Phase Modulation, Sync
* – Very low CPU usage
* – 50+ Parameters
* – Global delay FX
* – Soft / Hard distortion FX
* – 8 Waveforms – Saw, Square, Sine, Triangle, etc
* – Save patches and presets
* – Live performance modes – Loop / Stutter, Mute
To hear samples, download a demo, and where. How to buy the new VST version go to http://www.bleepboxapp.com/b…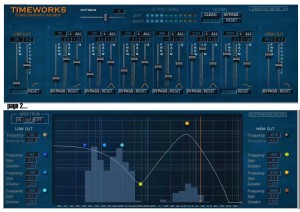 Some good news from Native Instruments coming your way, that is if you are a Machine user of course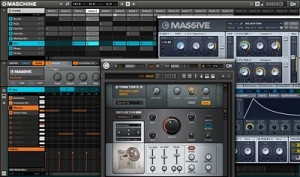 Hi all,

I can finally break the news to you about the biggest feature that will come to Maschine in the next free update – which is plugin hosting!

So, according to popular demand, the upcoming 1.6 version will allow you to use VST and AU plugins as sound sources and effects in your Maschine project. This includes both the whole NI range of instruments and effects as well as any third-party plugin.

Check the screenshot for an idea of how this will look like. Instrument plugins can be used in any sound channel, and effect plugins can be inserted on both the sound and group channels as well as on the master.

Obviously the addition of plugin hosting requires quite a bit of development and testing. Regarding the timing of the release – version 1.6 is about to go into internal beta testing this month, and we are currently planning to make it available to you through a public beta test in January, with the final release probably coming up around two months later. As always, these are projected dates that can still change a bit.

Plugin hosting is the most prominent feature addition in 1.6, but there will be quite some more useful things being added with that update. Look forward to the coming weeks when we will post more details about Maschine 1.6!

Regards, Thomas"