Free plug-ins from Soundhack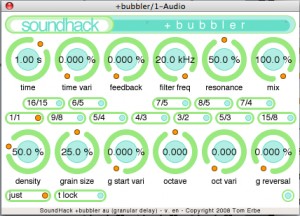 Soundhack's Tom Erbe has released new versions of all of his plugins for Mac, in Audio Unit and VST forms.
The free plugins include:
+spectralcompand – Performs smooth timbral filtering. Can be used to tame resonant frequencies or for radical changes of tone. In expansion mode, +spectralcompand becomes a highly tunable broadband noise remover, capable of removing hiss, hum and machine noise, without damaging the original sound.
+morphfilter – Holds two filter shapes. These shapes are set by drawing, or by capturing the spectra from the incoming sound. You can morph between these two filters. +morphfilter's depth control can change the strength of filtering, or even invert the filter for an "anti-filtered" sound.
+binaural – This filter places a sound at a specific position around the listener's head. Use it with a reverb to create a virtual environment. When used with it's LFO, +binaural can place various beats or parts of a loop in specific repeatable positions.
+spectralgate – A spectral version of the noise gate/ducker dynamics processor. Combines a noise gate/ducker and a multiband processor to give you a plugin that can used both as a frequency dependent gate or as a level dependent filter.
SoundHack Delay Trio – a group of three plugins derived from the same basic delay algorithm: a hermite interpolated delay line with variable modulation, and a feedback loop with dc blocking and saturation. Pitch shifting is achieved with a dual head crossfading delay (ala Eltro Tempophon/Dennis Gabor/Pierre Schaeffer phonogene) and is decidedly low-?. The saturating feedback also allows them to be great drone and noise generators.
+chebyshev – a distortion unit which uses various low-order chebyshev polynomials to add even or odd harmonic distortion.
+compand – a combined compressor/expander plugin. It has a softknee control as well as a switchable rms/peak level detector.
+decimate – bit depth and sample rate reduction for added aliasing and decimation noise. a very noisy plugin.
+matrix – a mid-side to left-right encoder and decoder. for mid-side microphone arrays, but also useful when needing to apply effects to only the center or the sides of a stereo mix.
+phasescope – the standard studio tool for seeing the phase relation between your left and right channels. also includes a bit meter.
Comments