Turbulence – a new modular waveshape sequencer AU plug-in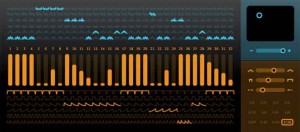 Sinevibes has announced Turbulence, an AudioUnit effect plugin for creating rich animated synth textures. At it's core it employs unique waveshaping algorithms that drastically transform the input signal, enriching it's spectral content. But most fun stuff comes from it's flexible step sequencer which drives waveshape modulation, envelope matrix and model matrix, allowing you, say Sinevibes, to create almost any rhythmical pattern imaginable. With all these tools combined, Sinevibes believes that Turbulence can easily turn simple waveforms into a huge variety of complex motion sounds with incredible richness and character.
Turbulence features:
Sequencer with up to 32 steps, variable swing and speed.
Waveshape matrix with 6 high-definition algorithms.
Envelope matrix with 6 shapes, adjustable time and smoothness.
Intuitive, high-contrast user interface.
Pricing and Availability:
Turbulence is immediately available as a download for $39. It requires Mac OS 10.5 or later, and a 32 or 64 bit AudioUnit host application that supports Cocoa user interface technology.
More information:
Comments