New powerful mixing plugins – Redmix and Bluemix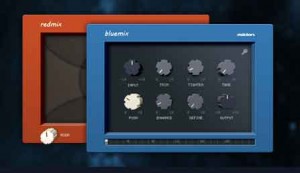 Mildon Studios has released the Redmix and Bluemix plug-ins.
"Get your mix done in no time with these powerful mixing plugins. Get your tracks to sit with Bluemix and then move them around with Redmix. It's simple and easy. Start mixing like a pro!"
Here's the details:
Ready to mix your next inspiring song? Bluemix can help you iron-out individual tracks from powerful kicks to high-flying guitars to make them sound just right.
Bluemix combines smart EQ, automatic compression, and high-frequency excitation to give you a clean signal that sits better in the mix. Use it in tandem with Redmix to create space and to add just the right amount of moisture to your mix.
Bluemix Features:
Smart EQ: Trim, Tighten, Tame
Auto Compressor: Push
Gain Reduction Meter
Exciters: Enhance, Define
Redmix puts your tracks on a virtual stage, allowing you to pan from left to right and front to back! It lets you create a lot of space just by moving things around, something that's hard to achieve with a conventional panner.
Redmix makes effective use of Haas' principles combined with spectral shaping and room reverb to create space. Use it in tandem with Bluemix for a better mix.
Redmix Features:
2-Dimensional Panning (L-R + F-B)
Automatic Haas Effect
Room Control
Pricing and Availability:
Redmix: $19
Bluemix: $19
Bundle: $28.50
More information:
Comments