Expand your music arsenal with these new releases
Free 30-Band Graphic Equalizer

Mildon Studios has released a free 30-Band Graphic Equalizer VST plug-in for Windows with a look that blends perfectly with Cubase.
Pricing and Availability:
Free download
More information:
AudioThing has released TX-101 for Native Instruments Kontakt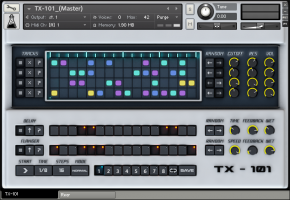 TX-101 is a 4-track sequencer designed for the creation of evolving rhythm patterns. Each track has 4 different samples (for a total of 16 samples), including organic glitches and metal hits. It is possible to store eight presets that can be joined and looped together to build a 128 steps sequence (16×8). It is also possible to sequence Delay and Flanger effects as two additional tracks. Both parameters (cutoff, resonance, effects) and steps can be randomized separately.
There are 6 different variations (.nki instruments) of TX-101 for different mood/styles. The modulation wheel is also assigned to a different set of parameters for each instrument.
Details:
Sequencer: 4 Tracks and 16 Steps + tracks for Delay and Flanger.
8 Patterns presets.
6 Kontakt Instruments (.nki) presets.
Mod. Wheel assigned to different parameters for each preset.
Size: 16 MB installed / 9 MB Download.
Price: $18. TX-101 is available for the introductory price of $14 until October 11th, 2012.
Native Instruments Kontakt 4.2.4+ full version is required.
Cableguys Curve 2
Curve 2 out now!
FULLY FUNCTIONAL DEMO: http://www.cableguys.de/downloads.html
MORE INFO: http://www.cableguys.de/curve.html
Curve is a software synthesizer with an irresistible waveform editor, huge sound library and slick interface. Ideal for both experimentation and detailed tweaking at an excellent sound quality.
• Sound Features – Curve features aliasing-free oscillators with custom waveforms, noise generation and broad FM options. Waveform crossfades provide for changing timbres; a comprehensive unison mode delivers fat lead sounds, wide pads and massive sound. Drawable LFOs deliver everything from melodic and rhythmic patterns to dubstep wobbles and punishing bit-crushing effects. Flexible filter routing, a feature-rich mono mode plus legato and glide, are all designed for great depth of control.
• Preset Library – Curve's preset library is a shared online database, providing a constant source of inspirational sound. Public preset sharing allows an ever-increasing number of great presets, public preset voting will help you manage the vast number of sounds, all from within the plugin. Curve ships with an excerpt of this ever-growing sound library. Macro knobs let you explore vast sound variations quickly, for quick access to those parameters that define the core of a sound.
• Elegant Interface – Curve shows you everything important at a glance, featuring high contrasts and a fresh color scheme. Inbuilt MIDI assignment allows you to set up external MIDI controllers quickly.
• Curve Community – Since the first beta of Curve 1.0, the Curve community has steered the synthesizer's future by submitting feature requests, comments and bug reports, and by sharing presets. Curve 2 is the result of our users submitting wishes and uploading great sounds. Big thanks to all of you!"
Comments