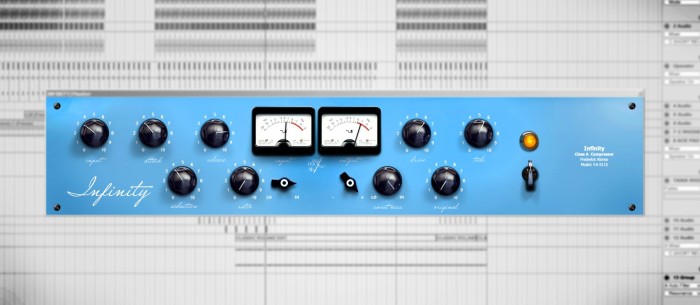 Frederick Alonso has announced the release of Infinity, a free analog style mastering compressor and tube saturation effect plugin for Windows.
This free plugin is based on a concept for a hardware device which has been patented in 2014. Apparently, the developer is planning to build a hardware version of this mastering compressor which was inspired by classic analogue devices such as the Pultec EQ and Thermionic Culture stereo compressor.

The software version is currently available only as a 32-bit VST plugin for Windows, however a Mac OS X version is expected to be released in the future.
Infinity features
Subtle low end warmer.
0 to 100% pure incoming audio + added Infinity dynamics.
Brightness and width in mid and high frequencies.
Subs will sound subtle, full and more focused.
Kicks feel more alive, while the track becomes more open.
You can add tube saturation (Lundahl transformer based).
Audio gets auto limited to -0.02dB when you go over 0dB.
A/B comparison (On/Off switch or toggle switch).
Infinity is available as a free download. Donations are appreciated.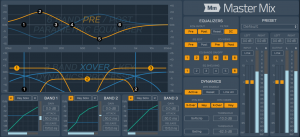 Tracktion DSP has released Master Mix, a stereo mastering-grade plug-in that offers multi-band dynamics processing and equalization.
Master Mix has three individual dynamics processors, each with its own set of controls and selectable crossover points. There are two separate six-band parametric EQs, one located before the dynamics section, and the other after. Each dynamics band is typically used as a compressor, but expansion is also possible. A dynamics contour edit screen provides setup of compressor parameters and allows a user to create the soft knee curve. Master Mix also offers a noise gate and soft-clip limiter.
Price: $59.99 – Master Mix, and other Tracktion DSP plug-ins such as the Micro Synth Pack, are currently offered at a 50% discount introductory price at marketplace.tracktion.com.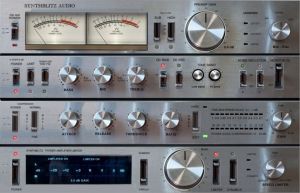 Synthblitz Audio has released VA RAXS, a vintage-looking rack, designed for mastering and remastering of sound materials.
The virtual rack consists of 4 effects and the sounds pass through them in the following order:
A preamplifier with gain control, enhanced features for sub and high, combined with a mid-side processor that can divide the incoming signal.
A crossover module 6dB / Octave, with a 'transient perfect' filter that passes both amplitude and phase unchanged across the range of interest. It has separate tone controls -/+12dB, and other features like two types of noise reduction, de-esser, dc bias, and more.
A compressor to handle small compression ratios, useful for mastering, but also able to work with large compression ratios. The compressor has "knee" control, "Make-Up" gain and a high precision vu-meter to reading the dB reduction.
A limiter designed to get a good sound quality, and fast enough to allow a good RMS output.
When set correctly, VA RAXS is designed to provide high quality sound at low cost. It can also be used for remastering old recordings of audio cassettes and other sound material. It also includes a 23-page manual.
Price: € 39.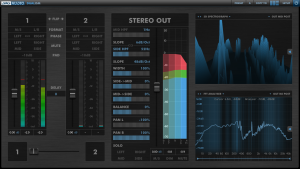 DMG Audio has released Dualism, a complete toolkit for stereo work, featuring a comprehensive audio visualisation suite. Used as a final stage in mastering and monitor control, and at the top and bottom of every channel, Dualism ensures absolute stereo mastery.
Overview:
Fully equipped stereo toolkit.
Input section for A/Bs, signal correction and gain structuring.
Stereo processing section with Width, Mid->Side and Side->Mid.
Extensive suite of visualisation options.
Windows VST, VST3 and AAX as 32+64-bit, RTAS 32-bit.
Mac VST, VST3, AU and AAX as 32+64-bit, RTAS 32-bit.
Sound:
Channelstrip input controls.
M/S encode and decode.
Extensive options for gain structuring.
High-pass filters for Mid and Side.
Comprehensive stereo field control.
Monitor controller functionality.
Supports dual inputs with crossfade and delay for A/B of signals.
Vision:
PPMs and Bendymeters.
Fully featured FFT Spectrum Analyser.
Octave, 1/3rd Octave and 1/12th Octave displays.
2D and 3D Spectrographs.
Lissajous and Oscilloscope displays.
Phase Meter and Correlation Meter.
1/3rd Octave RMS Analyser.
Phase Spectrum analyser.
Bit Scope.
ITU1770 Short-Term loudness history and histogram display.
Full ITU1770 / EBU r128 / ATSC A/85 loudness metering support.
Full-screen mode and PNG screenshots.
Price: £175. There is an introductory price of £160 until 15th August, 2014.
http://itunes.apple.com/app/audio-mas…
The first fully functional professional quality audio mastering application for iPad. For everyone who wants to take their final mixes to the next level. Precise control of all parameters and highest quality audio processing, the most important part of any mastering, is the base of this application.
More about Audio Mastering:
http://audio-mastering-ipad.com
Track "Spiel Struktur 92" by Marc Bestgen
http://reverbnation.com/marcbestgen
http://audio-mastering-ipad.com
The first fully functional audio mastering application for iPad. For everyone who wants to make own music tracks excellent quality. Based on the same algorithms which used in professional plug-ins this application turns your iPad into a real mastering studio.
This all-in-one tool lets you process sound, convert audio formats, change sample rate, convert bit depth, cut part of track for preview and make fade-in and fade-out.
With very easy and clear interface you can tweak all controls in real time and listening to the final result right away.
Audio processing features:
Linear phase 10-bands graphic Equalizer based on phase shifting.
Three bands Stereo Imaging with common Stereo Width level.
Harmonic Saturator with three sets of harmonics.
Loudness Maximizer with adjustable response speed and ceiling.
Sample rate converter from 96, 88.2, 48 to 44.1 kHz.
Bit depth converter supported 16, 24, 32 bits.
Dithering with noise shaping.
Supports .wav, .aif, .mp3 audio file formats.
Application features:
Predefined preset hotkeys, ability to create own presets.
All processing settings are stored for each file.
Processing group of selected files.
Exchange files thru internal Web service.
Compatible with AudioCopy / AudioPaste.
Supports iTunes file share.
Compatible:
iPad 2 and higher is recommended. Generally this application can be run with iPad 1 but there is possibility of dropping the signal out when playback, especially at frequencies above 44.1 kHz. Offline processing can be done with any iPads quite well.
Please note: This application is audio processing tool only. It does not have audio editor functions.
The app is priced at $9.99.
Dynamic EQ really is a versatile and useful tool, and for many producers it can be a fantastic, and much-needed, problem solver. In short, it is a virtual processor which can be used for eliminating the shortcomings of static EQ by providing a dynamically applied equalization to your work. Watch as Glowcast mastering engineer, Conor Dalton explains how to use it.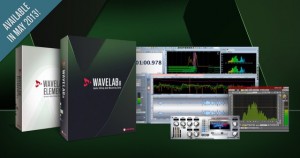 Steinberg has introduced WaveLab 8, the latest version of its  mastering solution, with 150+ new features
Key Features:
Speaker management system, featuring management of up to eight loudspeaker setups with zero latency
Advanced EBU-compliant loudness metering and processing, including measurement in EBU R128 loudness scale and dedicated loudness graph
Mastering-grade tools and plug-ins, featuring iZotope MBIT+TM high-end master dither, Voxengo CurveEQ, Steinberg Brickwall Limiter and TubeCompressor
Improved user interface: Master Transport Panel and single-window plug-in management for quick and easy project navigation and plug-in handing
150+ professional editing and workflow features, including auto-replay function, SuperClip concept, meta-data support and user interface enhancements
In addition, Steinberg announced WaveLab Elements 8, a streamlined WaveLab version that is geared towards hobby producers, musicians and radio freelancers.
WaveLab 8 is the first choice for high-profile mastering engineers, musicians and hobby producers alike. With the new speaker management system, EBU-compliant loudness processing and a selection of mastering-grade plug-ins alongside 150+ further enhancements, WaveLab 8 is taking audio to perfection.
Two more videos are available on their Youtube channel
WaveLab 8 and WaveLab Elements 8 will be available in May 2013
Russ takes a look at the new iZotope Trash 2 plug-in and finds out that it offers far more than one would first think.
Trash 2 takes the best of Trash and makes it even better. With an entirely new sonic architecture, brand new features, optimized performance, better sound quality, and support for modern hosts and formats, Trash 2 is primed for a powerful new era of audio mangling, distortion, and experimentation. Let sonic mayhem ensue.
KEY FEATURES
Distort in ways you never dreamed with the Trash module's 60+ distortion algorithms, perfect for transforming your sound into something never before heard.
Design your own unique distortions, from massive to mild and everything in between, with a new, customizable, multiband Waveshaper.
Let your tracks inhabit any space or object with the new Convolve module. Choose from over 100 impulse responses or load your own to put your bass in a washing machine or your keys in a cave.
Find a new voice: make your audio speak and growl with two redesigned Filter modules, each one featuring new vowel formant filters, screaming peaks, node modulations, and more.
Start trashing your audio immediately with an extensive new preset library and an ear-friendly Limiter that ensures you can play without fear.
Virsyn describes their new Harmony Voice app as a pitch shifter and harmonizer with professional features including automatic tuning correction.
Virsyn says that you can sing and Harmony voice will add up to four voices according to the chords you play with the piano keyboard or, alternatively, instead of playing the chords yourself you can let Harmony Voice play the chords automatically to enrich the sound of your voice in a musically pleasant way.
The voice character can be adjusted in a way that you can turn a female voice into a male voice and the other way round, while a realtime visual intonation-display gives you feedback of the tunes you sing.
Features:
Four part realtime Harmonizer / Pitch corrector
Different Harmonizer modes:
Manual harmonization by playing chords with up to four notes while singing
Automatic harmonization ( Kraehenbuehl )
Play base note and Harmony Voice adds appropriate chords
Directly play the tunes for up to four voices with the keyboard.
Select key note and scale for harmonization and pitch correction.
Harmonies can be in just ( Barbershop ) or tempered tuning.
Mix your original voice with the harmonized parts.
Change the voice character.
Play background track from your iTunes library.
Hi-end reverb effect for room simulation.
Chorus and Delay effect.
Use a CoreMIDI compatible Interface to control Harmony Voice with a MIDI Keyboard.
Audio recorder with Metronome.
Upload to SoundCloud and File Export.
Audio pasteboard for exchange with other Apps
Pricing and Availability:
$5.99
More information: