Steinberg has released Wavelab 8 – here are the details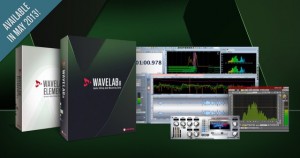 Steinberg has introduced WaveLab 8, the latest version of its  mastering solution, with 150+ new features
Key Features:
Speaker management system, featuring management of up to eight loudspeaker setups with zero latency
Advanced EBU-compliant loudness metering and processing, including measurement in EBU R128 loudness scale and dedicated loudness graph
Mastering-grade tools and plug-ins, featuring iZotope MBIT+TM high-end master dither, Voxengo CurveEQ, Steinberg Brickwall Limiter and TubeCompressor
Improved user interface: Master Transport Panel and single-window plug-in management for quick and easy project navigation and plug-in handing
150+ professional editing and workflow features, including auto-replay function, SuperClip concept, meta-data support and user interface enhancements
In addition, Steinberg announced WaveLab Elements 8, a streamlined WaveLab version that is geared towards hobby producers, musicians and radio freelancers.
WaveLab 8 is the first choice for high-profile mastering engineers, musicians and hobby producers alike. With the new speaker management system, EBU-compliant loudness processing and a selection of mastering-grade plug-ins alongside 150+ further enhancements, WaveLab 8 is taking audio to perfection.
Two more videos are available on their Youtube channel
WaveLab 8 and WaveLab Elements 8 will be available in May 2013
Comments