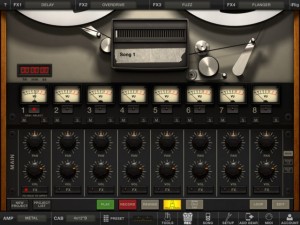 IK Multimedia has updated AmpliTube for iPad, its mobile effects processing app.
AmpliTube for iPad puts a guitar/bass rig at your fingertips, with 4 stompbox effects amp-head, cabinet and microphone. Choose from 11 built-in stompbox effects (delay, fuzz, overdrive, wah, envelope filter, chorus, flanger, phaser, octave, noise filter + distortion once registered), 5 amps (clean, crunch, lead, metal, bass) with full controls, 5 speaker cabinets and 2 microphones (dynamic and condenser).
AmpliTube for iPad 2.5 adds:
Slash gear models available for in-app purchase
New Mixer/Recorder section with loop points, visual metronome, tap tempo
Digital audio in/out support
MIDI support
Audio Copy/Paste
Retina display support
Restore In-App purchases
New export via SoundCloud and FTP
AmpliTube For iPad is $19.99 in the App Store.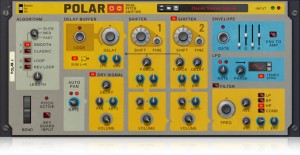 Propellerhead today announced Polar, a new Rack Extension audio effect to be available at the launch of the next versions Reason and Reason Essentials later this month.
Polar is an old school harmonizer and pitch-shifter effect with a host of modern tricks up its sleeves. Designed for classic harmonizing, stereo widening, and real-time pitch shifting, Polar also invites users to experiment with buffer looping and audio freezing to create otherworldly effects.
Consisting of selectable dual pitch-shifters with classic, smooth and looping algorithms, Polar is created for singers, producers, guitarists and remixers looking for transparent pitch-shifting as well as creative ways of turning bland recordings into wide, evolving soundscapes. The built-in LFOs, auto-panning, envelope and buffer lock provide further sound sculpting possibilities, while delay and feedback turns single-note recordings into arpeggios.
For more information about Rack Extensions, Polar, and to listen to audio examples, visit www.propellerheads.se/go/74B1DC9D
Pricing and availability
Polar will be released simultaneously with version 6.5 of Reason and version 1.5 of Reason Essentials Q2 2012, at a price of USD $69/EUR €55. Polar will be available for purchase in the Propellerhead Shop.
Here's a direct link to the aurex master effects .adg file
For additional info about Aurex go here >>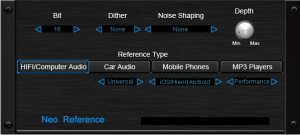 Neo Reference is a new tool for the final processing of digital music.
Neo Reference uses different algorithms to emulate the Signal to Noise Ratio, Stereo Crosstalk and Frequency Response Curve of the several most commonly used playback devices, including HIFI devices, Computer Audio, Car Audio, Mobile Phones and MP3 players.
Features:
Internal 64-bit floating point precision
4 Types of Dithering with depth control
15 Sound Magic's cutting edge noise shaping algorithms
Accurate modeling on Signal to Noise Ratio, Stereo Crosstalk and Frequency Respond Curve of common used playback devices
Can be combined use with Headphone Mix Version 3.0 for complete playback system emulation
Neo Reference is available as a Windows VST or Add-on for Supreme Piano 2 for €49.00. See the Supreme Piano site for details and demos.
Russ gets his hands on the UAD Ampex ATR-102 tape emulation and puts it through its paces in this extended video. He takes a novel approach and looks at the effect it can have on different instruments rather than just as a mix-buss process. Find out more and get top Pro Tools and recording tips and tricks at http://www.pro-tools-expert.com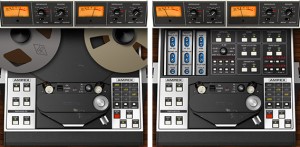 Background data:
It's Not a Record Until it's Mastered on an Ampex® Tape Machine.
For more than three decades, the two-channel Ampex ATR-102 Mastering Tape Recorder has turned music recordings into records. With its cohesive sound, punch, and ability to provide subtle-to-deep tape saturation and color, the ATR-102 is a fixture in major recording and mastering studios — and is considered by many engineers to be the best-sounding tape machine for final mixdown. The perfect complement to the workhorse Studer A800 Multichannel Tape Recorder, the ATR-102 Mastering Tape Recorder plug-in for UAD-2 can provide the final "analog polish" on your music, turning songs into albums.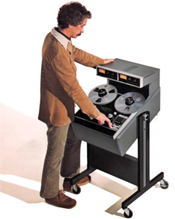 Features
Ampex®-authenticated plug-in emulation of the ATR-102 Mastering Tape Recorder — the most popular professional 2-track machine ever made
Provides rich, cohesive tape sound, without the hassles of calibration, maintenance, tape degradation, etc.
Models entire ATR-102 electronic path, including transformers, amplifiers, Repro, Sync, and Input paths
Features multiple tape formulas, head configurations, and calibration levels
Adjustable Wow, Flutter, Hiss, Hum, Crosstalk, and (L/R) Tape Delay
Requires a UAD-2 DSP Accelerator Card available from authorized dealers worldwide
Impeccably modeled in the renowned UAD engineering tradition — and incorporating presets from noted ATR-102 users Chuck Ainlay, Richard Dodd, Buddy Miller, Mike Poole, and more — the ATR-102 Mastering Tape Recorder plug-in emulation for UAD-2 faithfully replicates the unique dynamics, frequency response, and saturation characteristics of the original hardware. Scrutinized and fully authenticated by the Ampex Corporation, the sound of the ATR-102 plug-in for UAD-2 is virtually indistinguishable from its analog cousin.
History
Introduced in 1976, the Ampex ATR-102 2-Track Tape Recorder was a near-instant hit, thanks to its revolutionary servo-controlled reel motors and capstan, which provided smooth, continuous tape tension and handling. The large capstan, and absence of pinch rollers, provided nearly non-existent speed drift and ultra-low flutter. The clever ATR-102 design allowed users to change out heads and guides in mere minutes, with a 1″ head being a very popular "hot-rod" modification in more recent years — especially when running at 15 IPS (inches per second). The ATR's role in modern recording history is so prevalent, that it would be easier to list classic albums that weren't mixed down on this machine, rather than to try to list all those that were.
SLVR Spreader is a state-of-the-art stereo widener suitable for mixing and mastering. It combines different stereo imaging technologies, letting you apply ample amounts of widening without weakening the overall sound. Use it on individual tracks like vocals, on group tracks like drums, and all the way to the final master.
Widening without Weakening
Most stereo wideners work by increasing the level of the side signal against the mid or center signal (often referred to as mid-side imaging). This results in a wider sound but it also weakens everything in the center section (e.g. Bass, Kick, Vocals, Snare). The problem is that you can't just bring up the center level, as that will simply cancel out the widening, which brings you back to square one.
With SLVR Spreader, you can apply as much widening as you want, as it lets you bring back important center signals lost in the widening. It does this by carefully screening out which parts of the center are being widened and protecting those signals. It also splits the center into 3 bands so that you can restore only the affected frequencies.
Three Powerful Modes
Wide mode uses a mid-side algorithm for widening the signal. This is suitable for stereo recordings, group tracks, and mastering.
Delay mode spreads the signal's frequencies across the stereo image and applies minute amounts of delay to emphasize the stereo effect. This can be used to fatten ambient sounds like vocals and pads.
Shuffle mode interleaves the signal's frequencies and spreads them across the stereo image. While the stereo effect is less pronounced in this mode, it can help the signal cut-through a busy mix without introducing artifacts or phase issues.
3 Channel Meters
SLVR Spreader has separate meters for Left, Center, and Right channels, allowing you to apply just the right amount of widening to the signal. For best results, increase the Spread fader until the Center peak is at the same level as or just above the Left and Right peaks.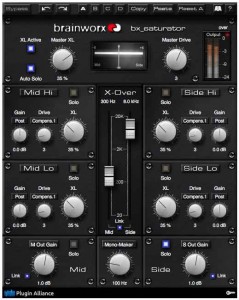 Brainworx' new bx_saturator is an M/S and multi-band saturation tool that can be used for mastering, mixing, and sound design applications.
"Recording and mixing instruments and vocals using the Mid-Side (M/S) technique is one of the secret weapons that professional audio engineers and producers use when they want to capture a performance in a way described by most listeners as, 'Natural-sounding,' 'Wide,' and 'Big.' Moreover, M/S recordings produce a very mono-compatible sound, and, although bx_saturator brings a mono/multi-mono version of the plug-in to the musical mix, the stereo M/S version of bx_saturator is considered by Brainworx to be the definitive plug-in for thickening or boosting any stereo signal or mix in a more discrete way than ever before."
As with all other Brainworx bx_ prefixed plug-ins, bx_saturator users can record Mid and Side tracks individually to retain total control over the stereo information until the final stage of production; as implied by name, Brainworx says that it offers a subtle, warm distortion — or saturation — that works wonders on individual audio signals, yet can also be applied to the stereo master channel in the M/S stereo model, while Brainworx's new 'True-Split' crossover technology ensures that Mid and Side channels are always perfectly in phase.
Brainworx tells us that this new plug-in's creative use knows no bounds: increasing the perceived volume of mixes without them clipping, or bringing delicate signals like acoustic guitars and percussion to the fore in full mixes without increasing their actual level or EQ'ing them in harsh, offensive ways; distorting vocals in full mixes without sacrificing drum-track punchiness or stereo guitar and keyboard clarity, for instance. They say that independently fattening — or even slightly distorting — Mid and Side signals separately for high and low frequencies should serve up a tasty selection of imaginative and inspirational sounds in next to no time… technical excellence for the creative musician and engineer, indeed (And for those needing a helping hand to get them started straight away, bx_saturator handily comes complete with 30 cool presets.)
Pricing and Availability:
Available in 64- and 32-bit versions, Brainworx's bx_ saturator plug-in can be purchased and downloaded (in all Mac OS X and Windows formats — VST 2.4, VST 2.3, RTAS, AU, AAX) for an introductory price of $179.00 USD (rising to $229.00 USD).
(Note: Plugin Alliance is offering a 30% off list price deal for all bx_ALL 2012 Bundle owners, saving them $69.00 USD — equalling an additional $19.00 USD saving over and above the introductory offer)
More information:
Sonnox and Fraunhofer IIS have announced a new version 2 of the Sonnox Fraunhofer Pro-Codec Plug-in that will come with iTunes Plus codec and multi-channel support. At NAB 2012 in Las Vegas, Fraunhofer IIS is showing a preview of the new version of the  Sonnox Fraunhofer Pro-Codec Plug-in.
For the first time, the plug-in enables mastering engineers to use the iTunes Plus codec for real-time auditioning of their mix. This makes the plug-in a tool to mix directly for the "Mastered for iTunes" program, including clipping detection and the possibility for real-time corrections while mixing. For this new functionality, Sonnox has added the Apple versions of the AAC and HE-AAC codecs to the plug-in so that the exact clipping behaviour of the iTunes encoding chain may be monitored.
In addition, Sonnox and Fraunhofer have integrated the latest surround audio codecs MPEG Surround, AAC multi-channel, and HE-AAC multi-channel. These codecs provide improved audio quality for surround music and are used in surround broadcasting and streaming. Of course, the Sonnox Fraunhofer Pro-Codec still includes Fraunhofer implementations of all major MPEG audio codecs, including mp3, AAC, and HE-AAC as well as lossless codecs such as mp3HD and HD-AAC. This makes the Pro-Codec the most powerful codec plug-in available for digital audio workstations.
The upgrade will be available in July for free for all current users of the Sonnox Fraunhofer Pro-Codec.
More info – http://bit.ly/w4n2mS
In our new Ableton Live video tutorial series, "Did You Know?", Ableton Certified Trainer, Dubspot Instructor, and electronic musician Thavius Beck checks out less explored and slightly hidden features in Live. In this newest installment of Did You Know?, Thavius explains and demonstrates an often overlooked an even more often misunderstood feature; Hi-Quality mode on the EQ8.
The EQ8 has a Hi-Quality setting that is not enabled by default. We are able to find the Hi-Quality setting by right-clicking on the EQ8′s title bar and selecting "Hi-Quality" from the contextual menu that appears. Once that has been done, the EQ8 will be in Hi-Quality mode, but what exactly does that mean?
This is a question that took me quite a bit of investigation to find the answer to, and one that requires more explanation than I intended for these particular videos, but this series is all about sharing esoteric knowledge (as it relates to Live of course) so that is what I will do right now.
When Hi-Quality mode is enabled on the EQ8, the audio being fed into the EQ is oversampled by a factor of 2 (meaning the sample rate of the audio is doubled. If your session's sample rate is 44.1kHz, enabling Hi-Quality will make the audio being fed into the EQ8 88.2kHz). Then the EQ changes are calculated at the doubled sample rate, and finally the audio as it leaves the EQ is undersampled by a factor of 2, or basically brought back to it's original sample rate.
Why does this happen? It all has something to do with what is referred to as the Nyquist Point. The Nyquist Point is one half of your sample rate, so if your session's sample rate is 44.1kHz, the Nyquist Point will be 22.05kHz, which is right at the upper limit of human hearing, and just beyond the furthest right edge of our EQ8′s GUI. Any audio that produces a frequency higher than the Nyquist Point cannot be accurately reproduced digitally and will have aliasing or digital distortion as a result.
Because of this, the EQ8′s frequency range was initially limited to 22kHz on the high end (when working on a session with a 44.1kHz sample rate). If your EQ is in normal mode (not Hi-Quality), and you create a notch on the 4th EQ point (reduce the gain all the way on the 4th point), start to increase the Frequency on that 4th point. You'll notice that as you get closer to the Nyquist Point (22kHz when working with a 44.1kHz sample rate), the curve of the EQ gets squashed so that the curve doesn't extend beyond 22kHz. Now, enable Hi-Quality mode and try the same thing. Notice how the EQ curve remains intact no matter how close you get to the Nyquist point.
So what does this mean in terms of practical application? Well, it means that you will probably only notice the effect of the Hi-Quality EQ8 if you're working on a session with a 44.1kHz sample rate, and the improvement will really only be noticeable on the higher frequency sounds effected by the Hi-Quality EQ8. As for specific instances for when you'd want to use the Hi-Quality setting and not, I think that is really for the individual to research a bit further, do a few A/B comparisons, and decide for themselves.
As I was doing my research for this post, I searched a few forums to help me gather the info I needed, and I also reached out directly to the Ableton HQ. Here is a very helpful and informative series of posts from the Ableton forums.
And below is the explanation for the Hi-Quality setting directly from Matt Jackson at Ableton HQ:
"The main difference is that the entire signal is oversampled in high quality mode. Actually the slope isn't changed.
To get technical, in normal mode with a project sampling rate of 44.1kHZ, you have a nyquist frequency of around 22kHZ, the limit of the EQ. Because – in the design process – the filter is derived from an analog prototype, which has no such a limit, all frequencies (and up to infinity) must be matched to the available frequency range of the digital filter, resulting in the squashed slope near nyquist frequency.
If you look at the EQ in normal mode, you'll see the filter slopes warp as they get very close to the 22kHZ mark. If you change your project sampling rate to 88.2 or higher, you'll see that this warping no longer happens.
This is because the nyquist frequency is now much higher than 22kHZ.
The same thing happens when you turn on high quality mode when working at 44.1kHZ. Then Live over samples just the EQ so that the filter gives the correct response all the way to the end. (There is no change in the bottom.)"
This weeks free Ableton Live rack from AfroDJMac:
This is an effects rack I use on my master channels in Ableton Live. Very useful and practical!
Free Download @http://bit.ly/freesynth46
Every week I release a Free Ableton Live Pack! @ http://www.afrodjmac.com