Russ takes a look at the new iZotope Trash 2 plug-in and finds out that it offers far more than one would first think.
Trash 2 takes the best of Trash and makes it even better. With an entirely new sonic architecture, brand new features, optimized performance, better sound quality, and support for modern hosts and formats, Trash 2 is primed for a powerful new era of audio mangling, distortion, and experimentation. Let sonic mayhem ensue.
KEY FEATURES
Distort in ways you never dreamed with the Trash module's 60+ distortion algorithms, perfect for transforming your sound into something never before heard.
Design your own unique distortions, from massive to mild and everything in between, with a new, customizable, multiband Waveshaper.
Let your tracks inhabit any space or object with the new Convolve module. Choose from over 100 impulse responses or load your own to put your bass in a washing machine or your keys in a cave.
Find a new voice: make your audio speak and growl with two redesigned Filter modules, each one featuring new vowel formant filters, screaming peaks, node modulations, and more.
Start trashing your audio immediately with an extensive new preset library and an ear-friendly Limiter that ensures you can play without fear.
Virsyn describes their new Harmony Voice app as a pitch shifter and harmonizer with professional features including automatic tuning correction.
Virsyn says that you can sing and Harmony voice will add up to four voices according to the chords you play with the piano keyboard or, alternatively, instead of playing the chords yourself you can let Harmony Voice play the chords automatically to enrich the sound of your voice in a musically pleasant way.
The voice character can be adjusted in a way that you can turn a female voice into a male voice and the other way round, while a realtime visual intonation-display gives you feedback of the tunes you sing.
Features:
Four part realtime Harmonizer / Pitch corrector
Different Harmonizer modes:
Manual harmonization by playing chords with up to four notes while singing
Automatic harmonization ( Kraehenbuehl )
Play base note and Harmony Voice adds appropriate chords
Directly play the tunes for up to four voices with the keyboard.
Select key note and scale for harmonization and pitch correction.
Harmonies can be in just ( Barbershop ) or tempered tuning.
Mix your original voice with the harmonized parts.
Change the voice character.
Play background track from your iTunes library.
Hi-end reverb effect for room simulation.
Chorus and Delay effect.
Use a CoreMIDI compatible Interface to control Harmony Voice with a MIDI Keyboard.
Audio recorder with Metronome.
Upload to SoundCloud and File Export.
Audio pasteboard for exchange with other Apps
Pricing and Availability:
$5.99
More information:
Stereoizer is a high-specification stereo image manipulation tool suitable for natural expansion, reduction and introduction of stereo width at any stage of the audio production process.
Developed for and tested by professional audio engineers, Stereoizer adds natural sounding width and depth to any audio recording, mono or stereo, leaving the inherent character of the original source intact. Quite simply Stereoizer will make your audio more coherent, highly polished and spatially balanced without adding artificial reverberation, chorusing or delay.
• natural stereo to stereo extension
• mono to stereo enrichment
• leaves original character intact
• subtle to extreme enhancement
• band limited precision
• dynamic visual feedback
Here's a teaser of Cakewalk's latest edition of Sonar named X2, check it out
http://www.cakewalk.com/SONAR-X2
SONAR X2 Producer
Professional Recording, Mixing & Mastering
From getting a great tone to releasing the final mix, today's musicians must master every element of the music production process. SONAR X2 is there every step of the way and takes each element to the next level of power and usability. And thanks to the revolutionary Skylight user interface, SONAR X2 lets you move seamlessly among the elements, instantly going from recording to editing to mixing and back again. Dial up the perfect synth sound with Rapture or a searing guitar tone with TH2 Producer. Record it, tighten it, chop it, and drop it in the Matrix for realtime triggering. Shape it with the expandable ProChannel. Warm it with the new Console Emulator. And do it all with a single Smart Tool. It's genius.
http://www.joetunon.com/music – Showing off the new WaveMachine Labs Auria app and its abilities to master a mix on the iPad using the Fabfilter Pro-Q plugin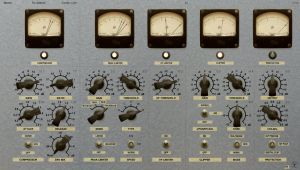 vladg/sound has released Limiter No6, a freeware modular limiter suited for mastering purposes. It's available for Windows 32- and 64-bit and as 32-bit VST plug-in for Mac OS X.
Features:
5 modules: RMS compressor, peak limiter, high-frequency limiter, clipper, true peak limiter.
High-quality signal processing to use for mastering purposes.
Brickwall and soft limiting with different timing settings.
M/S and multiband modes.
Optional 4x oversampling.
True inter-sample peaks (ISP) limiting.
Analog-style indication.
2 different GUIs.

iZotope, Inc.has released the Ozone Maximizer Rack Extension for Propellerhead's Reason.
iZotope says that the Ozone Maximizer Rack Extension is an essential mastering tool for adding fullness and polish to music produced in Reason. The original Ozone Maximizer has been used on countless recordings in varied genres like Rock, Hip Hop, Electronic, Classical and more. iZotope has now adapted this acclaimed technology for Reason, extending the Reason Rack with a versatile tool trusted by professional musicians and engineers worldwide.
"Many of us at iZotope have longed for the day that we could use more of our favorite production tools, like Ozone's Maximizer, right inside of Reason. That day has come! Rack Extensions are a great solution for opening up the Reason rack to more world-class audio effects and instruments, and we are excited to be part of the launch with one of our flagship technologies."
iZotope tell us that they have redesigned the Ozone Maximizer to perfectly complement the workflow Reason users know and love, making it an ideal addition to Reason's Master Section. They say that, with iZotope's exclusive IRC (Intelligent Release Control) technology, the Ozone Maximizer excels at boosting the overall loudness of a mix without causing distortion or pumping. This Rack Extension also includes iZotope's MBIT+ Dither, letting users preserve the quality of Reason sessions when exporting audio for CD or MP3. iZotope says, with the Ozone Maximizer, users can give their mixes the final polish they deserve, without ever leaving Reason.
Mats Karlöf, Product Manager at Propellerheads, told us, "We are extremely happy to see iZotope, with their sense of quality and usability, inside the Reason rack. iZotope's flagship technology, the Ozone Maximizer with its dithering function, have made Reason an even more complete end-to-end solution, helping people to put the finishing touches on their projects. I wake up every morning with a smile on my face thanks to the clever people at iZotope."
Key Features:
2 Intelligent Release Control (IRC) limiter modes: IRC I and IRC II
2 low-latency limiting modes Hard(Brickwall) and Soft
High-precision threshold control with integrated gain reduction metering
Speed knob control for adjusting the character of the IRC Limiter from slow and transparent to fast and aggressive
Variable Stereo Link control for independent limiting of left and right channels
Inter-sample Limiting to predict when a digital signal might clip in the analog domain, and to automatically prevent these over's
Margin control for precise control of the output level, helping to dial back peak levels for better encoding to formats like MP3
iZotope MBIT+ Dither for highest quality results when converting 24-bit Reason sessions to audio files with lower bit depths
Pricing and Availability:
iZotope Ozone Maximizer Rack Extension is available now for $79 USD.
More information: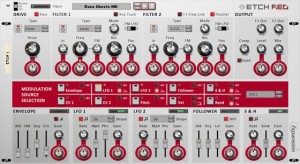 FXpansion has announced the release of Etch Red, an exciting and great-sounding filtering effect based on DCAM circuit-modelled technology, and now available as a Reason Rack Extension.
Etch Red's dual filters feature realistic audio-rate FM, flexible routing and 4 filter models offering a total of 38 filter responses and allowing all manner of fat and warm subtractive tone-shaping. Alongside 3 classic synthesizer filter circuits, Etch Red also includes a stunning comb filter model for creating mind-bending psychedelic effects.

Additional distortion and compressor stages are provided for beefing up signals, and FXpansion's TransMod modulation system lets you contort Etch Red's circuits over time. Use inter-modulating LFOs, envelopes and more to drive the filter cutoffs, FM amount, distortion and compression amounts, panning, wet/dry mix and much more.

Etch Red contains a number of CV and audio patch-points for integrating its circuits into your Reason projects: feed in CV from elsewhere to modulate parameters or retrigger the on-board LFOs, envelope or the sample and hold. You can even send in any audio signal as an audio-rate filter FM source. The internal modulation devices are also exposed as outputs, so they can drive other Reason devices' parameters.

Etch Red can do amazing things to all kinds of audio material and is great for subtle warming, deep tone sculpting, wild sweeps, special effects and experimental sonics.
Etch Red is available as a download-only product from the Propellerhead Online Shop, priced at $49 USD / 39 EUR inc. VAT where applicable.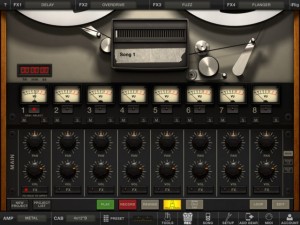 IK Multimedia has updated AmpliTube for iPad, its mobile effects processing app.
AmpliTube for iPad puts a guitar/bass rig at your fingertips, with 4 stompbox effects amp-head, cabinet and microphone. Choose from 11 built-in stompbox effects (delay, fuzz, overdrive, wah, envelope filter, chorus, flanger, phaser, octave, noise filter + distortion once registered), 5 amps (clean, crunch, lead, metal, bass) with full controls, 5 speaker cabinets and 2 microphones (dynamic and condenser).
AmpliTube for iPad 2.5 adds:
Slash gear models available for in-app purchase
New Mixer/Recorder section with loop points, visual metronome, tap tempo
Digital audio in/out support
MIDI support
Audio Copy/Paste
Retina display support
Restore In-App purchases
New export via SoundCloud and FTP
AmpliTube For iPad is $19.99 in the App Store.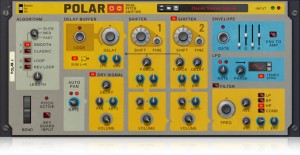 Propellerhead today announced Polar, a new Rack Extension audio effect to be available at the launch of the next versions Reason and Reason Essentials later this month.
Polar is an old school harmonizer and pitch-shifter effect with a host of modern tricks up its sleeves. Designed for classic harmonizing, stereo widening, and real-time pitch shifting, Polar also invites users to experiment with buffer looping and audio freezing to create otherworldly effects.
Consisting of selectable dual pitch-shifters with classic, smooth and looping algorithms, Polar is created for singers, producers, guitarists and remixers looking for transparent pitch-shifting as well as creative ways of turning bland recordings into wide, evolving soundscapes. The built-in LFOs, auto-panning, envelope and buffer lock provide further sound sculpting possibilities, while delay and feedback turns single-note recordings into arpeggios.
For more information about Rack Extensions, Polar, and to listen to audio examples, visit www.propellerheads.se/go/74B1DC9D
Pricing and availability
Polar will be released simultaneously with version 6.5 of Reason and version 1.5 of Reason Essentials Q2 2012, at a price of USD $69/EUR €55. Polar will be available for purchase in the Propellerhead Shop.
Here's a direct link to the aurex master effects .adg file
For additional info about Aurex go here >>