Two new Reason Rack Extensions has been released

iZotope, Inc.has released the Ozone Maximizer Rack Extension for Propellerhead's Reason.
iZotope says that the Ozone Maximizer Rack Extension is an essential mastering tool for adding fullness and polish to music produced in Reason. The original Ozone Maximizer has been used on countless recordings in varied genres like Rock, Hip Hop, Electronic, Classical and more. iZotope has now adapted this acclaimed technology for Reason, extending the Reason Rack with a versatile tool trusted by professional musicians and engineers worldwide.
"Many of us at iZotope have longed for the day that we could use more of our favorite production tools, like Ozone's Maximizer, right inside of Reason. That day has come! Rack Extensions are a great solution for opening up the Reason rack to more world-class audio effects and instruments, and we are excited to be part of the launch with one of our flagship technologies."
iZotope tell us that they have redesigned the Ozone Maximizer to perfectly complement the workflow Reason users know and love, making it an ideal addition to Reason's Master Section. They say that, with iZotope's exclusive IRC (Intelligent Release Control) technology, the Ozone Maximizer excels at boosting the overall loudness of a mix without causing distortion or pumping. This Rack Extension also includes iZotope's MBIT+ Dither, letting users preserve the quality of Reason sessions when exporting audio for CD or MP3. iZotope says, with the Ozone Maximizer, users can give their mixes the final polish they deserve, without ever leaving Reason.
Mats Karlöf, Product Manager at Propellerheads, told us, "We are extremely happy to see iZotope, with their sense of quality and usability, inside the Reason rack. iZotope's flagship technology, the Ozone Maximizer with its dithering function, have made Reason an even more complete end-to-end solution, helping people to put the finishing touches on their projects. I wake up every morning with a smile on my face thanks to the clever people at iZotope."
Key Features:
2 Intelligent Release Control (IRC) limiter modes: IRC I and IRC II
2 low-latency limiting modes Hard(Brickwall) and Soft
High-precision threshold control with integrated gain reduction metering
Speed knob control for adjusting the character of the IRC Limiter from slow and transparent to fast and aggressive
Variable Stereo Link control for independent limiting of left and right channels
Inter-sample Limiting to predict when a digital signal might clip in the analog domain, and to automatically prevent these over's
Margin control for precise control of the output level, helping to dial back peak levels for better encoding to formats like MP3
iZotope MBIT+ Dither for highest quality results when converting 24-bit Reason sessions to audio files with lower bit depths
Pricing and Availability:
iZotope Ozone Maximizer Rack Extension is available now for $79 USD.
More information: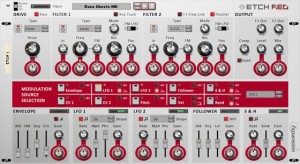 FXpansion has announced the release of Etch Red, an exciting and great-sounding filtering effect based on DCAM circuit-modelled technology, and now available as a Reason Rack Extension.
Etch Red's dual filters feature realistic audio-rate FM, flexible routing and 4 filter models offering a total of 38 filter responses and allowing all manner of fat and warm subtractive tone-shaping. Alongside 3 classic synthesizer filter circuits, Etch Red also includes a stunning comb filter model for creating mind-bending psychedelic effects.

Additional distortion and compressor stages are provided for beefing up signals, and FXpansion's TransMod modulation system lets you contort Etch Red's circuits over time. Use inter-modulating LFOs, envelopes and more to drive the filter cutoffs, FM amount, distortion and compression amounts, panning, wet/dry mix and much more.

Etch Red contains a number of CV and audio patch-points for integrating its circuits into your Reason projects: feed in CV from elsewhere to modulate parameters or retrigger the on-board LFOs, envelope or the sample and hold. You can even send in any audio signal as an audio-rate filter FM source. The internal modulation devices are also exposed as outputs, so they can drive other Reason devices' parameters.

Etch Red can do amazing things to all kinds of audio material and is great for subtle warming, deep tone sculpting, wild sweeps, special effects and experimental sonics.
Etch Red is available as a download-only product from the Propellerhead Online Shop, priced at $49 USD / 39 EUR inc. VAT where applicable.
Comments