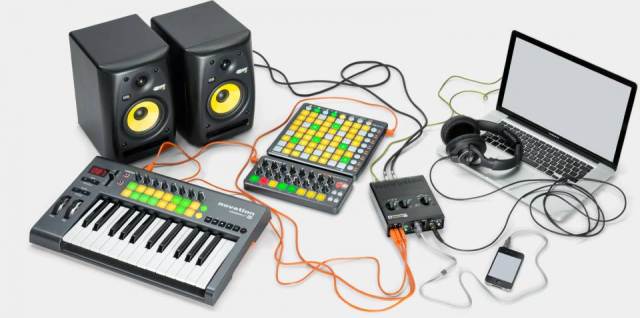 Novation has introduced Audiohub 2×4, an audio interface & USB 'electronic music production hub'.
The Novation Audiohub 2×4 is a combined audio interface and USB hub that lets you connect and power all your USB gear at once, while getting low latency audio and 'super loud' output.
Nitemove demonstrates Novation Audiohub 2×4: a combined USB audio interface and USB hub with 'Focusrite sound inside', for electronic music production
Key Features
Three integrated USB 2.0 ports, so you can connect your keyboard controller, NI Maschine, Novation Launchpad or any other USB gear to your computer at the same time. You can even connect it all to your iPad, if you have a camera connection kit.
Bus Power – You can bus-power Audiohub 2×4, but you'll need to connect the power supply if you want to use it to bus-power your USB gear.
Focusrite Sound Inside – 96 kHz, 24-bit audio performance.
It's Super Loud – the four RCAs, the two balanced jacks and the headphone outputs are 'super loud'.
Capture Balanced Audio – matched stereo RCA inputs
Low Latency for Live Performance
Connect To Just About Anything – Plug and play on Mac and iOS. Dedicated low latency drivers for PC are supplied.
Rugged design – designed for the gigging electronic music producer, with a aluminum case.
For an overview of Audiohub 2×4 click here: http://www.novationmusic.com/audiohub2x4
CA based Retronyms and highly respected iOS music creation app developers takes a closer look at iOS7 and inter-app audio capabilities
"Playing around with the new inter-app audio features in iOS7. I'm using Yamaha Tenori-on to control the Arturia iMini synth. Neat :)"
Another example:
Here's a little preview of what's coming in Auria 1.13. Inter-app audio allows you to route audio from another app into Auria without needing any additional software. It's fast, easy and sample accurate.
Audio MIDI Connect has transformed into MIDImorphosis – an audio-to-MIDI app for iOS.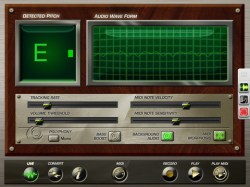 Here's what's new in MIDImorphosis:
In this version, the speed and accuracy of pitch detection has been greatly improved.
MIDI output now supports multiple destinations, both CoreMIDI and Virtual MIDI, as well as DSMIDI Wifi.
Audiobus support has been added, for both input and output slots.
Audio can be imported or exported using audio copy and paste. The app supports off-line conversion of audio to MIDI, with MIDI files being available using the "open in" method, or through iTunes file sharing.
Pitch detection now supports polyphonic playing. A toggle button selected between monophonic, small intervals, and chords.
https://itunes.apple.com/us/app/audio…
Introductory pricing — ends July 28th
MIDImorphosis captures the pitch of incoming audio, and converts it into MIDI notes that can be used to control iOS synthesizers or external equipment. With support for CoreMIDI, Virtual MIDI, DSMIDI Wifi, Audiobus, and background audio, connecting MIDImorphosis is a snap. Connections to laptop and desktop computers can be made using WiFi or with MIDI adapter cables.
The app performs both monophonic and polyphonic pitch conversion, and is designed to work best with a guitar or bass. We recommend dock-based instrument adapters; connections through the headphone jack frequently have crosstalk and poor frequency response. We also recommend running MIDImorphosis on an iPhone4s or better, or an iPad2 or better (this is especially true when using Audiobus).
Complex sounds can be created by combining a typical guitar effects app along with MIDImorphosis and a synthesizer app. The guitar effects app can provide tone control and immediate response, while the synthesizer can augment this with a deep, evolving sound.
With any conversion system, there is latency between a note played on an instrument, and when the note can be correctly identified; the slight delay motivates the combination of guitar effects and synthesizers. MIDImorphosis should be fast enough to work well for playing at moderate speeds. For guitarists in need of a system that can handle "shredding," we would recommend hardware converters by companies such as Roland or Fishman.
A number of videos are available on the app web page, to illustrate typical performance, and playing techniques to get the most out of the app. For guitarists, a light palm mute should be used to prevent unwanted notes from ringing. Pitch detection is typically best with the bridge pickup, and with a clean tone.
In addition to live conversion, MIDImorphosis can also convert recordings into MIDI (avoiding latency issues). The app can record audio; audio can also be imported using either Audio Copy or iTunes File sharing. Audio can be exported with Audio Paste. MIDI can be exported to other apps using the "open in" feature, or through iTunes. The app also allows scanning through audio files, to see the detected pitch at any given moment; this feature should be particularly useful to musicians interested in transcribing a recording. Recorded audio and converted MIDI can be played back through the app. The app is compatible with the Audiobus input and output slots.
For polyphonic pitch detection, the app supports both intervals and chords. Many guitarists play small intervals on adjacent strings; pitch detection has been optimized for this case. When set to chord detection, the app can find additional notes, but is less accurate.
In this video tutorial one converts a snare drum recording to MIDI data through Melodyne's Editor Plugin. With this new MIDI file one can now replace the original Snare drum sound, re-enforce it, or completely change it all together.
This was a set of recordings done entirely on the Vermona Mono Lancet analog mono synthesizer. All the sounds you hear were generated on the Mono Lancet save for the 707 kick and snare on the very first clip. This was recorded as part of a review for DV 24/7 Magazine in London, England in 2011. I used a Fireface 400 firewire interface and Logic Audio for this recording.
The reasoning for using multitracking and effects processing was to show real-world applications of an analog monophonic synthesizer. The Vermona Mono Lancet, due to its discrete design, provided a rich sound palette that could easily be tamed with minor compression and equalization.
For more info about this:
Digital Available at:
http://itunes.apple.com/us/artist/inh…
Vinyl Available at:
http://www.darkentriesrecords.com/sto…
Just playing with some of the factory preset FX from this great app by Sugar Bytes
Turnado is a revolutionary multi-effect tool, crafted especially for massive real-time audio manipulation. It combines unique and dynamic effects with the most intuitive and immediate control you can imagine. Just turn it on and crank it up.
In the studio, simply dial in your effect from a super-sweet selection of 24 pro-quality algorithms, then mash up your audio content with minimum fuss, quickly adding dynamic variation to your arrangements. Take it to the stage and unleash Turnado's true power. With instant access to eight effects and immediate control over key parameters, Turnado is guaranteed to cause devastation on the dance floor, shredding beats and crunking breaks to insane proportions.
The idea is simple:
Turn a knob and the effect is on.
Turn the knob further to adjust effect parameters and apply modulations.
Turn the knob down and the effect is off.
With its instantaneous, one-knob, multi-parameter modulation features, Turnado will lay waste to the audio landscape. Giving you the power to crunch, chop, twist, mash and elevate your music to new levels, Turnado will have you creating wicked new sounds that will blow any crowd away.
Unlocking the power of your MIDI controller each effect requires only one knob to control it. Underneath this simplicity lies a matrix of effect parameters and modulation engines, all controlled by the main knob. This control matrix provides serious depth to the plugin and gives you the ability to create original and truly unique effect programs.
If the power of one-knob action still doesn't rock your boat, the awesome "Dictator" mode will sink your battleship. It allows you to animate all the main knobs and run that animation with just one fader. That's one fader, controlling up to 8 different effects, with potentially hundreds of parameter changes!
Turnado's primary focus is on beat manipulation, so you will find lots of loopers, slicers and grain tools in the rack. Alongside these beat-mashing effects are an arsenal of distortions and filters as well as first-class delays and reverbs. With extensive modulation possibilities each effect can produce millions of unbelievable variations that can be morphed and twisted into something new every time you tweak those knobs.
Turnado will inspire you again and again, delivering completely new variations of your original sounds and grooves every time, so what are you waiting for…turn it on.
Turnado comes for Mac/PC as Standalone application and VST/AU/RTAS/AAX plugin.
Turnado takes realtime audio manipulation to the next level.
Just assign effects to knobs and crank them up! Lots of new
granulizing, freezing, filtering, slicing, looping and scratching effects
have been developed to make Turnado the best effect you ever had!
Ilona and Tobias checking out the new secret OP-1 OS coming soon. Here's a sonic sneak peak of what's cooking…
More sounds here: https://soundcloud.com/one/op-1-os-te…
OP-1 promo is inspired by this great video:
http://www.youtube.com/watch?v=Tgpayt…
Producer and engineer Miles Walker talks us through the features of the Apogee Quartet. A 4 in and 6 out audio interface that connects exclusively to Apple computers and iOS devices.
For more on the Apogee Quartet go to their blog: http://www.uniquesquared.com/blog/pro…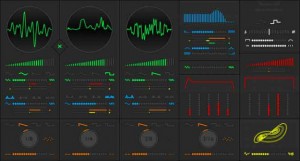 Sinevibes has announced Torsion, its new monophonic Audio Unit instrument plugin. They tell us that Torsion is built upon a unique combination of multiple synthesis technologies and modulation sources, wrapped into an intuitive interface which makes working with it as fun as playing a game. Sinevibes believes that it has a very distinctive, original sound character – and is ready to push your musical creativity in a fresh new direction. Here's the details in Sinevibes' own words…
Reinvented classics
At first glance, Torsion's sound structure is similar to a traditional subtractive synthesiser – three oscillators going into a low-pass filter and into an amplifier – and it's certainly as easy to use. But Torsion's oscillators are completely different: they produce simple additive waves based on just a few partials, which are then enriched with lots of new spectral content using a technique called waveshape modelling (which literally "curls" the wave in real time). To further spice the sound up, there is a ring modulator and an audio-range oscillator for filter FM.
Modulation galore
Torsion features as many as four separate LFO generators – one for each oscillator and one for the filter and output amplifier. In addition to precise synchronisation, each LFO cycle can be self-randomised, which makes the modulation rhythmical yet non-repetitive. There are also two AHDSR envelope generators, as well as a two-dimensional chaos oscillator.
Interactive experience
The interface of Torsion is designed with high-contrast, colour coded elements, which lets you operate the instrument intuitively in just a few minutes. It also includes graphic representations for every building block – oscillator waves, LFO phases, envelope shapes and filter spectrum all change as you modify them, making sound design with Torsion a truly engaging, fun process.
Specifications
• Three oscillators each with four basic additive waveforms and four waveshape models.
• -24 dB/octave resonant low-pass filter.
• -12 dB/octave high-pass filter.
• Ring modulator.
• Modulation oscillator for low-pass filter FM.
• Four tempo-synchronised LFO generators with four waveforms and per-cycle randomisation.
• Two AHDSR envelope generators.
• Two-dimensional chaos modulation generator based on Lorenz attractor.
Pricing and Availability:
Torsion is immediately available as an Audio Unit plugin for OS X 10.6 or later (32/64 bit Intel), and costs $49.
More information
PixiVisor is a revolutionary tool for audio-visual experiments. Simple, fun, cross-platform.
More info: http://warmplace.ru/soft/pixivisor
Music: http://nightradio.bandcamp.com/track/…
It consists of two parts: Transmitter and Receiver.
Transmitter converts the video (static 64×64 image or 10FPS animation) to the sound, pixel by pixel (progressive scan). So you can listen the sound of your image. But the main function of the Transmitter is to transmit the signal to the receiving devices.
Receiver converts the sound (from microphone or Line-in input) back to the video. You can set the color palette for this video, and record it to animated GIF file.
Key features:
file formats supported by Transmitter: JPEG, PNG, GIF (static and animated);
real-time video export to animated GIF;
64 predefined color palettes;
iOS: iTunes File Sharing;
iOS: Wi-Fi Export/Import (in the File menu of the Transmitter);
more functions in the next PixiVisor updates…
Examples of use:
wireless Lo-Fi video transmission over audio;
video signal transmission through audio cable; you can then modify that signal by some mixers or audio FX processors;
VJing;
sound visualization;
save any sound to animated GIF;
hide some images and animation in your music;
searching for hidden messages in the ambient noise; EVP;
something else; reveal it first!