Novation Audiohub 2×4 – new electronic music production hub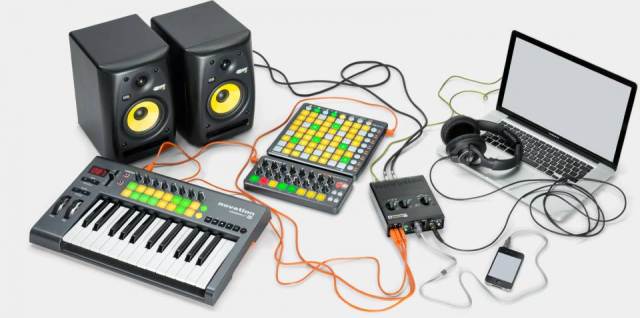 Novation has introduced Audiohub 2×4, an audio interface & USB 'electronic music production hub'.
The Novation Audiohub 2×4 is a combined audio interface and USB hub that lets you connect and power all your USB gear at once, while getting low latency audio and 'super loud' output.
Nitemove demonstrates Novation Audiohub 2×4: a combined USB audio interface and USB hub with 'Focusrite sound inside', for electronic music production
Key Features
Three integrated USB 2.0 ports, so you can connect your keyboard controller, NI Maschine, Novation Launchpad or any other USB gear to your computer at the same time. You can even connect it all to your iPad, if you have a camera connection kit.
Bus Power – You can bus-power Audiohub 2×4, but you'll need to connect the power supply if you want to use it to bus-power your USB gear.
Focusrite Sound Inside – 96 kHz, 24-bit audio performance.
It's Super Loud – the four RCAs, the two balanced jacks and the headphone outputs are 'super loud'.
Capture Balanced Audio – matched stereo RCA inputs
Low Latency for Live Performance
Connect To Just About Anything – Plug and play on Mac and iOS. Dedicated low latency drivers for PC are supplied.
Rugged design – designed for the gigging electronic music producer, with a aluminum case.
For an overview of Audiohub 2×4 click here: http://www.novationmusic.com/audiohub2x4
Comments