For ones a quite inspiring synth demo
Unscripted adventure with the Vermona PERfourMER MKII
Background video description:
Truly an amazing demo!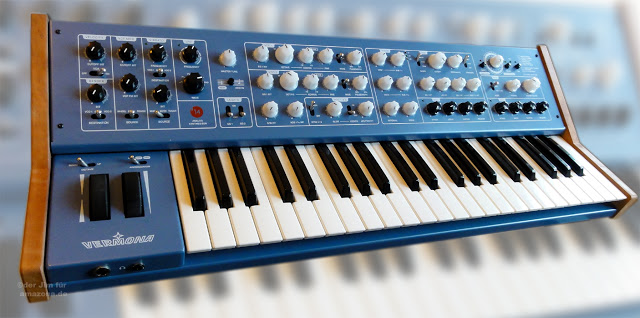 Info below from a German magazine:
Vermona '14 – an unconventional name. Just before the Vermona team departed for NAMM, offered, quasi in passing, the opportunity to take a quick look at the new synthesizer. Here are the first impressions.
The analog synthesizer is a full-blown version of the Lancet module. The 3½-octave keyboard (44 keys) has a pleasant synth-action keyboard and the housing and the controls make a solid, reliable impression. The large panel promises a safe handling on stage.
structure
Vermona '14 is monophonic, a duophoner mode as it is presently just hip is not provided. The sound production have two identical VCOs with sine, sawtooth and square (PWM) and two sub oscillators, with a sinus, with a rectangle that can be mixed to the mixer. In the mixer, signals can override what appears roughly three LEDs. The VCO can be synchronized and also provide, if necessary on a fixed pitch. Noise and External In enhance the sound sources.
The filter is not a multi-mode, but only a low-pass, but corresponds to the most common applications.
The slope can be switched between 12, 18 and 24 dB. Also filter FM is possible. Two fast ADSR envelopes and LFO accept the modulation
Acoustic guitar looped and heavily effected with delay and spring reverb. Synthesizer sequence is a Vermona Perfourmer. Recorded live, line-level recording.
1976 made in GDR
Playing all the presets in a moderate tempo dry without FX.
The noisy beginning and end are due to the stormy wheather

the noise does not come from the machine!
The ER-9 was built by Vermona from East(!)-Germany aka DDR in the early 1980ies (or even late 1970ies?). It has 16 Rhythms which can be mixed by pressing multiple Switches and 9 Instruments: Bassdrum, Tom, Bongo, Claves, Cowbell, Snare, Cymbal, Highhat and Maracas. The first 6 Instruments are built with a double-T-Matrix, mostly around just ONE transistor. All voices are mixed into a 2-transistor-mixer. Extremely clean, simple and efficient.
Inside there are multiple cards which are stuck into simple sockets. Most cards are housing 2 or 3 voices. On top of the cards are trimpots for calibration. On most cards one is for calibrating the damping of the doubleT-Network-oscillation or simply spoken: decay for BD, Tom, Bongo, Clave or Cowbell, which has 3 Oscillators, most analog drumcomputers including 808 just have 2 for the cowbell. If you stumble upon a ER-9 and the owner sais "it just makes a constant tone when i plug it on" i guess it is just a decalibrated pot letting one voice selfoscillate.
The Vermona ER-9 is a rare East German rhythm box. The manufacturer is VEB (Volkseigener Betrieb) Klingenthaler Harmonikawerke.
It's not programmable, but the presets are free combinable. Every drum sound has its own volume knob, that makes it flexible. Check out that GDR sound 😉
Background video description:
One of the best versatile analog drum expanders currently made. Awsome KICKS, jazzy SNARES, weird dubby FX, the beast electronic CLPAS I ever has and the right mixture of CAMBALS
Background video info below:
I got a brand new Rocket today, so… here goes!
Bass: Waldorf Rocket
Drums: Vermona DRM1, Acidlab Miami, MPC
Strings: Korg Wavestation SR
Pluck: Casio CZ3000
FX: Roland Alpha Juno 2
Vocoder: MAM VF-11
Vocoder Synth: DSI Tetra
Sequencer: Cirklon
I'm switching the Rocket between chord and mono modes over MIDI. To play chords, set the oscillator wave to sawtooth (CC #31 = 0), and the osc tune&shape knobs to max (CC #70 & #79 = 127). I'm also setting the mod wheel for some chord vibrato.
This was a set of recordings done entirely on the Vermona Mono Lancet analog mono synthesizer. All the sounds you hear were generated on the Mono Lancet save for the 707 kick and snare on the very first clip. This was recorded as part of a review for DV 24/7 Magazine in London, England in 2011. I used a Fireface 400 firewire interface and Logic Audio for this recording.
The reasoning for using multitracking and effects processing was to show real-world applications of an analog monophonic synthesizer. The Vermona Mono Lancet, due to its discrete design, provided a rich sound palette that could easily be tamed with minor compression and equalization.
For more info about this:
Digital Available at:
http://itunes.apple.com/us/artist/inh…
Vinyl Available at:
http://www.darkentriesrecords.com/sto…