Live session of "Rundfunk" with Elektron Octatrack + Analog Four and Vermona DRM1 MKIII. Original track: https://soundcloud.com/ohrwert/ohrwer…
A voyage into the heart of the Vermona Analog Synthesizer from the year 1982.
Exploration by Marko Ettlich (RetroSound)
very rare analog synthesizer made in east-germany (GDR)
also called "Zonen-Moog" 😉
monophonic
2 VCO with Pulse, Saw, Square and Noise waveforms
24 dB/Oct VCF with Brilliance, Cut-Off and Resonance
10 presets for VCF and VCA envelope
44 keys
Background description:
Track that I made today. Sequenced with the MPC2500. Bassline is the MiniMoog Voyager. Pad is the DSI Prophet 08, lead is the DSI Mopho and the Drums are form the Vermona DRM mkiii.
The Pad is processed with the Moogerfoogers Phaser and MidiMurf. Mopho is processed with the LowPass filter and Analog delay.
Special thanks to my friend Analogmadness for sharing his foogers.
Hope you like it!
'xtront' explores the Vermona fourMulator module, details below:
I'm happy to show you some features of Vermona's new module "fourMulator". It's a Quad Digital LFO & Gate-Generator. It contains 4 equal LFOs with 6 waveforms each: Sine, Tri, Saw, Ramp, Pulse and S&H. Units 2, 3 and 4 are clockable or phaseable (!) to LFO1 or the next one to the left. Furthermore you will find beside the Wave-Out: CV-In, Reset-In and Gate-Out (full cycle).
used modules: Vermona fourMulator, Flame Talking Synth Module, Doepfer A-132-1 Dual VCA & A-140 ADSR
Here's what Kebu has to say about the tune:
This is a remix I made for a competition. If you like it, please follow this link and vote for it by pressing "spin" (requires registration):
http://www.beatportal.com/remix/detail/ab-you-got-to-go-k…
I didn't plan to make any more videos before my upcoming album is ready, but I stumbled upon a competition to remix Above & Beyond's "You got to go". Since I've recently discovered Anjunabeats and their great trance compilation Worldwide 03, which I've been spinning almost every day now for two weeks, I just had to take the time to give it a shot!
I saved only the vocals (sung by Zoë Johnston) from the original track and remade all music using only analog synths. The analog synths and analog drum machines were controlled in realtime by a MIDI sequencer and mixed together with the vocal using an analog mixer and hardware effects.
Equipment used: Korg Mono/Poly, Polysix, Poly-61; Roland Juno-60, Alpha Juno, TR-808 (w. MIDI); Moog Source; Oberheim Matrix 6R; Vermona DRM1 Mk III; Electro Harmonix Small Stone; Boss BD-2 (H2O mod), DD-3; Lexicon MPX500; DBX 290; Emagic AMT8; M-Audio Midisport 8×8/s; Alesis iO26; Cubase SL 1.06; Allen & Heath GS1; Yamaha S30 (as MIDI keyboard); Doepfer MCV1; Kenton Pro 2.
Camera: Canon HF100
Hope you enjoy my t-shirt! 😉
The Mono Lancet is a compact synthesizer with big sound, easy user interface and charm. Two analogue oscillators take care of a solid sound foundation. Oscillator one creates triangle-, sawtooth- and square waves and can be set one octave lower than the second oscillator. The latter produces white noise instead of the triangle wave. The pulse width can be modulated through the modulation wheel (MIDI) and/or an external control voltage (see Extension). The glide generator has a legato mode or can always be active. The voltage controlled lowpass filter has a slope of 24db per octave. On high resonance settings it starts to self-oscillate and produces a stable sine wave that can be played in a range of about 2 ½ octaves.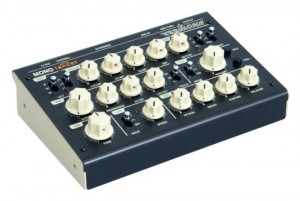 On MIDI site the cutoff frequency can be controlled by velocity and/or aftertouch. There's a good sounding VCA inside the Mono Lancet that can be modulated by the ADSR- or a fixed organ-like envelope. On demand it additionally can respond to velocity. The classical ADSR envelope generator can modulate the VCO- and VCF frequency and the VCA. The LFO generates rectangle- and triangle waveform as well as sample & hold and is modulation source for VCF and VCO.
In this video:
Just a quick video to show my Vermona Mono Lancet in full working order. It's sequenced by a Yamaha RM1X and the drums were also created with the Lancet and sampled into an Akai S5000 for sequencing.

"
It's not a big secret, that we are working on a synthesizer that we will present at the Musikmesse in Frankfurt (6th to 9th April 2011). And it's also no secret that it will be the successor of the discontinued PerFourMer, so it is very likely that our new baby will carry the same name "PerFourMer", possibly followed by a "2″.
You can listen to some sounds generated by the prototype. Please don't judge the musical value, it's just a simple sequence and some knob tweaking on the synth.
Enjoy!"
P4m2 preview1 2synths by VERMONA
Here's a test with the new Vermona Kick Lancet, really an amazing synth kick… u can obtain sweet and light kick, to booom one, to 909 aggressive style… more u have all the knobs in front of you for a real analogue style control…. really amazing in my opinion…
it's based on the kick of the DRM1 MKIII, but it has more controls
for more info go to vermona website
http://vermona.com