A set of 32 sounds programmed on the Dave Smith Mopho Keyboard analogue synthesizer.
First comparison of the 2 analogue mono-synths. In this clip you will hear the arpeggios from Dave Smith's Mopho Keyboard and the spooky sounds of the Arturia MiniBrute.
Background video description:
Here's another live jam with my baseline setup Korg Volca Bass, Korg Volca Sample and Arturia Microbrute. This time, they get accompanied by the MFB 522 drumcomputer and David Smith Instruments Mopho.
As with all my other jams, I only used the internal sequencers which are synchronized with the Master Midi clock from the Electribe ER-1. Some reverb and delay is added on most of the sounds (Alesis Quadraverb 2, Alesis Midiverb 3 and Lexicon MX200).
If you liked this one, you might want to check out my other Volca-Microbrute jams in this playlist:
https://www.youtube.com/playlist?list…
Thanks for watching and cheers!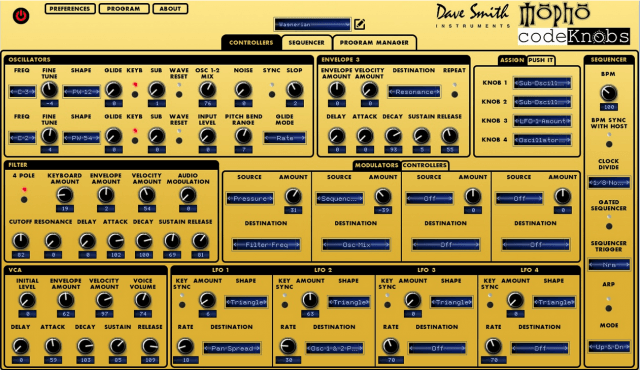 CodeKnobs has introduced an unofficial patch editor for the Dave Smith Instruments Mopho synthesizer, for both Mac & Windows. 
Features:
Full Mopho Parameter Control: This editor offers complete control over all of the Mopho's parameters.
Real Time Editing And Automation: You can make all your edits and adjustments in real time, and create automation sequences.
Simple Saving: Programs can also be stored automatically within your DAW sequence. All you have to do is save your sequence, and all your programs, in all of your instances will be saved.
Program Manager: This allows you to collect all of your Mopho programs into one place, and manage them. You can import, and export syx files, and use Prophet 8 and Mopho program files as well. You can also use the tagging feature to categorize, and sort your programs.
Multiple Instances: You can add multiple instances of this editor within your DAW, allowing you to have multiple programs available at the same time. You can choose which instance is active, by pressing the power button located on the instance window. Once activated, the Mopho will take on the program of the active instance. This will allow you to swap between programs on the fly.
Note: CodeKnobs Mopho Editor 1.0 is for the Mopho Desktop only.
The Mopho Editor is available for US $39 from the CodeKnobs site. A demo version is also available.
Background video description:
A song I did by Multitracking a DSi Mopho. All sounds from the Mopho. I also used the Mopho as carrier signal on my Vocoder Syntovox 222 & on my Banshee Rocktron Talk Box. Long Live the Mopho!!!
Music & lyrics composed by Val Solo 2014
"Analog space keys !!"

DSI Mopho x4 
This is Felipe Frigerio aka "Barrote" in his home studio
Bronte play the following instruments:
DSI Mopho Synthesizer
DSI Evolver
Waldorf Blofeld Synth module
Elektron Octatrack
Roland Juno Gi
Korg Radias
coming soon in youtube!
M-Audio Venom (only to control other synts)
64 new patches made by Alba Ecstasy for MoPho. The presets are compatible with MoPho, MoPho SE, Tetra & Prophet. The pack contains: drums, basses, leads, arpeggiators and sequencers. 100% royalty free!
Before you buy it, please download the free pack made on MoPho and test it!
Store link: http://www.albaecstasy.ro/mopho-tetra…
Background video description:
Autumn is on his way…
Wind and rain here on the North Netherlands coast … Its better to stay at home and make some music on the rhythm of the rain …
I try to make a special groovebeat with the powerful MD, best you can listen with a headphone for perfect stereo.
I play the Mopho (desktop) with the keys form the PEK and I make a sound on the great Radias.
I bought the Radias a few days ago, its a powerful dream-synth in newest condition and hardly used

Soon more with the Radias…
Enjoy and grtz
FREELANDERRIDE
Dave Smith & Analog four "Analog Home"
Just a programmed sequence with the Tempest master (home)CLOCK. The Poly Evolver, Mopho X4 are following. Slim Phatty doing some ambient leads.
Enjoy and dutch Grtz from the Netherlands !