MIDImorphosis – an audio-to-MIDI app for iOS
Audio MIDI Connect has transformed into MIDImorphosis – an audio-to-MIDI app for iOS.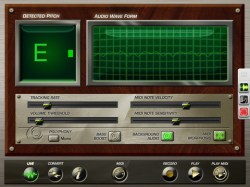 Here's what's new in MIDImorphosis:
In this version, the speed and accuracy of pitch detection has been greatly improved.
MIDI output now supports multiple destinations, both CoreMIDI and Virtual MIDI, as well as DSMIDI Wifi.
Audiobus support has been added, for both input and output slots.
Audio can be imported or exported using audio copy and paste. The app supports off-line conversion of audio to MIDI, with MIDI files being available using the "open in" method, or through iTunes file sharing.
Pitch detection now supports polyphonic playing. A toggle button selected between monophonic, small intervals, and chords.
https://itunes.apple.com/us/app/audio…
Introductory pricing — ends July 28th
MIDImorphosis captures the pitch of incoming audio, and converts it into MIDI notes that can be used to control iOS synthesizers or external equipment. With support for CoreMIDI, Virtual MIDI, DSMIDI Wifi, Audiobus, and background audio, connecting MIDImorphosis is a snap. Connections to laptop and desktop computers can be made using WiFi or with MIDI adapter cables.
The app performs both monophonic and polyphonic pitch conversion, and is designed to work best with a guitar or bass. We recommend dock-based instrument adapters; connections through the headphone jack frequently have crosstalk and poor frequency response. We also recommend running MIDImorphosis on an iPhone4s or better, or an iPad2 or better (this is especially true when using Audiobus).
Complex sounds can be created by combining a typical guitar effects app along with MIDImorphosis and a synthesizer app. The guitar effects app can provide tone control and immediate response, while the synthesizer can augment this with a deep, evolving sound.
With any conversion system, there is latency between a note played on an instrument, and when the note can be correctly identified; the slight delay motivates the combination of guitar effects and synthesizers. MIDImorphosis should be fast enough to work well for playing at moderate speeds. For guitarists in need of a system that can handle "shredding," we would recommend hardware converters by companies such as Roland or Fishman.
A number of videos are available on the app web page, to illustrate typical performance, and playing techniques to get the most out of the app. For guitarists, a light palm mute should be used to prevent unwanted notes from ringing. Pitch detection is typically best with the bridge pickup, and with a clean tone.
In addition to live conversion, MIDImorphosis can also convert recordings into MIDI (avoiding latency issues). The app can record audio; audio can also be imported using either Audio Copy or iTunes File sharing. Audio can be exported with Audio Paste. MIDI can be exported to other apps using the "open in" feature, or through iTunes. The app also allows scanning through audio files, to see the detected pitch at any given moment; this feature should be particularly useful to musicians interested in transcribing a recording. Recorded audio and converted MIDI can be played back through the app. The app is compatible with the Audiobus input and output slots.
For polyphonic pitch detection, the app supports both intervals and chords. Many guitarists play small intervals on adjacent strings; pitch detection has been optimized for this case. When set to chord detection, the app can find additional notes, but is less accurate.
Comments