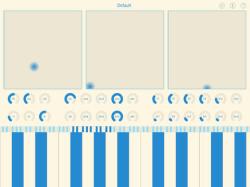 Mod Phon Ltd has introduced Voxen – a new voice synthesizer for iPad. Voxen is a voice synthesizer. It's designed not for realistic text-to-speech vocal effects, but for creating synthesized 'singing voices'.
Voxen is *not* a text-to-speech system. You cannot provide it with lyrics and expect it to sing them. Voxen is a synthesizer that acoustically simulates a glottis and vocal tract, allowing you to manually control the sound. It synthesizes sounds, not words.
Because a human voice is more complex than nearly any other musical instrument, a synthesizer of human voices is also very complex. To control one can require the real-time manipulation and coordination of dozens of separate parameters.
If you are looking for something that creates a musical performance from a piece of sheet music and some lyrics on a scrap of paper, hire a good vocalist. On the other hand, if you are looking some new and different sounds, use Voxen.
Features:
Eight note polyphony
Keyboard range of more than ten octaves
Three X-Y touchpads
Twenty-eight vertical linear knobs
Choice of dark or light background colour
Eight choices of foreground colour
Save and load user-defined patches
Technical Background
Voxen is a polyphonic formant synthesizer. There are three banks of knobs which control, respectively, the voice, the voice envelope and the formants. The six voice knobs control provide a modified Klatt 1989 voicing source.
The ten voice envelope knobs control master amplitude and ADSR envelope for the voicing source and for a separate aspiration source. The remaining twelve knobs control the centre frequencies and bandwidths of the first four formants and the centre values and differences (spread) for a nasal formant/antiformant pair.
Each of the three X-Y touchpads controls a pair of parameters, f1 & f2, b1 & b2 and vibrato rate & vibrato depth.
Spectral tilt (or voice brightness) is controlled by the height you are touching the keys.
The overall aim of the user interface is to make it simple to control the many parameters in a live setting.
Voxen is available now for US $7.99 in the App Store.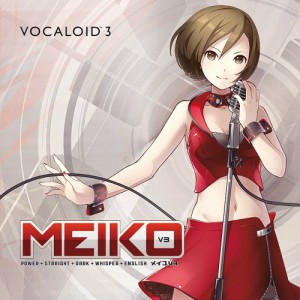 Best Service has released MEIKO V3. Here's all the details in their own words…
MEIKO V3 is futuristic singing voice synthesizer software. It is the brand-new version of Cryptons first released Vocaloid. The new MEIKO V3 features a beautiful female voice that fits a wide range of music genres from rock to electronic music. With its high sound quality and resemblance of a real voice the software lets you incorporate MEIKOs voice immediately into your music production.
MEIKO V3 features 4 carefully produced Japanese voice banks with various voice tones and moods, and an additional English voice bank for your production with English lyrics.
This all-in-one package includes vocal editor Piapro Studio VSTi, PreSonus Studio One Artist Piapro Edition, and over 200 virtual instruments for your immediate music production.
Easily edit Vocals in your music production environment
A vocal editor that allows you to easily operate and modify Meiko´s voice, Piapro Studio works as a VSTi and AU plugin, and therefore performs at a high compatibility with main music production applications (PreSonus Studio One, Ableton Live, Steinberg Cubase, Apple LogicX, Garage Band etc.).
Database (Voice Bank)
The database is based on a human voice, carefully recorded in a high-standard studio environment. Every sound was edited and optimized for the VOCALOID engine in order to create this database. With parameters such as gender factor or brightness, you are able to modify the voice and customize it to exactly fit your sound.
Features
Supported VSTi / AU plugin by all main music software applications
Piano Roll Editor: Easy to use note & lyric editing. Enter the notes you want Meiko to sing via the easy-to-use sequencer window, then type in the lyrics corresponding to each note
Control Effects via Automation: Dynamics, breath, velocity, gender and other vocal characteristics can be manipulated simply with a pencil tool
Vocal parts editable while playback
Chorus: You can add up to 15 voice tracks simultaneously
Leads VSQ, VSQX, MIDI
Import MIDI Files as Input: You can import a standard MIDI file and use the notes as the basis for Vocaloid tracks
Save/Export Vocal Parts as .wav files
Interface Language: Japanese, English, Chinese
Display of multiple Automation Tracks
Automatic Update (requires Internet Connection)
Bundled Software
MEIKO V3 comes in an all-in-one package for your own music production of songs! The product contains MEIKOs English and Japanese singing voice database, vocal editor Piapro Studio and the music production application Studio One Artist Piapro Edition coming with over 200 virtual instruments (guitar, piano, drums, and various other synthesizers). All applications can be synched with each other which enables you to easily produce whole musical compositions.
Studio One
With Studio One Artist, you can not only create rhythms and melodies, but also add all kinds of effects on Meikos voice! The softwares intuitive operation interface allows easy editing, mixing and mastering of your musical creations.
PreSonus Virtual Instruments & Sounds
Studio One Artist Piapro Edition comes with over 200 instruments, enabling your creativity to explore and compose for a wide range of music genres. [Instruments] Guitar / Bass / Keyboard / Drum / Strings / Woodwind / Percussion and more!
Additional Software included:
Tiny VOCALOID™3 Editor (for Windows only)
MUTANT VSTi Version (for Windows only)
SONICWIRE Bonus Samples
Pricing and Availability:
£125 /  €149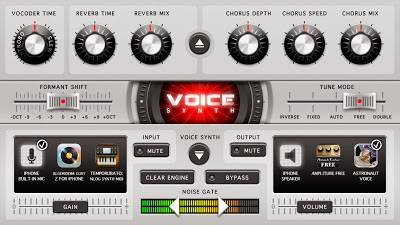 Voice Synth is a professional live instrument to create incredible new voices, choirs, sounds and soundscapes, based on your own unique voice. Includes a free trial and two in-app packages with inter-app audio, three 24-band live vocoders, AutoPitch, multiple voice harmony arranger, spectrum stroboscope, pitch and formant shifter, sampler, 24-band equalizer, distortion, delay, chorus and reverb. Paid version selected by Apple in USA Music App Collection "Vocals".
Take a journey into sound design and discover the endless possibilities: Speak, sing, hum and beatbox in the mic, to turn your voice live into a baby or tenor, a popstar on AutoPitch, a robot from Cylon to iDalek, a church or close harmony choir, animals from birds to dogs and lions, musical instruments from organs, guitars and a groovy bass to percussions and rich 70's vocoders, amazing effects and ambient, lush string/storm soundscapes. To get you started, we included over 100 factory presets!
This free version offers a try-out of all presets in live mode, so have your headset ready! The in-app instrument package offers the full Voice Synth sound engine at a reduced price, plus a free try-out of the in-app pro package that includes additional pro features such as sampler, inter-app and background audio, midi, noise gate and more.
For musicians, DJs, sound designers, voice artists: Voice Synth is a must-have in your audio toolbox. Voice Synth has a dedicated interface designed for iPad, and a compact interface for iPhone and iPod that includes all features so you can create anywhere you go.
VOICE SYNTH INSTRUMENT SPECS
Sound engine 2×32 bit at 44.1 kHz
All effects simultaneous, 12-voice polyphonic, live, real-time, low-latency
Auto engine sleep to save battery power
In-app help, tutorial video and email support
Audio dock compatible
Audio export in WAV/M4A format, iOS pasteboard, iTunes File Sharing and email
VoiceOver support
2 play modes: Live and Repeat
Performance recorder to record, play and export your creation
100 factory presets, unlimited user presets, 8 quick presets, import/export
Keyboard 2.5 octaves (iPad), 1 octave (iPhone/iPod)
3 vocoders with 24 bands, 5th order filters (Natural, Robot and Breath voice)
Low/high register (add voice brilliance)
• Equalizer, 24 bands +/- 12 dB, VU 0 to -80 dB, stereo VU meter, with 8 presets (loudness, low-pass, telecom voice, etc)
Pitch Shifter 8 octaves (e.g. for lion voice, tenor, gender change, child, baby, duck, squeak)
Formant Shifter adapts voice spectrum, range +/- 1 octave, (change headsize from child to giant)
Tune modes to alter pitch: fixed, free, inverse, double, auto
AutoPitch (always sing in tune)
Harmony synthesis of multiple voices in all 12 major/minor musical scales (choirs and rich 70's vocoder sounds)
Autogain, distortion, stereo panning, delay, chorus and reverb
Slew rate: special vocoder reverb (plucked strings, wind, thunder, storms)
Stroboscopic gate: special vocoder effect to sample and hold your voice spectrum
PRO PACKAGE
Background audio
Apple inter-app audio input/instrument with midi, host with recorder
CoreMidi support
Additional Sampler play mode: Record, import and play with your voice, with instant zoom, start/end, loop/hold, extensive trigger methods
Keyboard hold on/off, mono/poly
Noise gate, input & output mute/volume, engine bypass
Note: iPhone 4 does not support inter-app audio
Experimental play with KORG Volca beats, bass, keys and Amazon Kindle ( using kindle's "Text to speech" function ) The text is from Volca bass's manual 😀
A simple demo of the Fairlight voicetracker, built by Fairlight (the CMI makers).
It is a razorfast pitch recognition system and realtime pitch conversion unit that translates any pitch and timbre to control signals, both MIDI as CV Gate, totally ahead of it's time and superceded by nothing.
There is even a basic 2 vco synth in the unit.
I demo the functionality of the display, which in my case is done by the former monitor (that i modified) of my CMI series 3, that runs in color on vga now..
This is a demo of the Metasonix R-51 (Distortion/VCA), R-53 (Pulser/Ringmod) and R-55 (Thyratron VCO) synthesizer modules, which all use tubes. There are two R-51s, one R-53 and two R-55s being used in this patch.
The R-System is being controlled and processed by a Meng Qi Music 'Cocoquantus' looping delay/sampler + ribbon and antenna controller. The output of the Cocoquantus is being processed by a Knas Ekdahl Moisturizer spring reverb. And the Moisturizer's output is being processed by a Wavemakers 255R dual phase shifter (which is switched on and off throughout the video, so that you can hear how the Metasonix modules sound by themselves without the phaser effect added).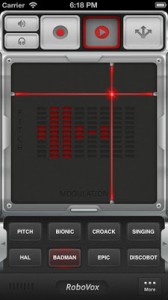 RoboVox – Transform your voice!
Transform your voice with RoboVox and have your voice sound scary or funny, musical, evil or like a robot! RoboVox is a voice recorder and voice changing app using vocoder technology. Choose among 24 different voice styles and jam with the pitch and modulation settings by sliding your finger across the X-Y control field. Modify your voice live with your headphones on, record your voice and play it back transformed or use the parrot mode that repeats your altered voice automatically.
Save your recording, send it via email or share it directly on Facebook* or SoundCloud. Get it now and alienate your voice!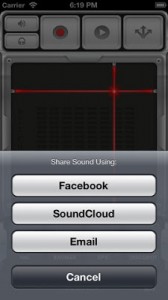 RoboVox Features:
– 24 voice models such as Pitch Shift (Chipmunk, Helium voice), Discobot, Badman, Exorcist, Bionic, Croack, Singing Robot, Dark, HAL, Stephen, Prophet
– X-Y control field for modifying pitch and modulation
– 3 different modes: real-time, parrot and recording
– Real-time mode (with headphones)
– Voice recording
– Share your results directly on Facebook* or SoundCloud
– Email your creations as WAV files
– Play RoboVox by connecting a MIDI keyboard
– Vocoder with real-time FFT spectral analysis
* Please note that your messages on Facebook are hosted publicly on soundcloud.com. Please note also that your direct Facebook uploads might be deleted after a certain time."
Using Audio as a Control Voltage source in Reason 6.5 using the Pitch and Amplitude follower in Sonic Charge Bitspeek. Please note that you can create something similar using Neptune Pitch Corrector, however BitSpeek has extra CV out features that make this process pretty simple. Also, BitSpeek is available for Reason Essentials whereas Neptune is only available in the full version of Reason.
http://shop.propellerheads.se/product/bitspeek/
Virsyn describes their new Harmony Voice app as a pitch shifter and harmonizer with professional features including automatic tuning correction.
Virsyn says that you can sing and Harmony voice will add up to four voices according to the chords you play with the piano keyboard or, alternatively, instead of playing the chords yourself you can let Harmony Voice play the chords automatically to enrich the sound of your voice in a musically pleasant way.
The voice character can be adjusted in a way that you can turn a female voice into a male voice and the other way round, while a realtime visual intonation-display gives you feedback of the tunes you sing.
Features:
Four part realtime Harmonizer / Pitch corrector
Different Harmonizer modes:
Manual harmonization by playing chords with up to four notes while singing
Automatic harmonization ( Kraehenbuehl )
Play base note and Harmony Voice adds appropriate chords
Directly play the tunes for up to four voices with the keyboard.
Select key note and scale for harmonization and pitch correction.
Harmonies can be in just ( Barbershop ) or tempered tuning.
Mix your original voice with the harmonized parts.
Change the voice character.
Play background track from your iTunes library.
Hi-end reverb effect for room simulation.
Chorus and Delay effect.
Use a CoreMIDI compatible Interface to control Harmony Voice with a MIDI Keyboard.
Audio recorder with Metronome.
Upload to SoundCloud and File Export.
Audio pasteboard for exchange with other Apps
Pricing and Availability:
$5.99
More information:
Video description:
http://ios-music.homewoke.net
very naice apps! I played without thinking. Romantic music was born then. I recommend to those who want to start the music.
Specification:
Chordion is a new and intuitive way to make music with your iPad. Choose a chord with one hand and play melodies with the other. Never hit a wrong note!
Get it here >>
How do YOU use Chordion?
• Choose layout templates from any key or create your own.
• Customizable sound settings allow a wide range of sonic possibilities.
• Choose from a variety of chords, scales, and modes.
• Save and load preset files
• Users Manual
Voice Synth is an innovative synthesizer controlled by voice and keyboard. Available for iPad, iPhone and iPod Touch in the Apple AppStore at http://itunes.com/apps/voicesynth. All audio samples in this video have been made with Voice Synth 2.0 on iPad/iPhone, a standard Apple headset and live human speech/singing/beatboxing, without additional processing.