Experimental play with KORG Volca beats, bass, keys and Amazon Kindle ( using kindle's "Text to speech" function ) The text is from Volca bass's manual

A simple demo of the Fairlight voicetracker, built by Fairlight (the CMI makers).
It is a razorfast pitch recognition system and realtime pitch conversion unit that translates any pitch and timbre to control signals, both MIDI as CV Gate, totally ahead of it's time and superceded by nothing.
There is even a basic 2 vco synth in the unit.
I demo the functionality of the display, which in my case is done by the former monitor (that i modified) of my CMI series 3, that runs in color on vga now..
This is a demo of the Metasonix R-51 (Distortion/VCA), R-53 (Pulser/Ringmod) and R-55 (Thyratron VCO) synthesizer modules, which all use tubes. There are two R-51s, one R-53 and two R-55s being used in this patch.
The R-System is being controlled and processed by a Meng Qi Music 'Cocoquantus' looping delay/sampler + ribbon and antenna controller. The output of the Cocoquantus is being processed by a Knas Ekdahl Moisturizer spring reverb. And the Moisturizer's output is being processed by a Wavemakers 255R dual phase shifter (which is switched on and off throughout the video, so that you can hear how the Metasonix modules sound by themselves without the phaser effect added).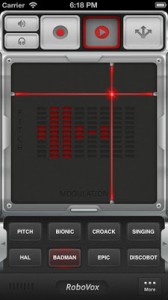 RoboVox – Transform your voice!
Transform your voice with RoboVox and have your voice sound scary or funny, musical, evil or like a robot! RoboVox is a voice recorder and voice changing app using vocoder technology. Choose among 24 different voice styles and jam with the pitch and modulation settings by sliding your finger across the X-Y control field. Modify your voice live with your headphones on, record your voice and play it back transformed or use the parrot mode that repeats your altered voice automatically.
Save your recording, send it via email or share it directly on Facebook* or SoundCloud. Get it now and alienate your voice!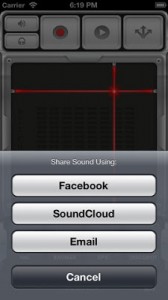 RoboVox Features:
- 24 voice models such as Pitch Shift (Chipmunk, Helium voice), Discobot, Badman, Exorcist, Bionic, Croack, Singing Robot, Dark, HAL, Stephen, Prophet
- X-Y control field for modifying pitch and modulation
- 3 different modes: real-time, parrot and recording
- Real-time mode (with headphones)
- Voice recording
- Share your results directly on Facebook* or SoundCloud
- Email your creations as WAV files
- Play RoboVox by connecting a MIDI keyboard
- Vocoder with real-time FFT spectral analysis
* Please note that your messages on Facebook are hosted publicly on soundcloud.com. Please note also that your direct Facebook uploads might be deleted after a certain time."
Using Audio as a Control Voltage source in Reason 6.5 using the Pitch and Amplitude follower in Sonic Charge Bitspeek. Please note that you can create something similar using Neptune Pitch Corrector, however BitSpeek has extra CV out features that make this process pretty simple. Also, BitSpeek is available for Reason Essentials whereas Neptune is only available in the full version of Reason.
http://shop.propellerheads.se/product/bitspeek/
Virsyn describes their new Harmony Voice app as a pitch shifter and harmonizer with professional features including automatic tuning correction.
Virsyn says that you can sing and Harmony voice will add up to four voices according to the chords you play with the piano keyboard or, alternatively, instead of playing the chords yourself you can let Harmony Voice play the chords automatically to enrich the sound of your voice in a musically pleasant way.
The voice character can be adjusted in a way that you can turn a female voice into a male voice and the other way round, while a realtime visual intonation-display gives you feedback of the tunes you sing.
Features:
Four part realtime Harmonizer / Pitch corrector
Different Harmonizer modes:
Manual harmonization by playing chords with up to four notes while singing
Automatic harmonization ( Kraehenbuehl )
Play base note and Harmony Voice adds appropriate chords
Directly play the tunes for up to four voices with the keyboard.
Select key note and scale for harmonization and pitch correction.
Harmonies can be in just ( Barbershop ) or tempered tuning.
Mix your original voice with the harmonized parts.
Change the voice character.
Play background track from your iTunes library.
Hi-end reverb effect for room simulation.
Chorus and Delay effect.
Use a CoreMIDI compatible Interface to control Harmony Voice with a MIDI Keyboard.
Audio recorder with Metronome.
Upload to SoundCloud and File Export.
Audio pasteboard for exchange with other Apps
Pricing and Availability:
$5.99
More information:
Video description:
http://ios-music.homewoke.net
very naice apps! I played without thinking. Romantic music was born then. I recommend to those who want to start the music.
Specification:
Chordion is a new and intuitive way to make music with your iPad. Choose a chord with one hand and play melodies with the other. Never hit a wrong note!
Get it here >>
How do YOU use Chordion?
• Choose layout templates from any key or create your own.
• Customizable sound settings allow a wide range of sonic possibilities.
• Choose from a variety of chords, scales, and modes.
• Save and load preset files
• Users Manual
Voice Synth is an innovative synthesizer controlled by voice and keyboard. Available for iPad, iPhone and iPod Touch in the Apple AppStore at http://itunes.com/apps/voicesynth. All audio samples in this video have been made with Voice Synth 2.0 on iPad/iPhone, a standard Apple headset and live human speech/singing/beatboxing, without additional processing.
Without us getting into any political debates and thunderstorms – Klirrfaktor provides some nice shots of their modular system in tribute to Pussy Riot, check it out:
Free Pussy Riot!

Feel free to share this video – the girls from Pussy Riot need all our support!

Anybody out there who wants to make a better vid? Contact me here or on twitter @p0litix or @TheKlirrfaktor

All Sound from my little Modular System.
Vocoder-Sounds with Blue Baby Bottle + Qneo Voice-Synth.
Drums with MFB Schlagzwerg triggered by Elektron Octatrack.

Hires-Photo and download here: http://www.klirrfaktor.com/tracks/the-klirrfaktor-free-pussy-riot
Voice Synth is an innovative synthesizer controlled by voice and keyboard. Available for iPad, iPhone and iPod Touch in the Apple AppStore at http://itunes.com/apps/voicesynth. All audio samples in this video have been made with Voice Synth 2.0 on iPad/iPhone, a standard Apple headset and live human speech/singing/beatboxing, without additional processing.
Tutorial
Here are the details:
Every sound you hear in this song was made from human voices.
I wandered around with a little microphone at GDC San Francisco 2011 to record vocal sounds from anyone who was willing to make them. I wanted to make a song out of these noises. In fact, I wanted to make a complete song, using nothing but these vocal recordings.
This is that song.
People grunted, groaned, moaned, screeched, screamed, and sang into my little microphone and I used this source material to produce Voices of Devs.
Absolutely everything you hear in this track was made by manipulating these recordings using various sound design techniques. Every drum, lead, chord and effect was, at one point in time, a recording of somebody making noises with their mouth at GDC San Francisco 2011. No other samples, synths, instruments or recordings were used in this track. Whatsoever.
You can read more about how this was achieved right here: http://bit.ly/GDC-Song
Visit these places to purchase:
http://mickgordon.bandcamp.com/
Remember to subscribe!
Follow me on Twitter: http://twitter.com/Mick_Gordon
Like me on Facebook: http://facebook.com/MickGordonMusic
Visit my site: http://mick-gordon.com
Software used: Adobe Audition 3.1, FL Studio 10, Melodyne, Reaktor, Kontakt, PaulStretch, and stacks of plugins.
The Voices:
Jeff Ball, Sean Beeson, Alex Brandon, Nathaniel Chambers, Ben "Crossbones" Cooper, Charles Deenen, Brian DiDomencio, Morla Gorrondona, Joe Griffith, Lance Hayes, Kole Hicks, Jimmy Hinson, Thomas Kohl, Sam Hulick, Jake Kaufman, Kieran Lord, Kunal Majmudar, John Mazzei, Hazel Mckendrick, Ben Minto, Keith Moore, Lennie Moore, Jayson Napolitano, James Nixon, Dan Reynolds, Pontus Rufelt, Michael Schiciano, Paul Sivertsen, Jeremy Taylor, Hillary Thomas, Joe Thwaits, Steve Tushar, Mike Worth.