Without us getting into any political debates and thunderstorms – Klirrfaktor provides some nice shots of their modular system in tribute to Pussy Riot, check it out:
Free Pussy Riot!

Feel free to share this video – the girls from Pussy Riot need all our support!

Anybody out there who wants to make a better vid? Contact me here or on twitter @p0litix or @TheKlirrfaktor

All Sound from my little Modular System.
Vocoder-Sounds with Blue Baby Bottle + Qneo Voice-Synth.
Drums with MFB Schlagzwerg triggered by Elektron Octatrack.

Hires-Photo and download here: http://www.klirrfaktor.com/tracks/the-klirrfaktor-free-pussy-riot
Voice Synth is an innovative synthesizer controlled by voice and keyboard. Available for iPad, iPhone and iPod Touch in the Apple AppStore at http://itunes.com/apps/voicesynth. All audio samples in this video have been made with Voice Synth 2.0 on iPad/iPhone, a standard Apple headset and live human speech/singing/beatboxing, without additional processing.
Tutorial
Here are the details:
Every sound you hear in this song was made from human voices.
I wandered around with a little microphone at GDC San Francisco 2011 to record vocal sounds from anyone who was willing to make them. I wanted to make a song out of these noises. In fact, I wanted to make a complete song, using nothing but these vocal recordings.
This is that song.
People grunted, groaned, moaned, screeched, screamed, and sang into my little microphone and I used this source material to produce Voices of Devs.
Absolutely everything you hear in this track was made by manipulating these recordings using various sound design techniques. Every drum, lead, chord and effect was, at one point in time, a recording of somebody making noises with their mouth at GDC San Francisco 2011. No other samples, synths, instruments or recordings were used in this track. Whatsoever.
You can read more about how this was achieved right here: http://bit.ly/GDC-Song
Visit these places to purchase:
http://mickgordon.bandcamp.com/
Remember to subscribe!
Follow me on Twitter: http://twitter.com/Mick_Gordon
Like me on Facebook: http://facebook.com/MickGordonMusic
Visit my site: http://mick-gordon.com
Software used: Adobe Audition 3.1, FL Studio 10, Melodyne, Reaktor, Kontakt, PaulStretch, and stacks of plugins.
The Voices:
Jeff Ball, Sean Beeson, Alex Brandon, Nathaniel Chambers, Ben "Crossbones" Cooper, Charles Deenen, Brian DiDomencio, Morla Gorrondona, Joe Griffith, Lance Hayes, Kole Hicks, Jimmy Hinson, Thomas Kohl, Sam Hulick, Jake Kaufman, Kieran Lord, Kunal Majmudar, John Mazzei, Hazel Mckendrick, Ben Minto, Keith Moore, Lennie Moore, Jayson Napolitano, James Nixon, Dan Reynolds, Pontus Rufelt, Michael Schiciano, Paul Sivertsen, Jeremy Taylor, Hillary Thomas, Joe Thwaits, Steve Tushar, Mike Worth.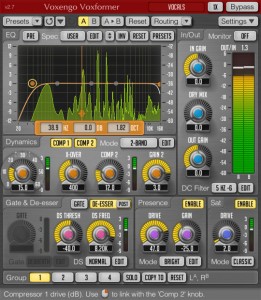 Voxengo has updated its Voxformer multi-functional vocal channel strip plugin for
Windows and Mac to version 2.7.
The coolest feature of Voxformer is its one-knob vocal compressor. Using only a single knob, you can get a tight, open and definitive professional vocal sound with an excellent articulation in no time. You do not have to worry about common ratio and make-up gain controls since they are automatically selected by the advanced compression algorithm while attack and release parameters are stored in a mode preset.
Changes in Voxformer v2.7
Native 64-bit AudioUnit and VST support on Mac OS X added.
Crossover frequency can be now set on the equalizer control
surface.
Note that on Mac computers, Soniformer now supports Mac OS X v10.5 and higher only, running on Intel processors. Mac PowerPC support is not available.
Voxformer for Windows and Mac (VST/AU) is available to purchase for S$69.95 USD.
Singing With Two Voices Using a Gesture-to-Voice Synthesizer
Produced by John Corry, University of British Columbia
Camera: Kevin Doherty
Voice Synth is an innovative synthesizer controlled by voice and keyboard. Available for iPad, iPhone and iPod Touch in the Apple AppStore at http://itunes.com/apps/voicesynth. All audio samples in this video have been made with Voice Synth on iPad/iPhone, a standard Apple headset and human speech/singing/beatboxing, without additional processing. Two indicated tracks do feature Novation KS4 synthesizer, external microphone, mixer and Apple Garageband.
SIRI plays a YAMAHA Disklavier WIRELESSLY via WIFI & Airplay, complete with moving keys in full expression and moving pedals. Presented by the inventor of SmartKEY for Disklavier, Craig Knudsen.
Take a standard MIDI songfile and convert it to an audio file (while maintaining the MIDI data). The songfile is then sent wirelessly via WiFi to an Apple Airport Express (which is mounted underneath a Yamaha Disklavier reproducing piano. The audio output of the Airport Express is then connected to the analog MIDI inputs of the Disklavier, using a standard audio cable.
Then, you simply ask Siri to play your favorite song from your iTunes library, and Siri responds immediately, by making the Disklavier's keys and pedal move up and down, recreating the performance, including full orchestration.
The result is nothing short of magical.
Voice Editor Essential is a simple Core MIDI iPad editor application to edit parameters in Yamaha synthesizers.
The editor focuses on detailed editing of insert effects, system effects, arpeggiator and EQ that are frequently modified and can take advantage of the iPad's large graphic display. In addition to that, you can control parameters like EG or cutoff in real-time by using fader control or XY Pad. Some essential global parameters including tap tempo and volume control are also included.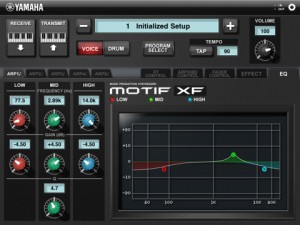 *Yamaha MOTIF XF offers you WiFi connectivity which enables wireless control.
Compatible model : MOTIF XF
Features
Effect Mode
・In effect mode you can select and edit Insert effects, the System effects and the routing and sends and returns for all the effects in a Voice.
EQ Mode
・You can edit the MOTIF XF's Voice EQ and store different EQ setting for each of 50 Templates.
・you can adjust the Mid Bang EQ setting by pinching the band
Continuing the space theme from previous post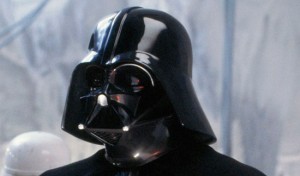 The Vader voice changer was something that I'd started years ago but due to my inexperience, I ballsed it up. Now it's all freshly spanked and fully awesome.
The unit contains 3 Vader samples:
'What is your bidding, my master?'
'Impressive'
and his asthmatic wheeze.
Also there's the voice changing aspect.
It's a bit weird, it does a pitch shift down, but not a full octave, with some slight modulation. It's gritty and dirty and guaranteed to lead you down the path to the Darkside.
The mods are a bit limited. I've added a pitch dial for the samples, which when cranked high will result in a some glitching (although it wouldn't do it for me when I shot the video) and an overdrive dial that affects both the sample and voice effects. There's also a line in for the changer and a line-out for amplification, the speaker is still intact for on the fly sonic Sith noise terrorism and there's 3 LEDs for added ambience.