Demonstration of the Yamaha Voice Editor Essential
Voice Editor Essential is a simple Core MIDI iPad editor application to edit parameters in Yamaha synthesizers.
The editor focuses on detailed editing of insert effects, system effects, arpeggiator and EQ that are frequently modified and can take advantage of the iPad's large graphic display. In addition to that, you can control parameters like EG or cutoff in real-time by using fader control or XY Pad. Some essential global parameters including tap tempo and volume control are also included.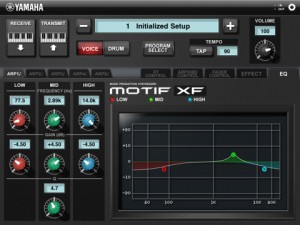 *Yamaha MOTIF XF offers you WiFi connectivity which enables wireless control.
Compatible model : MOTIF XF
Features
Effect Mode
・In effect mode you can select and edit Insert effects, the System effects and the routing and sends and returns for all the effects in a Voice.
EQ Mode
・You can edit the MOTIF XF's Voice EQ and store different EQ setting for each of 50 Templates.
・you can adjust the Mid Bang EQ setting by pinching the band
Comments