Voxen – a new voice synthesizer for iPad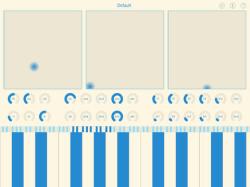 Mod Phon Ltd has introduced Voxen – a new voice synthesizer for iPad. Voxen is a voice synthesizer. It's designed not for realistic text-to-speech vocal effects, but for creating synthesized 'singing voices'.
Voxen is *not* a text-to-speech system. You cannot provide it with lyrics and expect it to sing them. Voxen is a synthesizer that acoustically simulates a glottis and vocal tract, allowing you to manually control the sound. It synthesizes sounds, not words.
Because a human voice is more complex than nearly any other musical instrument, a synthesizer of human voices is also very complex. To control one can require the real-time manipulation and coordination of dozens of separate parameters.
If you are looking for something that creates a musical performance from a piece of sheet music and some lyrics on a scrap of paper, hire a good vocalist. On the other hand, if you are looking some new and different sounds, use Voxen.
Features:
Eight note polyphony
Keyboard range of more than ten octaves
Three X-Y touchpads
Twenty-eight vertical linear knobs
Choice of dark or light background colour
Eight choices of foreground colour
Save and load user-defined patches
Technical Background
Voxen is a polyphonic formant synthesizer. There are three banks of knobs which control, respectively, the voice, the voice envelope and the formants. The six voice knobs control provide a modified Klatt 1989 voicing source.
The ten voice envelope knobs control master amplitude and ADSR envelope for the voicing source and for a separate aspiration source. The remaining twelve knobs control the centre frequencies and bandwidths of the first four formants and the centre values and differences (spread) for a nasal formant/antiformant pair.
Each of the three X-Y touchpads controls a pair of parameters, f1 & f2, b1 & b2 and vibrato rate & vibrato depth.
Spectral tilt (or voice brightness) is controlled by the height you are touching the keys.
The overall aim of the user interface is to make it simple to control the many parameters in a live setting.
Voxen is available now for US $7.99 in the App Store.
Comments