November 10, 2013 · Posted in
Uncategorized
·
Comments Off

on BIAS – Transformer
BIAS is an Amp Processor for iPad, it's the most complete, accurate, and versatile modeling available in the world. Coming in 11.13.2013.
Signup: www.positivegrid.com/bias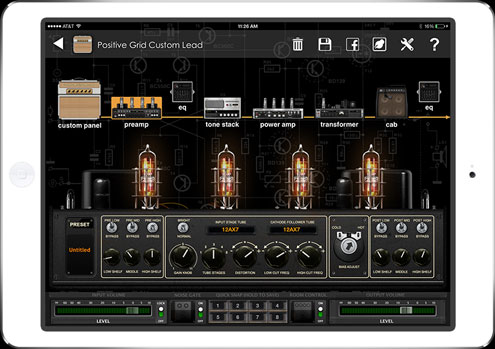 Create totally new sounds by designing your custom dream amp. It's as easy as tap and drag.
Using Bias' highly intuitive and lightning-fast interface, it's child's play to instantly swap out colorful tube preamps, lush distortion circuits, classic tone stacks, boutique power stages, custom-built transformers and cabs loaded with specially matched speakers.
The result is a depth and range of tones not possible using traditional guitar amps or other static modelers.
Features
The most complete, accurate, and versatile amp modeling available in the world
36 amp models included with the introductory release
Factory categories organize amps by music genre and sonic impact: clean, blues, twang, crunch, metal, acoustic and bass
Fully customizable preamps, tone stacks, power amps, transformers, cabinets and mic selection and placement—mix and match!
Customize the look and feel of your own amp panel, change name, tolex, panel and knobs.
Works the way guitarists think: tweak gain and overdrive, swap out tubes and transformers, change the cabinet and mic position, and shape the tone with different tone stacks and two 8-band equalizers
Included noise gate and room simulator
Create a virtually unlimited number of custom amps
Quick preset to recall each of your 8 favorite settings in turn with just one tap
Seamless integration with JamUp XT and JamUp Pro XT, open and save your amp models inside JamUp with one tap
Works with GarageBand and other audio apps via Inter-App Audio and Audiobus.
April 3, 2013 · Posted in
Uncategorized
·
Comments Off

on New LSD-525 amplifier and parallel EQ plug-in

Acidgrooves has announced the LSD-525 amplifier and parallel EQ plug-in with Entropy technology.
This is the first of a new breed of Plug-Ins developed by Acidgrooves that feature the Acidgrooves Entropy Technology™.

This patent pending technology brings to the Audio Plug-In world one of the characteristics of analog hardware that provides them with some of their unique sound qualities: the passage of time.

With time, capacitors, resistors, transformers and other analog components will decay and lose some of their original specifications which will effectively change the sound and personality of that particular unit.

Our technology tries to recreate exactly that.
LSD-525 features
4 channel parallel equalizer: bass lift, low, mid and highs.
Mix knob for dry /wet control.
2 Entropy Sound Technologies: TAD & USP.
A / B Setups, Presets, Undo & Redo capabilities.
Designed from day one with low cpu usage in mind.
Ideal to be used along virtual synths.
Up to 64x oversample.
Built-in limiter.
Lifetime updates.
The LSD-525 for Windows and Mac (VST/AU) is available to purchase for the introductory price of $39 USD until May 11th, 2013 (regular $49 USD).
November 2, 2012 · Posted in
Uncategorized
·
Comments Off

on KORG Monotribe and VOX Amplug demonstration
Composed by BakaOscillator.
Use, KORG monotribe + VOX amplug.
Details on the Amplug below:
The headphone guitar amp that lets you enjoy serious guitar sound, fast.
Jamming late at night? Don't want to wake the neighbors? The amPlug Series of palm-sized headphone guitar amps make it easy to enjoy great guitar sounds at home, in your room, or anywhere. Simply plug the amPlug directly into any guitar, attach a pair of headphones, and you're ready! Use the AUX input jack to plug any CD/MP3 player right into the amPlug and jam along. Connect the optional amPlug Cabinet (sold separately) to create a miniature amp stack to share the sound with friends.
February 14, 2011 · Posted in
Uncategorized
·
Comments Off

on LeCto – new amplifier effect plug-in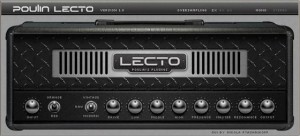 LePou Plugins has announced the release of an Audio Unit version of LeCto, a guitar amplifier effect plug-in.
LeCto is a guitar amp simulator inspired by an american modern high gain head. This simulator has 2 channels with 3 modes on each channel. It can go from crunch (raw mode) to modern high gain (modern mode).
LeCto features
Up to 8x oversampling.
Mono/stereo signal routing.
Input signal magnitude.
Gain drive control.
Controls for low, mid, and high frequency.
Presence control.
Control for resonance resulting from the interaction with the speaker cabinet (only active on modern mode).

Note: LeCto is only an amp simulator, so you need to use a cabinet simulator.

LeCto is now available as a freeware effect plug-in for PC and Mac (VST/AU).

More information: LePou Plugins
December 26, 2010 · Posted in
Uncategorized
·
Comments Off

on Kemper Profiling Amplifier
The Kemper Profiling Amplifier – Orientation Film #1
see the maker explain the Kemper Profiling Amplifier concept, watch out for more video coming!
August 7, 2010 · Posted in
Uncategorized
·
Comments Off

on Making modules for the Eurorack
I hope you are having a nice summer holiday, anyway in my spare time I've made a few modules for my Eurorack. The inspiration for these came from a Quad Slew design from navs modular lab blog. In that article I came across a link to a DIY page by Doepfer which I hadn't seen before. There's plenty of simple projects there and so I set to work and ended up building a Quad Slew, a Dual Inverter, a CV Amplifier, an Audio Mixer and an expansion port for my A-137-2 Wave Multiplier II. And here's the result.

There's some discussion about the Quad Slew over on the Muff Wigglers Forum
June 28, 2010 · Posted in
Uncategorized
·
Comments Off

on Free preamplifier effect to colour your mix

GPA features
Bass, Midrange and Treble controls.
Four input selector offering various frequency curves to alter the tonal characteristics.
Bass Boost switch.
Low CPU usage (2.1% CPU on a Pentium 4 Computer using Wav files).
Sir Elliot GPA is available to download as a freeware VST effect plug-in for Windows PC.
Visit: Sir Elliot
June 18, 2010 · Posted in
Uncategorized
·
Comments Off

on Overdrive and amplifier effects
MANTRA OVERDRIVE by BLACKOUT EFFECTORS: equally capable of invoking the sacred sounds of a classically refined overdrive AND summoning wickedly raunchy drive, with more crunch on tap than the "overdrive" moniker usually entails. With such a wide palette of tones and character the MANTRA will feel just as at home at the feet of the stalwart blues crowd as it will the quintessential rock & roll protagonists. The MANTRA utilizes amp-like circuit architecture, with multiple cascaded MOSFET and JFET gain stages to insure the most natural, touch-sensitive overdrive conditions possible and a seemingly endless range of clean-up with your guitar's volume knob. We burned a lot of midnight oil to make sure that the MANTRA could get down with vintage-type, low output single coils and hot humbucker pickups alike. From gently fingerpicked melodic phrases to bludgeoning riffs that you'll want to play over and over and over…More info and to purchase CLICK !
Although I am not a guitar freak I jsut had to show you this little cute bastard…
Along with the Dual Terror and the Terror Bass, the Orange Amplifiers Tiny Terror Hard Wired Edition really makes for a terrifying trio of new products. This new, all UK manufactured, point to point, all hand wired Tiny Terror Hard Wired Edition offers a step up on the already legendary best selling Tiny Terror. With high specification transformers, 'carbon comp resistors' and 'mustard capacitors' this is truly a boutique amplifier which comes in a special leather padded gig bag*.
When it comes down to the crunch, it's the sound that does the talking and the Tiny Terror Hard Wired Edition is more responsive and dynamic than its original version.  With a wider frequency response this new amp has more bite and more punch.
All valve, 15 watt portable guitar head. Featuring a unique two stage pre-amp which has a massive tonal range using just three controls. When driven, this little amp has almost as much gain as most four stage lead channels! The Tiny Terror puts a lot of high-priced, boutique amps to shame with its clean crunch to full on overdrive sounds. At mid gain settings this valve head has masses of vintage British character; the Tiny Terror has been built to the same rugged specification as the bigger Orange amps and its portability makes it perfect for gigging around town or rehearsing. The Tiny Terror switches from 15 to 7 watts for studio use and recording. This professional little amplifier is a record producer's dream and comes complete with a padded travel gig bag.