BIAS – Transformer
BIAS is an Amp Processor for iPad, it's the most complete, accurate, and versatile modeling available in the world. Coming in 11.13.2013.
Signup: www.positivegrid.com/bias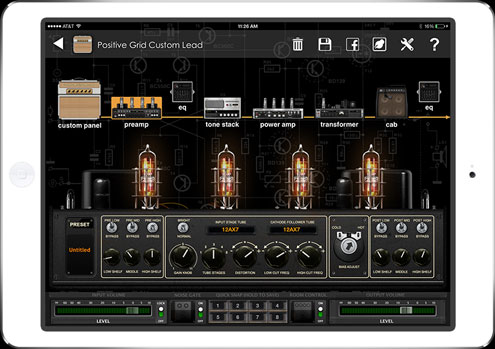 Create totally new sounds by designing your custom dream amp. It's as easy as tap and drag.
Using Bias' highly intuitive and lightning-fast interface, it's child's play to instantly swap out colorful tube preamps, lush distortion circuits, classic tone stacks, boutique power stages, custom-built transformers and cabs loaded with specially matched speakers.
The result is a depth and range of tones not possible using traditional guitar amps or other static modelers.
Features
The most complete, accurate, and versatile amp modeling available in the world
36 amp models included with the introductory release
Factory categories organize amps by music genre and sonic impact: clean, blues, twang, crunch, metal, acoustic and bass
Fully customizable preamps, tone stacks, power amps, transformers, cabinets and mic selection and placement—mix and match!
Customize the look and feel of your own amp panel, change name, tolex, panel and knobs.
Works the way guitarists think: tweak gain and overdrive, swap out tubes and transformers, change the cabinet and mic position, and shape the tone with different tone stacks and two 8-band equalizers
Included noise gate and room simulator
Create a virtually unlimited number of custom amps
Quick preset to recall each of your 8 favorite settings in turn with just one tap
Seamless integration with JamUp XT and JamUp Pro XT, open and save your amp models inside JamUp with one tap
Works with GarageBand and other audio apps via Inter-App Audio and Audiobus.
Comments