all sounds and drums: E-mu Emulator II Sampling Synthesizer (1984)
recording: multi-tracking without MIDI
fx: a bit reverb and delay
used the original Emulator II sampling library.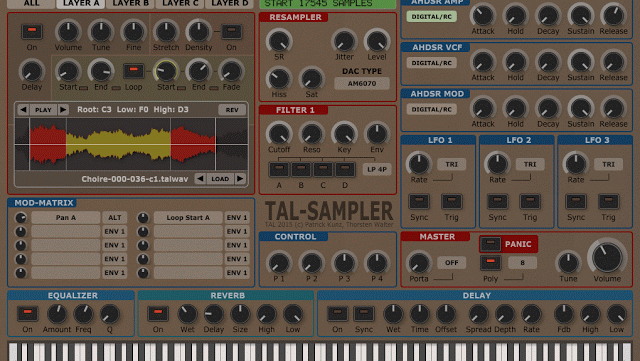 TAL-Sampler is not just a sample player. It's a full featured analog modeled synthesizer with a sampler engine as sound source, including a powerful modulation matrix and a high quality self-oscillating 24/12/6 dB low pass filter.
Don't expect a 40GB piano sample library with samples for every velocity or something similar. The idea is to bring back the fun sampling was in the good old times with small samples, fast loading times and an intuitive work-flow to create your own sample presets without getting lost in the settings.
It's possible to choose between different digital analog converters (DAC's) to get the vintage sound of different hardware samplers inside your DAW. We don't make cheap bit crushing or decimation on the output signal. We really down-sample the sample to the desired sampling frequency, then process the data depending on the chosen DAC and up-sample it to the desired pitch. Most DAC modes offer a LEVEL slider. This feature allows the user to reduce the volume of the recorded sample and decreases the sample quality. Load your favorite high quality sample and make it sound vintage and noisy. The 24dB low pass filter will like it!.."
Features
Vintage DAC modes (Emu II, AM6070, Sample Hold).
Steep 96dB low-pass reconstruction filter (Emu II and AM6070 F).
Variable sample rate.
Powerful MOD-Matrix.
Four sample layers.
Three AHDSR envelopes with vintage Digital / RC mode.
Three LFO's (Triangle, Saw, Rectangle, Random, Noise).
High Quality effects (Reverb, EQ, Delay).
Self resonating zero feedback delay filter (24/12/6 dB LP).
Wide range of audio formats supported (*.wav, *.aiff, *.aif, *.mp3, *.ogg, *.flac).
Scallable high resolution user interface.
The possibility to change font and background colour.
Fast sample and preset loading.
More than 100 presets available as download (on the right).
Sampler using analog filters like EMU Emulator I, II, III, Emax, Prophet 2000, 2002, 3000, Studio 440, DSS 1
Here you can download first wholly brand new software to be written for the Ensoniq Mirage, for something like 20 years:https://github.com/gordonjcp/miragetools
all synth sounds: E-MU Emax SE Sampling Synthesizer (1986)
drums: LinnDrum (1982)
recording: multi-tracking including the Emax internal sequencer
fx: reverb and delay
The Emax is a classic sampler workstation from E-mu. It is sort of a next generation Emulator II, it's not as good as an Emulator III but it's more powerful than previous EII's. The Emax can be found in several forms: the Emax, the Emax Rack, the Emax HD (built-in 20MB hard disk), the Emax HD Rack and the Emax SE (Synthesis Enhanced) with a built-in synthesizer section. The Emax's editing system will be familiar to users of E-mu's excellent ESI series.
The Emax has an extensive library collection of samples that can be loaded via the built-in 3.5″ hard drive. Or you can sample your own sounds. The Sampler is powerful, but lo-fi. It samples at 12-bit resolution with variable sample-rates up to 42kHz. The built-in memory is 512K which only gives you a few good seconds really. Sampling and editing is easy, complete and intuitive with auto sample placement, auto-looping, truncating, reversing, velocity cross-fade, etc. The Emax also features individual channel outputs and stereo outputs and extensive MIDI implementation.
The Emax features many common analog synth-type controls for easily shaping your samples. Tune, filter and shape the envelope or use LFO's and chorus to liven up your samples. There's also an on-board sequencer section. A real-time only 16-track, non-quantizable sequencer for basic scratch-pad use or simple arpeggios or patterns. The SE and SE Plus models, the most advanced of the 12-bit Emax's, add a synthesizer section, newer advanced digital signal processors for sample editing and a SCSI port (standard on the SE Plus). The Emax instruments were the most advanced of the classic keyboard samplers of the late 1980's.
The Emax II which was released in 1989 brought the Emax series up to modern specs with 16-bit sampling, 16-voice polyphony, 16 MIDI channels, stereo samples, 1MB RAM expandable to 8MB, SCSI, 8 assignable outputs and the SE's synthesis functions. And finally, the Emax II Turbo came with 4MB RAM standard and a 4MB hard disk. Whichever Emax you choose, they're all classic machines still capable of professional quality results when used in making the music of today.
A jam with three classics of the '80s – the Moog Source, the Roland Juno-106, and the E-mu Drumulator.
Source = synth bass
Juno-106 = chorus pad with resonance
Drumulator = rhythm
FX = Eventide H3000-D/SE patch 795 "LONG & SMOOTH"
Vintage synth tech tutorial
How to install the HxC floppy drive emulator on an E-MU Emax 1
The SD HxC Floppy Emulator can be buy on the Lotharek page. I use the Rev-F Black version. All works of your own risc!
all sounds in the tutorial: E-MU Emax SE sample library
A few sounds from the Emulator II sound libraries. Some of these sounds were popular in the '80s and have become classic.
An affordable classic early eighties sampler/workstation synthesizer. It's a sampler that sounds like an analog synth because it has analog filters! It samples at a low 8-bits (up to 17.6 seconds) so it's got that lo-fi sound which is great for some types of electronic music. Especially nice is its ability to create warm analog-ish pads and sounds. It uses those giant 5″ floppy disks for storage. Also on-board is a useful 8-track sequencer. It can be hooked up to a Mac for easier editing using software such as Digidesign's Sound Designer.
The Emulator II had many new features for its time. MIDI, SMPTE and computer control. Editing samples includes truncating, manual/auto looping, reverse, velocity switch cross-fading and splicing samples together. A great feature is the 24 dB/oct analog 4-pole low pass filter. There are eight separate LFO's and eight extra individual outputs for each voice. Make no mistake, the Emulator II was a long standing professional sampler of the mid-eighties for musicians and sound designers.
The Emulator II received numerous upgrades during its four year production run from 1984 to 1988. These included the Emulator II+ with double the sample memory and the Emulator II+HD which adds a 20MB internal hard drive.
Should Be Higher (Live on Letterman version)
Gear Used
Upper: Roland JP8000
Mid: Emu Emax w/Oberheim and Kurzweil samples
Lower: Kurzweil PC1x
Composed by David Gahan / Kurt Uenala
Vintage gear demo track featuring the E-Mu Emax
The original Emax was released in 1988, after the discontinuation of the Emulator II. The base model cost $2,995; a rack version was also available for $2,695. Although it was fairly similar to the Emulator II in sampling specifications, the Emax used much more reliable parts, and stored sounds on 3½" floppy disks, as opposed to the more antiquated 5¼" floppy disks that the Emulator used. The Emax was advertised as a 12-bit sampler, which was, in reality, only half-true; although playback was 12-bit, only 8 bits were used to store each sample. While this led some to regard the Emax as inferior to its competitors, many modern users consider it to be a key part of the Emax's sound.
Numerous upgrades were available for the Emax during its lifetime. The Emax HD featured a 20 megabyte hard drive for storing samples. The Emax SE added an additive synthesis engine that let the user create sounds from scratch.
Sample memory remained the same at 512 KB for all models. SCSI can be retrofitted to second and third revision motherboards and was standard on the final model the Plus. The Emax was discontinued, replaced by Emax-II
all sounds: E-MU Emax Sampler from the year 1986
drums: LinnDrum
recording: multi-track without Midi
fx: a bit delay and reverb
Using the internal arpeggiator for sequencing and the original Emax sample library and some own samples for the sounds.
E-mu's synth module designed with classic hip hop, modern R&B, acid jazz and trip hop in mind! All the sounds you need to create PHATT tracks! Tight basslines and thumpin' 808 kicks, this box has it all. It also includes all the common lead and rhythmic sounds in hip hop, rap and R&B. The BEATS mode is great for generating grooves and ideas that you can jam with! They have very analog-like controls such as filters, envelopes and LFO modulation effects! And everything is MIDI controllable!
"I've been looking for a Planet Phatt for quite a long time and I finally got one for a good price. Here is a quick demo track I put together, using Cakewalk Pro Audio 9 to sequence the different parts. All sounds are coming from the Planet Phatt, with some outboard compression and reverb."