MESSE13: Novation Bass Station II Preview – We get an engineering preview
This is bass — so headphones required!
Here's a little bass jam put together with 2 Studio Electronics ObieRacks, an Analogue Solutions Oberkorn analogue sequencer, and a Telemark V2 semi-modular synth. A five voice!
The Telemark (under the ObieRacks) is providing the backing pitchy, swooshy f/x, and you'll see the binary inputs of the Oberkorn being patched — which creates new patterns on the TM in binary fashion.
The ObieRack has a master filter cutoff (for both SEMs) that is adjusted during the video. Additionally, the SEMs are switched to bandpass mode for some variety in the sequence.
No overdubs, no FX, no frills — just a quick recording of the dry/raw juicy analogue sounds.
just for fun!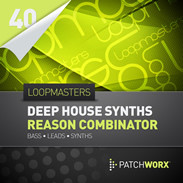 Loopmasters has launched Deep House Synths Reason Combinator, a new sound library for Propellerhead Reason.
Patchworx 40 – Deep House Synths for Reason features 65 Combinator patches for Propellerheads, Reason 6 and features cutting edge sounds for all modern styles of Deep House produced exclusively for Loopmasters by Dan Larson.

Dan has created an incredible sonic palette of sounds with clever routing using many of Reason's inbuilt Synths and Fx including Thor, Maelstrom, Subtractor making use of Unison modes to gain add the character and richness, imperative for Deep House Genres.
The soundset costs £14.95 GBP.
"I bought a Voyager to get that typical Moog sound. I really like a certain Moog Bass. After some fiddling on the Tempest I couldn't believe my ears. Anyone in for a brand new Voyager?"
Enjoy!
Background information:
I"III" plays the Roland system 100 ( 101 and 102) . Just trying out some baseline. It easily turns into EBM with these machines. Sorry for the bad audio, but we think that this is better than a lot of other stuff that is out there, and we will do better in the future. Sequencer used is the Oberkorn from Analogue Solution, recommended if you like experimental stuff. Drums from Roland TR-626. FX: Korg signal delay SD200 , and then there are some reverb coming out of Boss RX-100 .
Keep it right, keep it analogue!
Brief about the Boss RX-100:

This analog stereo reverb was available in the early 80s. Somewhat unorthodox to see that one channel has input and output jacks on the front while the other channel has input and output jacks placed at the back of the enclosure. Stereo output can be generated from a mono input signal by phase shifting one channel 180 degrees. This is controlled using the mode switch on the front panel.
For all you C64 fans out there:
"Live demo of one of my songs.
Bassline is played by an good old C64 equipped with Cynthcart.
Tune is called "we ain't finished yet" and has been featured on DEAD PIXELS long play.
In 2009 I began experimenting with SID chiptune (built-in sound generator chip of Commodore 64), and Cynthcart to create a blend of original 8bit sound from the 80′s and Rock music. "
Download FULL albums completely FREE @
http://www.lukhash.com
FB:
http://www.facebook.com/lukhashdotcom
Here's a good bass check up from one who I believe knows what he's talking about when it comes to comparing real Moogs to softies:
Animoog Taurus bass impression, compared with "Taurus" presets from the Moog Little Phatty, and Arturia Minimoog V. $1 vs. $1300 vs. $200.
First thing I worked on with the Moog Animoog iPad app, was programming a passable Taurus-type bass sound(two saws, octave apart, detuned slightly). There is mojo coming from both the Little Phatty and Arturia Minimoog that I couldn't capture, but I feel like this'll do a pretty good job in a pinch.
To program the sound, this is what I found:
1. Build off of a static saw Timbre. "StaticFatSaw1″ is good. Putting a "Sine" wave, or "OctaveSaw" in the Timbre slot next to it gives some good variation moving around on the X/Y pad.
2. The key for me to getting the vibe in the right ballpark was forcing the synth into mono operation, and using the "Detune" control to separate the saw into two separate octaves. This can be accomplished in two ways I've found:
-(preferable) "Unison" set to "4″, "Detune" set to approximately "8″, and ONLY use the Left audio output from the iPad(I used the "tip" side only of a stereo 1/8″ TRS to dual mono 1/4″ TS cable, coming out of the headphone jack)
- "Unison" set to "2″, and "Detune" very slightly under "10″. This'll sound alright coming out of the iPad speaker, but is less flexible, and would be difficult to perform with.
3. all Orbit, Path, Delay settings to "0″
4. approx. fiter settings: Drive "10″, Env. "0″, Freq "5.3″, Res. "1″ – maxing out the filter "Drive" seemed to be a key to getting the right amount of "spit" in the sound with the filter wide open.
5. approx. Thick settings: Crush "0″, Drive "2.5″
6. I zeroed out all Mods, except for one, that makes the poly-pressure open up the filter freq:
- Source off, amount "0″
- Control poly-pressure, amount "+33″
- Destination: filter-freq
7. Setting the KB scale to "Chromatic" with "Mono" and "Legato" makes the on screen keyboard act as I would expect. "Cor" at "10″, "Glide" around 45%.
All three Synths recorded straight into Steinberg MR816csx. Levels adjusted slightly, no additional post processing.
"Da Funk" was initially released as a 12 inch single in 1995 under the Soma Quality Recordings label with the B-side "Rollin' & Scratchin'" and again in late 1996 after the band signed with Virgin Records with the B-side "Musique", a track that later appeared in the album Musique Vol. 1 1993-2005. In an interview with Fredrik Strage for swedish magazine Pop #23 Bangalter reveal that "Da Funk" was made after listening to Westcoast G-Funk for weeks.
"It was around the time Warren G.'s "Regulate" was released and we wanted to make some sort of gangsta-rap and tried to murk our sounds as much as possible. However no one has ever compared it to hip-hop. We've heard that the drums sounds like Queen and The Clash, the melody is reminiscent of Giorgio Moroder, and the synthesizers sound like electro and thousand of other comparisons. No one agree with us that it sounds like hip-hop"
In September 2010 Pitchfork Media included the song at number 18 on their Top 200 Tracks of the 90s
Background information:
Buy my latest song here – http://www.beatport.com/track/vile-prankster-ryan-enzed-remix/2838739
Be sure to check out my music production forum – ryanenzed.com/forum
All I ask in return for all the free tutorials that I do for you guys is that you support /buy my new tracks when they come out on beatport – good deal right!?

Nice acid sound built on the classic scheme of analog synths: two oscillators, mixer, filter.
Try it yourself in SunVox: http://www.warmplace.ru/soft/sunvox/