Here's TimeSynthis demonstration of the Novation Bass Station 2.
"This new analog monosynth sounds great and is very creatively intuitive to work with.
This track is a arpegiator pattern I programmed into it. I used the Classic filter, first the 12dB then the 24dB in the last minute. A lot of other modulations. With filter resonance peaking out near the end of the piece. No overdubs, recorded on one solo track. Used some Lexicon MX300 effect for room space."
We take a look at the Korg Volca Bass, a three oscillator analog mini synth. Part of the impressive Volca range that has been rocking the synth world
KORG Volca Bass is a three oscillator (not only) bass synthesizer capable of very wicked sounds. On this video, some fiddling with front panel synth controls and function capabilities (osc waves, LFO routing, EG configuration, AMP control). Factory patterns courtesy of KORG.
KORG Volca Bass can use Active Step function for resize in real time the running pattern; is it possible to individually turn on/off each step and, as you can imagine, rhythmic alignment goes bananas. On this video, some experiments with standalone Active Step function on Volca Bass and, later on, some silly experiments with Volca Bass & Volca Drums TTL synched.
MIDI Implementation of KORG Volca Bass supports Real Time Messages (Start/Stop, Clock…), ALL the front panel controls (via CC numbers) and MIDI notes on/off for using Volca Bass as "standard" mono Synth Expander. You have three analog square/saw oscs, a 12dB/Oct resonant filter, vca, EG ADSR/ADR, LFO…
To us Nave is known for massive spaced out sounds but Nave can also make cool bass sounds.We like the underneath buzz you can add to an analog flavored bass sounds.
E-mu's synth module designed with classic hip hop, modern R&B, acid jazz and trip hop in mind! All the sounds you need to create PHATT tracks! Tight basslines and thumpin' 808 kicks, this box has it all. It also includes all the common lead and rhythmic sounds in hip hop, rap and R&B. The BEATS mode is great for generating grooves and ideas that you can jam with! They have very analog-like controls such as filters, envelopes and LFO modulation effects! And everything is MIDI controllable!
"I've been looking for a Planet Phatt for quite a long time and I finally got one for a good price. Here is a quick demo track I put together, using Cakewalk Pro Audio 9 to sequence the different parts. All sounds are coming from the Planet Phatt, with some outboard compression and reverb."
Website: http://critterandguitari.com/bolsabass
The Critter & Guitari Bolsa Bass synthesizer features six modes of rich, elemental bass sound, a sequencer and full MIDI capabilities.
The six synthesis modes are:
Circle Ramp
Sawtooth Ramp
Analog Style
Filter Envelope
FM Pad
Bass Delay
The sequencer lets you quickly create bass lines with the touch of a button. You can even record and playback knob adjustments for things like filter sweeps and changes in delay time or tuning! With MIDI IN and OUT jacks you can synchronize your sequences with other devices. The Bolsa Bass also sends and receives note messages so you can use it as a sound module or simple controller.
The entire keyboard may be tuned over a 1-octave range by turning the knob second from right. Volume is controlled by the right-most knob. The function of the remaining two left knobs depend on what mode is selected. The synthesizer modes provide elemental monophonic bass sounds, great for all kinds of musical scenarios. From classic filter sweeps to simple and pure tones, lush FM, and even a stretchy tuned delay which makes great string-like drones.
To purchase and for more information please visit:
http://critterandguitari.com/bolsabass
Animation by Devin Flynn. View more of his work here:
http://yallsostupid.com/
MESSE13: Novation Bass Station II Preview – We get an engineering preview
This is bass — so headphones required!
Here's a little bass jam put together with 2 Studio Electronics ObieRacks, an Analogue Solutions Oberkorn analogue sequencer, and a Telemark V2 semi-modular synth. A five voice!
The Telemark (under the ObieRacks) is providing the backing pitchy, swooshy f/x, and you'll see the binary inputs of the Oberkorn being patched — which creates new patterns on the TM in binary fashion.
The ObieRack has a master filter cutoff (for both SEMs) that is adjusted during the video. Additionally, the SEMs are switched to bandpass mode for some variety in the sequence.
No overdubs, no FX, no frills — just a quick recording of the dry/raw juicy analogue sounds.
just for fun!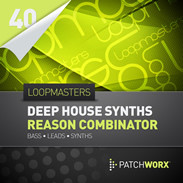 Loopmasters has launched Deep House Synths Reason Combinator, a new sound library for Propellerhead Reason.
Patchworx 40 – Deep House Synths for Reason features 65 Combinator patches for Propellerheads, Reason 6 and features cutting edge sounds for all modern styles of Deep House produced exclusively for Loopmasters by Dan Larson.

Dan has created an incredible sonic palette of sounds with clever routing using many of Reason's inbuilt Synths and Fx including Thor, Maelstrom, Subtractor making use of Unison modes to gain add the character and richness, imperative for Deep House Genres.
The soundset costs £14.95 GBP.
"I bought a Voyager to get that typical Moog sound. I really like a certain Moog Bass. After some fiddling on the Tempest I couldn't believe my ears. Anyone in for a brand new Voyager?"
Enjoy!