"Foppone" (ver 2) – retro House with M1, SH-101, and TR-909.
You might be curious about the title. It means nothing. Other than it kinda sounds funny in Italian. Like a big foppo. A foppone. I've got my Marky Mark on tonight, I suppose. This is ver. 2, the original snippet / inspiration was a bit different.
Resonance Sounds presents Electromatic 3 by electro house veteran Swen Weber! Over 360 handcrafted bass, drum and synthloops are waiting for you, next to 60 punching drumhits and 3 complete construction kits containing bass, drum, synth and vocal loops aswell as MIDI files. All samples are designed to sitting perfectly in the mix and providing you instantly the right inspiration and source material for your next electro house smasher!
Features:
– 755 MB Content
– 362 Loops in total
– 50 Bassloops
– 160 Mixloops (incl. Root Key)
– 50 kick free Beatloops
– 50 Drumhits
– 10 FX Sounds
– 50 Kickloops
– 3 Construction kits (32 loops incl. bass, synth, vocal, drum and mix loops and MIDI files)
– All tonal loops are key-labelled
– recorded in 128 bpm
Youtube alias 'massivebeatzz' checks out the Aira, details below:
Just got my hands on a Roland AIRA series TR8! Watch the shaping of a Live house beat with this new concept of virtual analog drum box. Going through different kicks and snares etc, to put this "glowbaby" to the test!
In Februrary 2011 FM headed to Amsterdam to spend some time in the studio with French master of House and Tech to talk production, Ableton and hardware.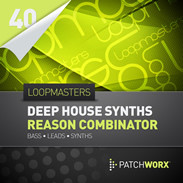 Loopmasters has launched Deep House Synths Reason Combinator, a new sound library for Propellerhead Reason.
Patchworx 40 – Deep House Synths for Reason features 65 Combinator patches for Propellerheads, Reason 6 and features cutting edge sounds for all modern styles of Deep House produced exclusively for Loopmasters by Dan Larson.

Dan has created an incredible sonic palette of sounds with clever routing using many of Reason's inbuilt Synths and Fx including Thor, Maelstrom, Subtractor making use of Unison modes to gain add the character and richness, imperative for Deep House Genres.
The soundset costs £14.95 GBP.
More info: http://bit.ly/TVTYhp
In this episode of Secret Knowledge video tutorial series, Dubspot instructor and Logic Pro course designer Matt Shadetek shows you how to create two classic house sounds; the organ bass sound found in most 'organ house' tracks like Robin S.'s "Show Me Love" and the second is "the classic looping, filtered vocal."
Austrialian tech house producer, live remixer and finger drummer Bass Kleph shares some of his tips and tricks he uses when building a performance on his Maschine.
Learn more about Maschine here: http://bit.ly/PjED9I
Check out Bass Kleph's site here: http://www.basskleph.com/
Both, a circuit-bent Korg Monotron and a Nanoloop (Synthesizer and Sequencer on Nintendo Gameboy) are synced by the trigger impulses sent by a Roland TR-626 drum computer.
This allows to filter the raw chiptune sound of Nanoloop by the analog filter of the Monotron. The retrigger of the Monotron LFO is the red wire. The sync mod (circuit-bending) is done like shown here: http://stevewoodward.posterous.com/lfo-reset-point-on-korg-monotron
Details about the video below:
"Flubs and all. I had just got my Moog slim phatty and this is the second little song that happened while I was still going through the presets. I decided to iphone it. I'm on the fence of switching my preorder for a minibrute over to a second copy of the slim phatty. patches and cc with genome might win out. thoughts?"