Karaoke with lyrics
Enjoy!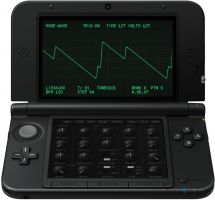 Detune Ltd. and Korg Inc. have introduced the KORG DSN-12 Analog Synthesizer, exclusively for the Nintendo 3DS. This new, powerful software provides twelve monophonic synthesizers–each one offering three effects (choose from delay, chorus, flanger, compressor, kick, and reverb) –for a broad range of sounds not typically found in a gaming device. The KORG DSN-12 software features user-friendly operation that utilizes the Nintendo 3DS stylus pen, enabling everyone to enjoy serious sound-creation and song production with analog synthesizers.
With unlimited access to synthesizers and their corresponding sequences, players can create songs in real time while performing in a DJ-like manner, as well as exchange song and sound creations with other players.
Players can create up to 64 patterns of sequences, and then chain them together. In order to deepen interest and understanding of sound creation, Detune Ltd. also offers the world's first 3D display oscilloscope screen for Nintendo 3DS software.
The KORG DSN-12 software will be available for download in early September 2014 exclusively from the Nintendo eShop in North & South America, as well as Europe. This software is downloadable only for Nintendo 2DS/3DS/3DS XL.
Detune Ltd, a software synthesizer vender in Tokyo, Japan, has previously collaborated with Korg Inc. for such products as the KORG M01 for Nintendo DS, KORG M01D for Nintendo 3DS downloads, and the KORG iMS-20.
Background video description:
Here's my recreation of the music from the Mario Kart 8 E3 2013 trailer with a bit of my own personal twist. Man, I'm so excited for this game! I'll be uploading the song to my Soundcloud account later, so keep an eye out for that. Please enjoy!
Free Download:
later.
Background Video:
https://www.youtube.com/watch?v=lYBz6…
Background video information:
Here's my first cover created with Korg M01D. After figuring out the chords of this song on the piano, I decided to remake it on M01D. Please enjoy! =)
Background Video:
http://www.pond5.com/stock-footage/10…
Soundcloud: http://www.soundcloud.com/anthonyseeha
Steam: http://steamcommunity.com/id/seehanth001
Bandcamp: http://anthonyseeha.bandcamp.com
Miiverse: https://miiverse.nintendo.net/users/s…
Twitter: http://twitter.com/seehanth001
KORG DS-10で久々のクランチー&クリスピーな曲を。
VCFが荒ぶってますが、ワウギターっぽいのをやろうとして右往左往しているだけなの­で、気にしないでくださいw
今までドラムはデフォ使ってたんですが今回初めていじってみました。 前半はウェッティーですが、後半はカリッカリです。
Google translate:
Songs crunchy and crispy after a long time in the KORG DS-10.
VCF will I Susabu, but since only have Uosao and trying to do from like Waugita, w please do not mind
I was using the default drum until now, but I applied for the first time. The first half is U~etti, but the second half is Karikkari.
Korg M01 is a  music workstation for the Nintendo DS based on the classic Korg M1.
The  Korg M1, released in 1988, sold for over $2,000. Korg M01 is designed to emulate the Korg M1 – at least many of its features and sounds – as a $60 app that runs on a $130 handheld computer.
Background video description:
A remix of a friend of mine. Korg M01 is an awesome piece of software. For some reason, I'm actually overwhelmed by all the extra polyphony in Korg M01D. I experienced the same thing when I first tried out Dual Mode in Korg DS-10 Plus! I'll get used to it soon. Please enjoy the music and montage! =)
Listen to the original by Bermuda:
https://soundcloud.com/bermuda-music/…
The KORG M01D is a music workstation based on the KORG M1 the world's first widely known music workstation. The M1 was released in 1988 by KORG Inc., one of the most famous and leading electronic musical instrument companies. The KORG M01D reproduces the M1's unforgettable digital sounds of the 80s such as the "M1 piano", still heard on many songs today.
With 24 voice-polyphony, over 300 sounds and an easy to operate sequencer, the KORG M01D helps you play and create your music at any place, and at any time, in a palm-size package!
Furthermore, the KORG M01D maximizes the range of music making possibilities with the excellent functionality of the Nintendo 3DS dual screens and performs sensuous note input with the sound control mode of the touch screen. This brings the "fun" experience beyond the music workstation, for everyone from beginners to professionals.
The song data and MIDI data can be saved to an SD card so the KORG M01D can be used as a sketchpad. You can preserve all of your musical ideas which can be later converted to your DAW system for more serious music production. In addition, anyone can exchange song data using Nintendo 3DS Wi-Fi via the Internet.
ニンテンドー3DSダウンロード専用ソフトKORG M01D配信日決定(2013/7/10)記念
ヨナオケイシ氏がKORG M01Dのために新たに書き下ろしたデモ曲「DEST」公開。
Googlish: Nintendo 3DS download-only software KORG M01D delivery date decision (2013/7/10) Memorial
Demo songs Yonaokeishi Mr. newly written a new for KORG M01D "DEST" public.
http://www.detune.co.jp/korgm01d.html
http://www.detune.co.jp/korgm01d_jp.html
Background video description:
And finally, there's my version of the End Titles of Tron Legacy remade completely in a Nintendo DSi with Korg DS-10+ software. The audio was just recorded in DAW without post processing or effects adding.
Sorry for the mistakes while I'm playing, those keys are very tiny ahahaha.
Thanks for watching!!!