This improvisation is meant to demonstrate the ability of the Prophet '08 to imitate the sound of a drawbar organ. The pulse width modulation patch solo was played on a second P'08.
Background video description:
I've never been a fan of the Hammond Organ. I've owned several – most recently an XK 3c – and don't regret selling them a bit. There are only a few drawbar settings that I like, and this patch is an imitation of one of them. However, the classic Hammond/drawbar organ sound positively requires a Leslie effect, or at least a Leslie simulator. Mere detuning is a lame substitute. This patch would greatly benefit from such a simulator.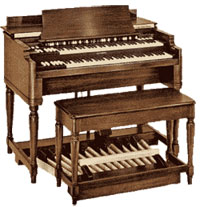 Good organ playing requires an exacting technique. Because of the nature of the instrument's envelope – having a sharp attack and an immediate release – it's essential that notes played together be struck exactly at the same instant. Sad to say, I find that synthesizer keyboards do not meet the quality necessary so that such a precise attack can always be made. This is true for the Prophet '08 and Poly Evolver Keyboard as well. I've noticed many times, especially when playing hymns or Bach chorales, that it's nearly impossible to get the attacks of the notes to be crisp and clean, even with repeated tries of the same passages. The same is true for this piece. There are many instances when the strikes of simultaneous notes are not together, creating a smearing effect. That's my disclaimer. There are many imperfections in this improvisation.
Here's a bit of trivia. Although the Hammond Organ is now most widely used for rock and jazz, as well as Gospel music, its inventor, Laurens Hammond, in no way intended it to be so. He actually designed it to be used in churches as an inexpensive substitute for the pipe organ. It was meat to be used for traditional liturgical music, hymns, preludes, interludes, postludes, and so on. It has been used in many small churches, and I've had the misfortune of having to play a CV at a country parish, but I can say that…A HAMMOND IS NO SUBSTITUTE FOR A PIPE ORGAN!
Instrumentation:
DSI Prophet '08 Keyboard (2)
DSI Prophet '08 Module
DSI Evolver Desktop
Hammond XPK 200L
Effects:
Lexicon MX300
Alesis Nanoverb 2
John L Rice was messing around with running the great organ sound from a Yamaha TX81Z through a Strymon Mobius to make it sound twice as great and he ended up adding a modular sequence bass line, recording a bit of it and then throwing some Cory Friesenhan vocal loops on it.
Precisionsound has released Andes 25F for NI Kontakt and Logic EXS24.

"The Andes 25F looks like a Melodion but it's really a high-pitched panpipe organ with a sound between a panpipe and an ocarina. Instead of reeds, this instrument has pipes. It's clear and sweet voice is great for contemporary acoustic music yet also suits medieval styles. Our scripted version for Kontakt 3+ offers ways to play and tweak the instrument beyond its natural limits."
The Andes 25F features:
Individually sampled notes, key up and down noises, and release samples
4 round robins
400 stereo 24-bit WAV samples
Playable range of C3 – C6 inclusive, extended from the natural range of F3 – F5
1 program for NI Kontakt 3+ with scripted performance controls and GUI
3 programs for NI Kontakt 2+
3 programs for EXS24
The full version of Kontakt is required, this library does NOT work with the free Kontakt Player.
Pricing and Availability:
$29 via download. A DVD version costs an additional $9.95. All formats are included
Torn Sub has released Byron, a VA-style organ synth for Windows that offers 3 oscillators with a 50 waveforms sound engine in each. Each sound engine has a secondary engine which gives the ability to morph the driving waveform to another one and to combine the whole 3 oscillators together, so that method can create a wide range of organ sound combinations.
Apart from the engine, each oscillator has its own sound engine designing section, envelope, powerful 5 states filter (low pass, high pass, band pass, band reject, peak) with its own envelope, 2 LFOs (one for the amp, one for the filter) and 3 built-in effects: equalizer, tube and bass tube, so in fact, every oscillator can perform as a complete instrument. Each oscillator also has its own ability to send itself to each of the global effects directly from the synthesis section, with only a single button press.
Byron reduces the use of the mouse to the necessary minimum as it has been built according to the "one click" approach and is suitable for touch screens. No matter if it comes to choosing a new preset or just leaping to another section, everything is bright and clear and done with only one click. This approach is particularly evident in the preset manager section: In addition to the traditional method, every preset gets its own knob on the panel with its name on it, and will help to find sounds easily and efficiently, with only on one single click.
Byron is equipped with 8 master effects (tube, bass tube, overdrive, phaser, chorus-flanger, reverb tremolo and delay) alongside a wide MIDI section.
The MIDI section contains some new features like "octaver" effect, MIDI limiter (limits the maximum velocity gain to a specific value), Fixed velocity (plays any note with a specific velocity), a separate "MONO MODE" with portamento effect for each oscillator, "MIDI learn" possibility for every Significant knob and "MIDI split" that splits the user's keyboard into 2 ranges, low and high, allows the user sending each of the 3 oscillators to a selected keyboard range with only one button press.
Byron gives the possibility to combine the beloved drawbars method and obtain an organ playing experience with 9 drawbars that divide the frequency spectrum into 9 frequency ranges. The user may choose to turn on\off sending each oscillator's signal via drawbars separately from the oscillator's synthesis section with only one button press.
Pricing: For 39$, customers will get licenses for three computers on the first purchase for both Windows VSTi and stand-alone versions. Each extra license for both versions will cost 13$.
Find out more at www.tornsub.com
"As good as new" was the first track on ABBA's Voulez-Vous album from 1979.
I am old enough to have heard it on the radio back in 1979 and I remember recording it on the horrible Electown cassette tape recorder that was my only means of recording sound back then.

Here I play it on the two Elka organs EP-8 and Preludio 22L.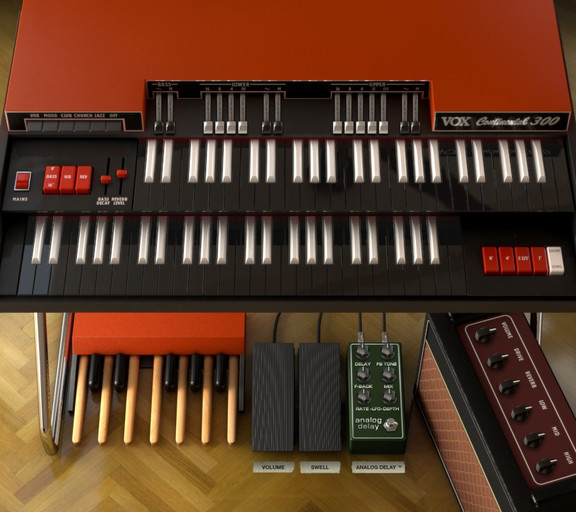 Arturia has introduced VOX Continental-V, a virtual instrument emulation of the vintage Vox Continental 300 organ.
As a high-end software recreation of the Sixties-vintage Vox Continental 300 transistor-based combo organ, VOX Continental-V is the latest addition to Arturia's acclaimed Analog Classics lineup where it sits alongside an authentic recreation of another archetypal Sixties staple, Wurlitzer-V (based on the classic 'Wurly' electric piano).

Like the transcontinental history of the original Vox Continental, the road to creating VOX Continental-V was a long and winding affair. Arturia started its latest software developmental journey in the company of a rare Vox Continental 300 dual-manual model, capturing every nuance of the original right down to key contact timing and background noises — no elbows needed! Next, Arturia acquired a rare Jennings J70 — developer Tom Jennings' Vox organ forerunner — and added a J70 Mode to the VOX Continental-V voice engine. End users have effectively ended up with two ultra-rare organs for the price of one as a result — with more tones to play with, which musically is a good thing to have!

The end result is surely the most authentic dual-manual Vox Continental 300 emulation that money can buy. Notable VOX Continental-V features include upper manual, lower manual, and bass pedal sections; multiple output effects processors; and independent channels per manual. Moreover, Expanded Mode adds a full compliment of drawbars for each harmonic; a new waveform drawbar on each section; several popular effects; Leslie™ and guitar amp simulator outputs; and an expanded percussion section. Similarly, Services Mode allows for individual tuning of each pitch — just like an original Vox; alterable key contact timing (to simulate older key contacts); and authentic background noise bleed control.
VOX Continental-V for Windows and Mac (VST/AU/AAX/Standalone) will be available in late April, priced at 119 EUR / $129 USD
Cover of the Jean Michel Jarre classic Equinoxe III on vintage Elka organs, details below:
The Preludio 22L shares some of it's technoloy with the more famous X-705. And since Jean Michel Jarre used the X-705 for some time in the late 1970's I thought it could be fun to play one of his compositions while I had this old thing fired up. The only part of Equinoxe III that I couldn't play on the Preludio was the string parts because it doesn't have a phase modulator. For the string parts I therefore used the EP-8 instead.
From the album: "Ghuna X Plays the Philicorda"
http://ghunax.bandcamp.com/album/ghun…
The Philicorda is a 1960s transistor based organ that has found favour with producers in recent times ; one was used on the album '19' by Adele by producer Jim Abiss. The instrument has a built in spring reverb, vibrato and 5 switchable stops. There is also an extra 'voxchord' setting, which splits the lower half of the keyboard into single-key chords, for left hand accompaniment. It has a thick, smooth sound that can give just the right atmosphere to certain productions.
Very little info can be found on this machine, but here is a short description found on Ebay:
This is an extremely rare Elka C series X1000 Drawbar organ, multi synth, mono synth, real-time Arranger and 8 track sequencer. This was the flagship keyboard produced by Elka in the 90's. It was expensive, exceptionally comprehensive, and has an amazing, huge powerful sound. There is little information available about this model but it is in excellent working condition together with it's original flight case style casing. The instrument is divided into 8 real-time sections
Background video description:
Moving to another house often means that you find things you had forgotten about. I found a little wooden toy – a sort of monocular with a lens that splits everything you see into many small pictures instead of one big. I cut the eye hole a bit bigger so it could slide over the lens on my camera and then I took some videos of the colourfull Elka organ. Then I added some video taken through a kaleidoscope to complete the psychedelic madness.
The melody is also played on the Elka X-1000. It is a song called "the Boys" and was originally performed by Danish singer Kim Larsen in the early 1980's.
Massimo Caldonazzo in Rome has started a FPGA based Hammond clone project.
"On this (distorted) video, Riccardo Fassi and Marco Quagliozzi plays the soon-to-be-released baby. Sadly, the video shooting was done with a mono smartphone, in a very adventurous mood with wrong level settings ad several crude distortions. That's is: a sneak preview of the machine. Maybe, in a next meeting with our usual recording equipment, it will be possible to fully evaluate the sound quality of the Maxcal clone. The third keyboard drives a Dominion MFB synthesizer encapsulated in the main body of the instrument. Many thanks to Riccardo Fassi and Marco Quagliozzi for playing, Massimo Caldonazzo for engineering and Attilio De Simone for video shooting."