Crumar Nerve Centre 15 is an analogue drum machine that was build into a number of Crumar's organs from the mid 1970′s.
"I took this particular specimen out of an old defective organ some years ago (and made a video of it) and now the time has come to find out how it works so that I can use it for something.
One very special thing with this drum machine is that there is a separate row of selector switches for the auto-accompaniment so that you can pick and chose independantly – in other words it is possible to combine for instance the samba rhythm with waltz bass and arpeggio (not that it would sound very good but it is possible). I wonder why so few organ companies came up with that idea. It makes the auto-band much more flexible and it only costs an extra row of switches.
The music in something I made on Yamaha HE-8 and Technics SX-C600 organs, Roland SH-2000 synthesizer and TR-66 Rhythm Arranger drum machine, and the little Casio CZ-101 phase distortion synthesizer."
Three musicians showcasing the different sections of Nord C2D Combo organ. Tone-wheel Organ: Pierre Swärd, Baroque Pipe Organ: Ulla Olsson and Mats Björke on the Farfisa Transistor Organ.
Read more about the Nord C2D here: http://nordkeyboards.com/c2d
Big thanks to the musicians and to Hasse & Lasse (http://www.hasseochlasse.se/) for making the video!
More info: http://bit.ly/TVTYhp
In this episode of Secret Knowledge video tutorial series, Dubspot instructor and Logic Pro course designer Matt Shadetek shows you how to create two classic house sounds; the organ bass sound found in most 'organ house' tracks like Robin S.'s "Show Me Love" and the second is "the classic looping, filtered vocal."
Background information:
This is not intended as a 1-to-1 reproduction of Jean Michel Jarre's famous classic. It is more like my shot at it using the instruments that I have.
It's funny that just because JMJ used an Eminent U310 and later an Elka X-705 then these exact organ models sells for astronomical prices while most other organs can be bought for peanuts.
So therefore I have used Elka X-30 and Technics SX-C600 to play most of the arrangement. I don't have a MiniPops 7 drum machine so I used a Rhythm Ace. One thing I did to make it more authentic was that I manually added the quijada sound to the rhythm. I synthesized it on my Roland JX-8P because I felt that it was vital for the mood of the melody. The sequence that runs through the first part was programmed on the little Korg Poly 800 and most of the sound effects was made on my Roland SH-2000. Finally I added the sound of my homebuild zimbelstern because I hadn't got a clue on how to make the huithuithuithuithuit sounds of the EMS synthesizer that I assume Jarre used.
For once I had the sheet music. I found it at the public library – you know, the house with books made of real paper in it. But it's not easy when the composer doesn't follow his own notes on the recording he made!
I haven't added many effects efter the sounds were recorded. Just some panning, reverb, and echo.
Founded in the late '60s/early '70s by Mario Crucianelli, Crumar was an Italian company that became very famous in its time mainly by their synths, keyboards and organs (both in compact or not so compact models). Mario was brother from Pierro Crucianelli, president of Elka – another very well known Italian company. Crumar existed until 1987 and the company's golden age was in the second half of the '70s, when they put on the market their "Pianoman" and "Stringman" models (1974) and later the model that combined the two machines in one, the "Multiman" model (1977).  Even with this machines achieving a great reputation on the market, for me Crumar's coolest instruments are the "Hammond organ clones" made from 1974 on which had a great sound, very close to Hammond organs, but much more compact and easier to carry than the originals.
The Crumar Toccata organ was released in 1981 as a more compact version of all previous models of these "Hammond clones", more specifically the model T1/C (whose main difference was having one extra octave – higher than the Toccata's four octaves – and drawbars, like that ones from Hammond organs). The Crumar Toccata organ was manufactured until 1986.
"organfairy" has uploaded this new video featuring the Vicount organ:
"This used to be an ordinary home organ. But I converted it into a portable model that sits on a stand. It's now so lightweight that I can carry it under one arm. But if you look what's inside this late 1980′s organ you can see why: Two circuit boards, a small transformer, two rows of thin plastic keys, and some rubber buttons. That's it.
I have had it for twelve years and while I rarely used it as a lead instrument it found it's way into many of my recordings.
This musical item is one of the few examples I have where the Viscount plays both melody, bass, and rhythm. The song is called Dove and I have been told that it was a hit for an Italian singer that called herself Moony. The other parts of arrangement is played on Yamaha HE-8 organ and Roland JX-8P synthesizer. I recorded it in 2003 on my Fostex 8-channel tape machine."
Rock Video Song Features Face-Melting Moog Synth, Hammond Organ, Fender Guitar & iPad
Background data:
My first video song, an original I called RAKTATAK. What you see is what you hear, and everything you hear is seen.
Using some of my favourite instruments, this song came out of jamming on my Moog Little Phatty. Layed down the groove and added instruments – arranged with Fender Strat guitars, Fender Jazz Bass, Nord C2 Organ and Ipad Apps M3000HD and Animoog.
Drums programmed in Boom and Addictive Drums.
For lesson information in the Vancouver area, please visit:
https://jimmclaren.musicteachershelper.com/
Background information:
In this video I briefly explain and demonstrate how I used the Kinect to control the massive Melbourne Town Hall Organ. It contains a short excerpt from our performance "Carpe Zythum" November 2011.
My project blog: http://chrisvik.wordpress.com
I've created my own software "Kinectar" (http://kinectar.org), which allows the use of the Kinect to control MIDI devices, ie. playing notes through simple gestures and motion. The Melbourne Town Hall Organ got a referb in the late 90s adding the ability of MIDI messages to active the notes… and so, this happened.
The company that provided the control system to allow the organ to be played via MIDI are "Solid State Organ System" and can be found here:
http://www.ssosystems.com
Co-composition and Kinect performance and programming by Chris Vik
Co-composition, lyrics and vocals by Elise Richards
Video produced by Unkle Nicnac Films (unklenicnac.com)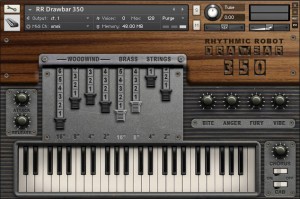 Rhythmic Robot has released Drawbar 350, a unique analogue drawbar organ instrument created from the overheated transistors of the enormous Stylophone 350S.
Drawbar 350 is both a homage to the original Stylophone 350S and a departure from it. You can imitate the original 350 perfectly by simply treating the drawbars as on / off switches – either fully out of fully in – and leaving the envelope controls set to minimum. (And why not? It's a classic, after all!) Or you can go to town and create washes, pads, soundscapes and textures. Or you can turn the whole thing up to 11 for a really aggressive, Punk 70s sound that all but leaps out of the speakers and strangles you.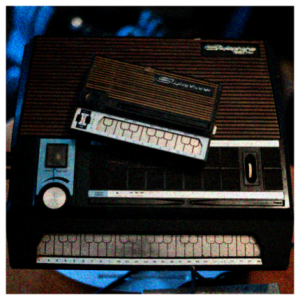 The Drawbar 350 is without doubt a snarling, spitting, angry character at heart, full of attitude and malice. But we've given you the tools to tame it and bend it to your will. It's a sound that you simply won't find anywhere else: original and dangerous. Welcome to the world of the Drawbar 350.
Drawbar 350 features
All eight voicings of the Stylophone 350S sampled at 24-bit.
Drawbar control replaces the toggle-switches with 12-stage blend-able drawbars.
Voices: Woodwind 16″, 8″, 4″, 2″; Brass 16″, 8″; Strings 4″, 2″.
Transistor organ sound enhanced by specifically-chosen effects processors.
Bite, Anger, Fury and Vibe settings to roughen or tame the sound.
Drawbar 350 for Kontakt (full version 4.2.3 or later required) is available to purchase for £8.95 GBP.
Rhythmic Robot have released three new instruments for Kontakt 4.2.3 and later:
Doctor 55: a sampled recreation of the Boss DR55 analogue drum machine.
Magnus: a reed organ emulating a 1950s Bakelite Magnus organ and a 1970s plastic version.
StyloDrum: a glitchy drum machine with four kits sampling scratches, crackles, pops and squeals from vintage Stylophones which have been pitched, looped and trimmed to form electronic drum sounds.
Doctor 55 costs £4.95. Magnus and StyloDrum cost £3.95.
Doctor 55 is a Kontakt version of the Boss DR55 analogue drum machine. It samples the original with great precision at 24-bit. Each of the four original kit pieces (kick, snare, hats and rimshot) are covered, plus an additional "hidden" snare sound that only showed up on the original during programming. This additional snare has been given its own Attack and Decay parameters, hidden on the rear panel, which allow the user to create brushed snare sounds or snares with long decay tails.
Additionally, as usual with Rhythmic Robot drum machines, multiple samples have been taken through the entire travel of the DR55′s "Accent" control. These differently-accented samples can then be accessed either by tweaking the "Accent" control on the GUI panel, or by velocity from a MIDI keyboard (or by drawing velocity automation straight into a DAW lane). Accent amounts change the tonality of the kit pieces considerably, and can be dialed in on a per-kit-piece basis, which of course was not possible on the original instrument (where Accent functioned globally).
The Doctor 55 rounds things out with a Tone control, plus effects control over tube saturation, bit-crushing effects, Drive distortion and an output compressor / limiter for "gluing" and pumping effects.
Features:
All the sounds of the DR55 captured through the entire travel of the Accent control.
Kit pieces individually adjustable for level, pan and Accent.
New "hidden" snare sound sampled, and adjustable for attack and decay.
Velocity Retrofit button allows incoming velocity to vary the Accent level dynamically (for humanised beats).
Bitcrusher, tube saturation, distortion and compression / limiting on the outputs.
Magnus is a reed organ instrument sampled from two vintage Magnus reed organs: a Bakelite model from the 1950s, and a red plastic model from the 1970s. The Bakelite model was Magnus Organs' first ever model and is extremely rare.
Magnus allows the user to blend the "Bakelite" and "Plastic" samples to taste via the front panel controls, and adds Tone and "Electrify" — which brings in tube harmonic distortion to the sound. Attack and Release controls are available for the amplitude envelope, and longer release times invoke a slight pitch drop-off as the sound decays, which mimics the behaviour of a real reed organ having its keys very slowly let up (air pressure through the reeds drops, and the pitch falls as a result). Stereo spread, chorus and phaser effects are available on the rear panel.
Magnus is designed for unusual organ sounds and breathy pad textures.
Features:
Bakelite 1950s and Plastic 1970s samples can be blended to taste.
"Electrify" control for adding harmonic distortion; Tone control for high-end roll-off.
Attack and Decay parameters.
Original pitch drop-off emulated on long ADSR release settings.
Stereo spread, chorus and phaser controls on rear panel.
StyloDrum is an analogue drum machine built from sampled scratches, bleeps, bloops, fizzes, noises, crackles, thumps and glitches — all taken from vintage Stylophones. These have been pitch-shifted, looped, trimmed and fiddled with as necessary to turn them into old-school-style analogue hits. StyloDrum incorporates four kits spread over four octaves, each with at least two kicks and two snares. Most have hats, some have crashes, toms, claps or other "classic" sounds. Interspersed are a lot of random scratches, glitches and other Stylophone-based weirdnesses.
Kit pieces can be adjusted in level and pan position, and there's a comprehensive effects section with Saturation, Drive and "Pump" compression to really kick things into gear. StyloDrum is a unique source of left-field electronic sounds for any genre, with a glitchy, grainy edge.
Features:
Four kits built entirely of Stylophone scratches, glitches, squeaks and squeals.
Pan and level controls.
Tube saturation, Drive distortion and "Pump" compression.
Unique and unusual electronic elements for any genre.