Let's perform a lead organ!
While pushing the keyboard, sound continues sounding eternally.
Ten kinds of tones can be chosen.
Moreover, two or more sound is sounded simultaneously and an effect like a pipe organ can perform easily.
The tone of a lead organ can be created.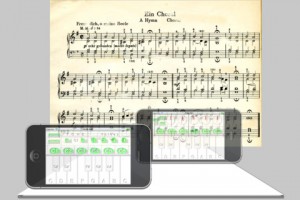 Operation
tone
- Ten kinds of sound can be chosen with plus and a minus button.
voices
- Sound two or more sound simultaneously.
C1~C6
- Specify the range of the pitch of a keyboard.
scale
- Choose the display of a pitch, and un-displaying.
manual(Auto)
- Create the tone of an organ by a pitch and volume.
It returns to the original screen by Auto.
Feature of the TOS or Top Octave Synthesizer. In most electronic organs – and some synthesizers – from the 1970′s the notes were generated by an integrated circuit that could make the top 12 notes from a single master frequency.
"In this video I make a version of the TOS using only standard components. I will use it for something later…
The music is something I made in 2003 using Yamaha HE-8 and Technics SX-C600 organs, Roland JX-8P synthesizer and CR-1000 drum machine."
More infos on : http://www.pianovintage.fr/fr/catalogue/article/244/roland-rs09
Quick test and demo, Roland RS09 fully operational, sounds great …
Enjoy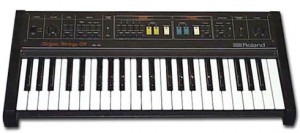 The RS-09 is an analog string and organ synthesizer (similar to the Saturn-09 which only produced an organ sound). It's old, it's cheap and they're usually worth finding! The string sound and organ sounds are nice, fatty analog sounds. The organ and string sections can be played simultaneously or individually. An ensemble/chorus effect and external sound input are welcome features. But aside from all this, there isn't much else left to this synth. A simple 2-vco architecture with simple and limited editable parameters, no patch memory and a small keyboard.
There are three versions of this unit. The one shown above is a V.3. The differences are mainly cosmetic and in the control surface; the V.3 uses touch-switches, the V.1 uses rockers and tends to be more reliable due to that. This instrument can be found for around $100, and they could add a nice flavor to any modern analog-electronic keyboard studio.
The Hammond SK1 is the first "Ultra-Portable" organ in its history, weighing in at just 15 pounds, and the first Hammond portable to feature a wide range of Extra Voices. The "Drawbar" section is a complete Hammond Organ with all the traditional features: Real Mechanical Drawbars, Chorus Vibrato, Touch-Response Percussion, and the most authentic Digital Leslie we have ever offered. "Vx" and "Farf" combo organ models are also available, as well as an assortment of fine classical Pipe Organ voices derived from our 935 Church Organ. Acoustic and Electric Pianos, Clavs, Accordions, Vintage String Synth, Wind Instruments and Tuned Percussion round out the specification.
http://www.production-room.com/hammond/hammond-sk-1-organ/
This is the "Vocal Choir" sound on a Vako Orchestron model C, with hi-cut, lo-cut and pitch altering.
Sometimes I have a small pitch stability problem, this is due to a worn out belt in the motor part.
Background information:
The Optigan was a kind of home organ made by the Optigan Corporation (a subsidiary of Mattel) in the early 70′s. It was set up like most home organs of the period- a small keyboard with buttons on the left for various chords, accompaniments and rhythms. At the time, all organs produced their sounds electrically or electronically with tubes or transistors. The Optigan was different in that its sounds were read off of LP sized celluloid discs which contained the graphic waveforms of real instruments. These recordings were encoded in concentric looping rings using the same technology as film soundtracks. (Remember that sequence in Fantasia where the Soundtrack makes a cameo? Those squiggly lines are actually pretty close to what the real thing looks like.) As the film runs, a light is projected through the soundtrack and is picked up on the other side by a photoreceptor. The voltage is varied depending on how much light reaches the receptor, and after being amplified this voltage is converted into audible sound by the speakers. The word "Optigan" stands for "Optical Organ."

Optigan discs have 57 rings of soundtrack- these provide recordings of real musicians playing riffs, chord patterns and other effects. (37 of the tracks are reserved for the keyboard sound itself- a different recording for each note.) So when you want to play a bossa nova, you don't get those wimpy little pop-pop-chink-chink electronic sounds- you actually hear a live combo backing you up! The problem is that you only have a limited number of chords to choose from- C, D, E, F, G, A and Bb major, plus their parallel minor and diminished counterparts. (Actually, E and A major don't really count, because for economic reasons (or maybe avant-garde musical reasons, depending on how optimistic you are) they decided to recycle the D diminished chord for E major and the G diminished chord for A major. I guess they felt that most of the notes matched anyway, so why waste the extra disc space? Consequently, playing anything in A or E major sounds really questionable at best.)

Playing back recorded instruments was a pretty unique concept for the early 70′s. Technically speaking, the Optigan was a primitive sampler. Sort of. I tend to think of it more like a poor-man's Mellotron or Chamberlin. These are two famous keyboards from the sixties which played back recordings of instruments on lengths of magnetic tape. They became very popular despite some huge drawbacks. For one thing, the tapes only lasted a few seconds and, in the case of the Mellotron, could not loop. If you wanted your flute to keep playing, you would have to re-press the key after eight seconds. This also involved waiting for the tape to rewind, so up-tempo playing was generally not possible. Also, the racks of tapes themselves were pretty huge and unwieldy- changing from a choir to an oboe could take quite some time. Not surprisingly, these instruments were quite expensive to buy and maintain. But the sounds they made were worth it- and apparently still are, seeing as the current street value can easily exceed $2000.

Mattel marketed the Optigan as something of an adult toy- the sound quality was simply not good enough for professional use. They sold mostly through stores like Sears and JC Penny and were relatively inexpensive- about $200 to $400 depending on which model you chose. They came with a "Starter Set" of four discs, and extra discs were marketed like record albums. Official Optigan music books were also available to help you make the most out of the minimal talent you probably had if you had bought an Optigan in the first place. One of these books even has a spiffy arrangement of "Spanish Flea" ("for advanced players only") that includes all of the lyrics!
DestrOrgan, the destructible anti-stress organ!!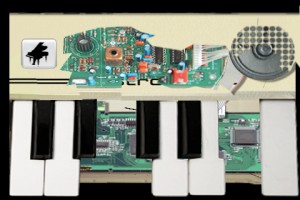 If you don't like the sweet sound of piano, cats, dogs and flatulence… DESTROY IT!
Features 13 playable keys, 4 Instruments and over 70 Breakable parts!!!
Pricing and Availability
DestrOrgan is available in the App Store for $.99.
Link: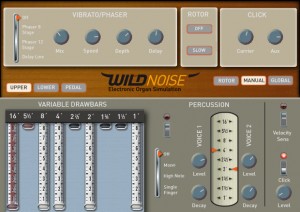 Wildnoise has released WildOrgan, a virtual tonewheel organ instrument plugin for Windows.
The WildOrgan is a virtual Organ-simulation, which can emulate various organ types. An extensive set of controls is available and 50 presets are included already.

The plugin can be used with VST hosts and is suitable for use wit hthe OpenArt-System. In addition to the regular user interface all functions can be controller via a MIDI controller. The controller layout can be configured for optimal usage.
WildOrgan for Windows (VST) is available to purchase for 58 EUR.
More information: Wildnoise / WildOrgan
Lots of goodies in this one…you know what I mean when you watch it

Filmed and Directed by Amy Hobby.
Edited by Tony Zajkowski.
Over 20 different NYC female keyboardists playing vintage keyboards at Joe McGinty's Carousel Studio in Brooklyn, NY.
Available on iTunes!
http://itunes.apple.com/us/album/tubular-bells/id398862997
Featuring:
Kaia Wong (Mixel Pixel)
Kelly Rae Kerwin (Private Income)
Natasha Bartolf
Joanna Choy (Spray Paint Star)
Amy Merril (Mia Riddle)
Greta Gertler (The Universal Thump)
Supercute!
Anna Copa Cabanna
Rolyn Hu (True Primes)
Sondra Sun-Odeon (Silver Summit)
Michi Turner (Crash Diet Crew)
Katia Floreska (The Tall Pines)
Natalie Weiss (Unicornicopia, Camp Wanatachi)
Wendy Ip
Alice Cohen
Yvette Perez
Kelly Vaughn-Kauffman (Winstron Troy)
Yvette Perez (H*E*R)
Hula Hoop Harlot Melissa-Anne
Alix Brown (Golden Triangle)
Leah Cary (Girl Crisis)
Caitlin Jemison (Queen Of Sibyls)
Instruments featured:
Hammond M3 Organ
Fender Rhodes
Oberheim Xpander
Dave Smith Instruments Poly Evolver Keyboard
Steinway Upright Grand Piano
RMI Keyboard Computer
Jenco Celeste
Baldwin Electric Harpsichord
Bebot
Magical Musical Thing
Thingamagoop
Hohner Clavinet D6
Casio CZ-101
Wurlitzer Electric Piano
Conn Electric Band
ARP 2600
ARP Omni
Suzuki Omnichord
Yamaha CS-01
Yamaha TX802
Vox Continental
Fender Starmaster
Farfisa Combo Compact
Buzzing Bee
Optigan
Stylophone
Toy Piano
360 Systems Digital Keyboard
Hammond Synthesizer
Gibson Clavioline
Moog Little Phatty
MiniMoog
Mellotron
Mass-Rowe Vibrachime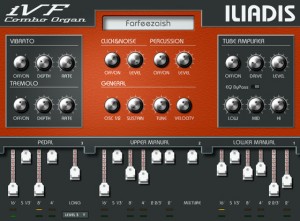 Iliadis plug-ins
iVF Combo Organ, two manual transistor organ simulation.
iBX Organ, tonewheel organ simulation.
Euthymia Electronic Organ V2, Hammond clone simulation.
VH-1 & VH-2, two great organ simulations.
iSPINNER, simple rotary speaker simulation.
The Iliadis plug-ins are available to download as freeware for Windows (VST). Donations are appreciated.
More information: Iliadis

Studiologic Ships the Numa Organ Joey DeFrancesco Model. Studiologic is proudly shipping the Numa Organ Joey DeFrancesco Model, an integrated organ and high definition keyboard controller, including Fatar's finest TP/80 Premium Waterfall Action keyboard, the Numa Organ offers a spectacular physical model of the classic electro-mechanical organ complete with rotary and scanner emulation.
The Numa Organ was developed in conjunction with Joey DeFrancesco making sure that every detail and nuance is properly produced with stunning results. 9 classic drawbars control upper, lower, and pedalboard sounds. Features include 12 presets on the first reversed octave, keyboard split with lower or pedal to the left, chorus and vibrato on upper and lower, rotary with on-off-brake and slow-fast (with mod wheel), transpose, and a complete percussion section with soft/normal, slow/fast, and 2nd/3rd options.
An Effects section offers variable Reverb, Drive, Keyclick, and Leakage levels,and an on-board Equalizer provides the final tailoring of the organ's magnificent tone. Velocity action can be switched between normal organ or Fatar Dynamic Touch modes. USB and MIDI in, out, and through connections open the Numa Organ up as a master keyboard controller for standalone and plug-in software instruments. Despite the rugged metal housing and real wood side walls, the Numa Organ at 22lbs. is lightweight, portable, and gig ready. For more info please visit http://www.americanmusicands…