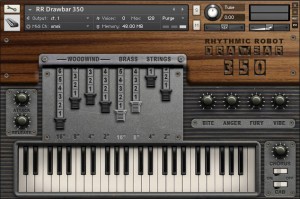 Rhythmic Robot has released Drawbar 350, a unique analogue drawbar organ instrument created from the overheated transistors of the enormous Stylophone 350S.
Drawbar 350 is both a homage to the original Stylophone 350S and a departure from it. You can imitate the original 350 perfectly by simply treating the drawbars as on / off switches – either fully out of fully in – and leaving the envelope controls set to minimum. (And why not? It's a classic, after all!) Or you can go to town and create washes, pads, soundscapes and textures. Or you can turn the whole thing up to 11 for a really aggressive, Punk 70s sound that all but leaps out of the speakers and strangles you.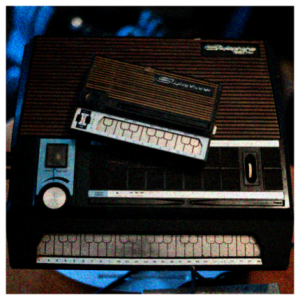 The Drawbar 350 is without doubt a snarling, spitting, angry character at heart, full of attitude and malice. But we've given you the tools to tame it and bend it to your will. It's a sound that you simply won't find anywhere else: original and dangerous. Welcome to the world of the Drawbar 350.
Drawbar 350 features
All eight voicings of the Stylophone 350S sampled at 24-bit.
Drawbar control replaces the toggle-switches with 12-stage blend-able drawbars.
Voices: Woodwind 16″, 8″, 4″, 2″; Brass 16″, 8″; Strings 4″, 2″.
Transistor organ sound enhanced by specifically-chosen effects processors.
Bite, Anger, Fury and Vibe settings to roughen or tame the sound.
Drawbar 350 for Kontakt (full version 4.2.3 or later required) is available to purchase for £8.95 GBP.
Rhythmic Robot have released three new instruments for Kontakt 4.2.3 and later:
Doctor 55: a sampled recreation of the Boss DR55 analogue drum machine.
Magnus: a reed organ emulating a 1950s Bakelite Magnus organ and a 1970s plastic version.
StyloDrum: a glitchy drum machine with four kits sampling scratches, crackles, pops and squeals from vintage Stylophones which have been pitched, looped and trimmed to form electronic drum sounds.
Doctor 55 costs £4.95. Magnus and StyloDrum cost £3.95.
Doctor 55 is a Kontakt version of the Boss DR55 analogue drum machine. It samples the original with great precision at 24-bit. Each of the four original kit pieces (kick, snare, hats and rimshot) are covered, plus an additional "hidden" snare sound that only showed up on the original during programming. This additional snare has been given its own Attack and Decay parameters, hidden on the rear panel, which allow the user to create brushed snare sounds or snares with long decay tails.
Additionally, as usual with Rhythmic Robot drum machines, multiple samples have been taken through the entire travel of the DR55's "Accent" control. These differently-accented samples can then be accessed either by tweaking the "Accent" control on the GUI panel, or by velocity from a MIDI keyboard (or by drawing velocity automation straight into a DAW lane). Accent amounts change the tonality of the kit pieces considerably, and can be dialed in on a per-kit-piece basis, which of course was not possible on the original instrument (where Accent functioned globally).
The Doctor 55 rounds things out with a Tone control, plus effects control over tube saturation, bit-crushing effects, Drive distortion and an output compressor / limiter for "gluing" and pumping effects.
Features:
All the sounds of the DR55 captured through the entire travel of the Accent control.
Kit pieces individually adjustable for level, pan and Accent.
New "hidden" snare sound sampled, and adjustable for attack and decay.
Velocity Retrofit button allows incoming velocity to vary the Accent level dynamically (for humanised beats).
Bitcrusher, tube saturation, distortion and compression / limiting on the outputs.
Magnus is a reed organ instrument sampled from two vintage Magnus reed organs: a Bakelite model from the 1950s, and a red plastic model from the 1970s. The Bakelite model was Magnus Organs' first ever model and is extremely rare.
Magnus allows the user to blend the "Bakelite" and "Plastic" samples to taste via the front panel controls, and adds Tone and "Electrify" — which brings in tube harmonic distortion to the sound. Attack and Release controls are available for the amplitude envelope, and longer release times invoke a slight pitch drop-off as the sound decays, which mimics the behaviour of a real reed organ having its keys very slowly let up (air pressure through the reeds drops, and the pitch falls as a result). Stereo spread, chorus and phaser effects are available on the rear panel.
Magnus is designed for unusual organ sounds and breathy pad textures.
Features:
Bakelite 1950s and Plastic 1970s samples can be blended to taste.
"Electrify" control for adding harmonic distortion; Tone control for high-end roll-off.
Attack and Decay parameters.
Original pitch drop-off emulated on long ADSR release settings.
Stereo spread, chorus and phaser controls on rear panel.
StyloDrum is an analogue drum machine built from sampled scratches, bleeps, bloops, fizzes, noises, crackles, thumps and glitches — all taken from vintage Stylophones. These have been pitch-shifted, looped, trimmed and fiddled with as necessary to turn them into old-school-style analogue hits. StyloDrum incorporates four kits spread over four octaves, each with at least two kicks and two snares. Most have hats, some have crashes, toms, claps or other "classic" sounds. Interspersed are a lot of random scratches, glitches and other Stylophone-based weirdnesses.
Kit pieces can be adjusted in level and pan position, and there's a comprehensive effects section with Saturation, Drive and "Pump" compression to really kick things into gear. StyloDrum is a unique source of left-field electronic sounds for any genre, with a glitchy, grainy edge.
Features:
Four kits built entirely of Stylophone scratches, glitches, squeaks and squeals.
Pan and level controls.
Tube saturation, Drive distortion and "Pump" compression.
Unique and unusual electronic elements for any genre.
Checking out the Dewanatron Hymnotron instrument from Leon and Brian Dewan at winter NAMM 2012. The Hymnotron is a just intonation tone organ that uses a binary key arrangement.
The Dewans create unique handcrafted 'folk synthesizers' that explore areas ignored by the mainstream music industry.
So NAMM has started and NORD brings us lots of goodies – including the previously teased Nord Drum
Nord Piano 2 – 88 key hammer action stage keyboard with Nord Sample Library support
The Nord Piano 2 HA88 lets you easily play, split and layer stunning Grand, Upright and Electric Pianos from the Nord Piano Library with sounds from the versatile Nord Sample Library. All this in a streamlined portable package with 88 Hammer Action Weighted keys.
The Nord Piano 2 comes with a wide range of quality acoustic and electro-mechanical instruments from the Nord Piano Library, all with their own unique character. The included Nord Triple Pedal features a dynamic sustain pedal that can also recreate the mechanical "stomp" and "sizzle" noises that occur when the lifting or releasing the dampener in an Acoustic Grand or Upright Piano. The Advanced String Resonance feature simulates the subtle phenomenon that occurs when piano strings cause other un-dampened strings to resonate, further adding to an amazing level of realism.
The Nord Sample Library offers more than 1000 high quality sample-instruments ranging from Strings, Brass, Synths and Basses to the legendary vintage sounds of the Mellotron and Chamberlin.
Both the Nord Piano and Nord Sample libraries are continuously updated and are available as free downloads for all Nord owners.
All of the sounds in the Nord Piano 2 HA88 are replaceable, making it an instrument that is built to evolve with you. It's even possible to create your own sample instruments using the Nord Sample Editor.
We think technology should be transparent to the user, which is why the Nord Piano 2 has dedicated buttons and knobs for all functions the performing musician needs instead of confusing menus.
We've made it amazingly simple to layer and split sounds, and there's a volume pedal input for sneaking in those strings while you keep playing.
The Nord Piano 2 also sports an extensive effects section, covering everything from Phaser, Wah-wah, Flanger, Chorus and Delay effects to a 3-band Equalizer, Amp Simulations, Compressor and Reverb
The Nord Piano 2 will be shown at the AM&S Nord Booth #6464 at NAMM Show 2012″
Nord C2D Combo Organ – Dual manual organ with drawbars
Complete with 2 sets of physical drawbars per manual the Nord C2D is the ultimate portable organ for musicians that play with their drawbars as well as the keys. The new left-hand preset sections offer an unsurpassed level of hands-on control and the upper manual and panel has been tilted for better ergonomics. A LCD-display has been added for easier access to programs and settings.
The Nord C2D features a redesigned simulation of the characteristic mechanical key clicks that are an essential component of the classic tone-wheel experience. Furthermore, the redesigned percussion model offers increased control over the percussion levels when playing near-legato.
The Nord C2D also includes a redesigned Rotary Speaker simulation of a vintage 122 unit.
Naturally, the Nord C2D also includes both the Vox and Farfisa transistor organ simulations and the sampled Baroque Pipe Organ from the acclaimed Nord C2 Combo Organ.
The Nord C2D will be shown at the AM&S Nord Booth #6464 at NAMM Show 2012″
Clavia releases Nord Drum Virtual Analog Drum Synthesizer
The Nord Drum is a revolutionary 4-channel drum synthesizer that is the result of a creative collaboration between Clavia and drum/music technology enthusiasts Bruniusson & Berg. With an amazingly vast sonic palette and an astounding level of playability it is guaranteed to change your perception of what's possible with synthetic, sample-free percussion.
The Nord Drum lets you create classic retro-futuristic percussion with analog waveforms or use the harmonically complex waveforms together with different colors of noise for results that both sound and respond stunningly organic. The Nord Drum is designed with the performing musician in mind and its extreme dynamic range and super-fast triggering add to the feeling of playing a real instrument.
4 high-sensitivity inputs and MIDI lets you play the Nord Drum with a wide range of Electronic Drum Pads, Acoustic Drum Triggers and MIDI-pads/Sequencers for easy integration into any existing drum-kit or the starting point for something completely new…
The Nord Drum will be shown at the AM&S Nord Booth #6464 at NAMM Show 2012″
"Cool vintage portable, ruining "Sleepwalk" by Santo & Johnny. Laughter/background vocals by the kids."
This apparently emerged in 1977: Simply great! Listen to your own favourites and play to them. A masterpiece of a time where mothers were happy and children were creative!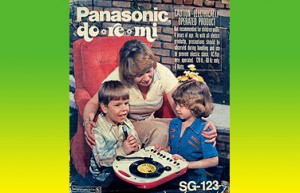 Via WTE
Let's perform a lead organ!
While pushing the keyboard, sound continues sounding eternally.
Ten kinds of tones can be chosen.
Moreover, two or more sound is sounded simultaneously and an effect like a pipe organ can perform easily.
The tone of a lead organ can be created.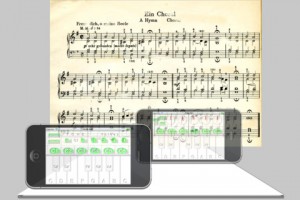 Operation
tone
– Ten kinds of sound can be chosen with plus and a minus button.
voices
– Sound two or more sound simultaneously.
C1~C6
– Specify the range of the pitch of a keyboard.
scale
– Choose the display of a pitch, and un-displaying.
manual(Auto)
– Create the tone of an organ by a pitch and volume.
It returns to the original screen by Auto.
Feature of the TOS or Top Octave Synthesizer. In most electronic organs – and some synthesizers – from the 1970's the notes were generated by an integrated circuit that could make the top 12 notes from a single master frequency.
"In this video I make a version of the TOS using only standard components. I will use it for something later…
The music is something I made in 2003 using Yamaha HE-8 and Technics SX-C600 organs, Roland JX-8P synthesizer and CR-1000 drum machine."
More infos on : http://www.pianovintage.fr/fr/catalogue/article/244/roland-rs09
Quick test and demo, Roland RS09 fully operational, sounds great …
Enjoy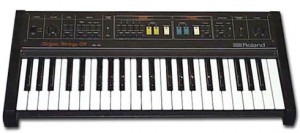 The RS-09 is an analog string and organ synthesizer (similar to the Saturn-09 which only produced an organ sound). It's old, it's cheap and they're usually worth finding! The string sound and organ sounds are nice, fatty analog sounds. The organ and string sections can be played simultaneously or individually. An ensemble/chorus effect and external sound input are welcome features. But aside from all this, there isn't much else left to this synth. A simple 2-vco architecture with simple and limited editable parameters, no patch memory and a small keyboard.
There are three versions of this unit. The one shown above is a V.3. The differences are mainly cosmetic and in the control surface; the V.3 uses touch-switches, the V.1 uses rockers and tends to be more reliable due to that. This instrument can be found for around $100, and they could add a nice flavor to any modern analog-electronic keyboard studio.
The Hammond SK1 is the first "Ultra-Portable" organ in its history, weighing in at just 15 pounds, and the first Hammond portable to feature a wide range of Extra Voices. The "Drawbar" section is a complete Hammond Organ with all the traditional features: Real Mechanical Drawbars, Chorus Vibrato, Touch-Response Percussion, and the most authentic Digital Leslie we have ever offered. "Vx" and "Farf" combo organ models are also available, as well as an assortment of fine classical Pipe Organ voices derived from our 935 Church Organ. Acoustic and Electric Pianos, Clavs, Accordions, Vintage String Synth, Wind Instruments and Tuned Percussion round out the specification.
http://www.production-room.com/hammond/hammond-sk-1-organ/
This is the "Vocal Choir" sound on a Vako Orchestron model C, with hi-cut, lo-cut and pitch altering.
Sometimes I have a small pitch stability problem, this is due to a worn out belt in the motor part.
Background information:
The Optigan was a kind of home organ made by the Optigan Corporation (a subsidiary of Mattel) in the early 70′s. It was set up like most home organs of the period- a small keyboard with buttons on the left for various chords, accompaniments and rhythms. At the time, all organs produced their sounds electrically or electronically with tubes or transistors. The Optigan was different in that its sounds were read off of LP sized celluloid discs which contained the graphic waveforms of real instruments. These recordings were encoded in concentric looping rings using the same technology as film soundtracks. (Remember that sequence in Fantasia where the Soundtrack makes a cameo? Those squiggly lines are actually pretty close to what the real thing looks like.) As the film runs, a light is projected through the soundtrack and is picked up on the other side by a photoreceptor. The voltage is varied depending on how much light reaches the receptor, and after being amplified this voltage is converted into audible sound by the speakers. The word "Optigan" stands for "Optical Organ."

Optigan discs have 57 rings of soundtrack- these provide recordings of real musicians playing riffs, chord patterns and other effects. (37 of the tracks are reserved for the keyboard sound itself- a different recording for each note.) So when you want to play a bossa nova, you don't get those wimpy little pop-pop-chink-chink electronic sounds- you actually hear a live combo backing you up! The problem is that you only have a limited number of chords to choose from- C, D, E, F, G, A and Bb major, plus their parallel minor and diminished counterparts. (Actually, E and A major don't really count, because for economic reasons (or maybe avant-garde musical reasons, depending on how optimistic you are) they decided to recycle the D diminished chord for E major and the G diminished chord for A major. I guess they felt that most of the notes matched anyway, so why waste the extra disc space? Consequently, playing anything in A or E major sounds really questionable at best.)

Playing back recorded instruments was a pretty unique concept for the early 70′s. Technically speaking, the Optigan was a primitive sampler. Sort of. I tend to think of it more like a poor-man's Mellotron or Chamberlin. These are two famous keyboards from the sixties which played back recordings of instruments on lengths of magnetic tape. They became very popular despite some huge drawbacks. For one thing, the tapes only lasted a few seconds and, in the case of the Mellotron, could not loop. If you wanted your flute to keep playing, you would have to re-press the key after eight seconds. This also involved waiting for the tape to rewind, so up-tempo playing was generally not possible. Also, the racks of tapes themselves were pretty huge and unwieldy- changing from a choir to an oboe could take quite some time. Not surprisingly, these instruments were quite expensive to buy and maintain. But the sounds they made were worth it- and apparently still are, seeing as the current street value can easily exceed $2000.

Mattel marketed the Optigan as something of an adult toy- the sound quality was simply not good enough for professional use. They sold mostly through stores like Sears and JC Penny and were relatively inexpensive- about $200 to $400 depending on which model you chose. They came with a "Starter Set" of four discs, and extra discs were marketed like record albums. Official Optigan music books were also available to help you make the most out of the minimal talent you probably had if you had bought an Optigan in the first place. One of these books even has a spiffy arrangement of "Spanish Flea" ("for advanced players only") that includes all of the lyrics!