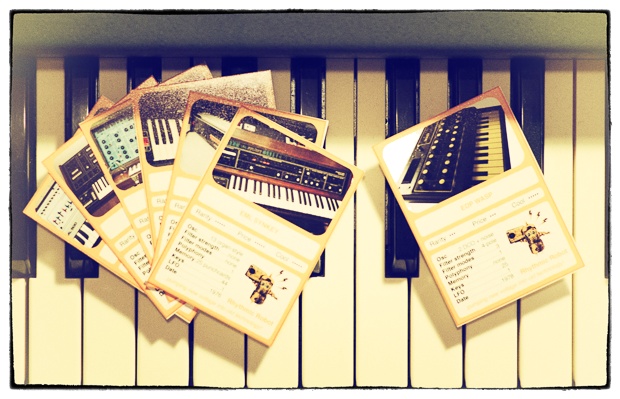 You know this is what you've been waiting for – the missing piece that will complete the jigsaw puzzle of your life. That's right, at last there's a Top Trumps-style synth-based trading card game! Trade your way to triumph as your 4-pole multimode filter beats your mate's puny 2-pole lowpass. Gauge exactly when to play your monster polyphony versus a crappy monosynth. Then put the smackdown on your opponent with 25 punchcards-worth of programmable memory.

Synth Wars takes a wide swathe of droolworthy classic hardware and turns it into something you can take to the pub and muck about with. Comes in the form of nine pdf sheets for you to print out and cut up at home, plus full instructions on how to play (in case you somehow skipped being nine years old). Great for whiling away the time in the control room while the drummer is trying to nail that tricky 4/4 backbeat. To get your free copy, just click below to download everything you need.
Synth Wars is a free download.
http://www.rhythmicrobot.com show you how to get your synth looking vintage and playing great with our step-by-step guide to Getting Vintage!
Being a synth god isn't just about knowing how to play. It's not even mainly about that. What it's really about is getting vintage. 90% of Keith Emerson's "sound" was simply the result of oxidised jack sockets. You can achieve the same results as your synth heroes using our simple, easy-to-follow techniques, winning friends and standing out from the crowd in the process.
Gearing up for the holiday seasons
Brett Domino's quick guide shows you how to make a hit pop song like Jason Derulo. Featuring Brett's own song, 'Sexy When You Do That' (inspired by Jennifer Lawrence) – available to download here:http://brettdomino.bandcamp.com/track…
For all us folks who lived through the 80s, Delta has a funny new safety video with tons of references (Atari, the original Teddy Ruxpin and Alf), an inside delta joke (from their last safety video), and none other than Gerald Casale from DEVO!!!
Via Modulate
Florian gives Ralf a present
From "The Late Late Show with Craig Ferguson", aired on Dec. 10th, 2013
Featuring Josh Robert Thompson
Florian and Ralf exchange gifts
Animated/Directed by Ambar Navarro
Music by Hyperbubble
Additional Animation by
Julian Petschek
Tempe Hale
Quique Rivera Rivera
Isabela Dos Santos
Tomas Christian
Post-Prod done by Julian Petschek
Shot at BE∆RD H∆US
CALARTS 2013
The Spanish musician Rick Brendan has launched his very own parody on Depeche Mode's huge hit "Personal Jesus". The "Personal Trainer" track even got an entertaining video.
We know – totally out of scope for this mag, but still awesome stuff ahead of us
https://www.facebook.com/TheHobbitMovie
http://www.thehobbit.com
In theaters December 13th.
The second in a trilogy of films adapting the enduringly popular masterpiece The Hobbit, by J.R.R. Tolkien, "The Hobbit: The Desolation of Smaug" continues the adventure of the title character Bilbo Baggins (Martin Freeman) as he journeys with the Wizard Gandalf (Ian McKellen) and thirteen Dwarves, led by Thorin Oakenshield (Richard Armitage) on an epic quest to reclaim the lost Dwarf Kingdom of Erebor.
Follow us on Twitter: https://twitter.com/thehobbitmovie
A new genre within modular music perhaps 😉