Gearing up for the holiday seasons
Brett Domino's quick guide shows you how to make a hit pop song like Jason Derulo. Featuring Brett's own song, 'Sexy When You Do That' (inspired by Jennifer Lawrence) – available to download here:http://brettdomino.bandcamp.com/track…
For all us folks who lived through the 80s, Delta has a funny new safety video with tons of references (Atari, the original Teddy Ruxpin and Alf), an inside delta joke (from their last safety video), and none other than Gerald Casale from DEVO!!!
Via Modulate
Florian gives Ralf a present
From "The Late Late Show with Craig Ferguson", aired on Dec. 10th, 2013
Featuring Josh Robert Thompson
Florian and Ralf exchange gifts
Animated/Directed by Ambar Navarro
Music by Hyperbubble
Additional Animation by
Julian Petschek
Tempe Hale
Quique Rivera Rivera
Isabela Dos Santos
Tomas Christian
Post-Prod done by Julian Petschek
Shot at BE∆RD H∆US
CALARTS 2013
The Spanish musician Rick Brendan has launched his very own parody on Depeche Mode's huge hit "Personal Jesus". The "Personal Trainer" track even got an entertaining video.
We know – totally out of scope for this mag, but still awesome stuff ahead of us
https://www.facebook.com/TheHobbitMovie
http://www.thehobbit.com
In theaters December 13th.
The second in a trilogy of films adapting the enduringly popular masterpiece The Hobbit, by J.R.R. Tolkien, "The Hobbit: The Desolation of Smaug" continues the adventure of the title character Bilbo Baggins (Martin Freeman) as he journeys with the Wizard Gandalf (Ian McKellen) and thirteen Dwarves, led by Thorin Oakenshield (Richard Armitage) on an epic quest to reclaim the lost Dwarf Kingdom of Erebor.
Follow us on Twitter: https://twitter.com/thehobbitmovie
A new genre within modular music perhaps
Who needs streaming music by the way

THE MAGNETIST is a short documentary about Micke, also known as 'The Magnetist', whose life revolves around cassette tapes.
Most of Micke's time is spent on varius tape-related projects; he blogs about them, he makes music with them and he got a monthly tape club in his hometown Stockholm. Sometimes it's a struggle. Here we get an insight to Micke's life as a tapeologist and joins him to his tape-only club to find out the motivation behind his interest.
MUSIC:
Usha Uthup & Bappi Lahiri – Auva Auva: Koi Yahan Nache
Oppenheimer Analysis – Radiance
Alhaji K. Frimpong – Rikia
Massinko – Arada
Pas de Deux – Cardiocleptomanie
Penny Penny – Shichangani
You can find a couple of tracks via awesometapes.com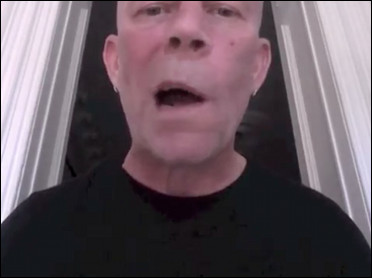 Synth legend Vince Clarke is conducting a pretty unique "synth" competition, namely the first International Synth Gurning Competition. Synth Gurning is defined as the art of producing synth sounds or effects using just the voice whilst pulling a funny face.
The concept for this contest is simple: video yourself making your own synth sound or effect with just your voice. Clarke is also looking for 'interesting facial expression' (gurning), to enhance the performance. Upload the video to YouTube and tweet him (@thecabinstudio) the link before midnight (UK) on August 16th 2013.
Just in case you don't know what this means, you can view a video of Vince Clarke below showing you how to do it.
Clarke will be giving away his own personally autographed, limited-edition, Mute Synth to the best performer, and will sign certificates of distinction for the runners up.
Erasure's Vince Clarke demonstrates the art of 'Synth Gurning' as part of his introduction to The First International Synth Gurning Competition which is currently running on his website here…
http://www.vinceclarkemusic.com/inter…