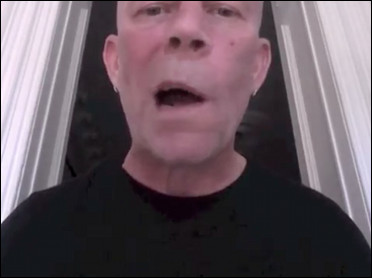 Synth legend Vince Clarke is conducting a pretty unique "synth" competition, namely the first International Synth Gurning Competition. Synth Gurning is defined as the art of producing synth sounds or effects using just the voice whilst pulling a funny face.
The concept for this contest is simple: video yourself making your own synth sound or effect with just your voice. Clarke is also looking for 'interesting facial expression' (gurning), to enhance the performance. Upload the video to YouTube and tweet him (@thecabinstudio) the link before midnight (UK) on August 16th 2013.
Just in case you don't know what this means, you can view a video of Vince Clarke below showing you how to do it.
Clarke will be giving away his own personally autographed, limited-edition, Mute Synth to the best performer, and will sign certificates of distinction for the runners up.
Erasure's Vince Clarke demonstrates the art of 'Synth Gurning' as part of his introduction to The First International Synth Gurning Competition which is currently running on his website here…
http://www.vinceclarkemusic.com/inter…
Korg are now giving away nice little USB stick versions of the microKORG if you purchase a microKORG or microKORG XL+.
And if you are not into KORG stuff, then these may better fit your taste:
http://hiphopdrumsamples.com/collections/flash-drives
In the MooG for Love
Animation film tribute to Legend of Electronic music KLAUS SCHULZE.
Directed by James L. Frachon
These "cut-outs" are faithful counterparts paperboard kits * of some mythical synthezisers which make me dream since ages (I'm almost vintage too !).
I'm still dreaming…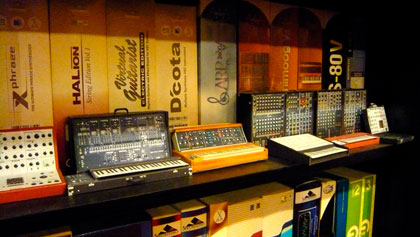 A revised version of David Bowie's Space Oddity, recorded by Commander Chris Hadfield on board the International Space Station.
With thanks to Emm Gryner, Joe Corcoran, Andrew Tidby and Evan Hadfield for all their hard work.
Captioning kindly provided by CHS (www.chs.ca)
Find out more:
Twitter: twitter.com/Cmdr_Hadfield
Facebook: www.facebook.com/AstronautChrisHadfield?
­­fref=ts
Google+: plus.google.com/113978637743265603454/po­­sts/p/pub
Download Strum for FREE for iPhone, iPad, and iPod touch! http://bit.ly/Strum_YT
Turn your life into a music video!
Introducing Strum, a new app that transforms your video into a music video in just seconds. Smule's advanced audio filters automatically compose music to match your video. With over 20 different visual and audio styles, from simple background melodies to outrageous remixes, you will create a unique experience every time. Share your videos with your friends, and follow creative people from all over the world. Each day, discover inspiring new videos from the Strum community.
Check back frequently for new and limited-time filters!
Here's a nice new toy demo from Analog Audio, details below:
Are you tired of cold, digital sounding recordings? The fully analogue QuickShot Studio 4 allows you to bring back the warmth of analogue in your recordings. The Studio 4 contains a great mixing console, a tape recorder, a microphone and very useful effects for the daily studio work…
QuickShot has also produced other high quality studio equipment like the "Sound Machine". This is a similar machine, just instead of the effects it contains a synthesizer ;-).
It came with shoulder straps, microphone and headphones.
As a kid I always wanted it, but nobody wanted to buy it for me… my parents had no clue how important analog recording to me was

"I hooked up a USB bus-powered tiny TV to Piana. Now the little children of Stonehenge can play synthesizers. Or they could if I could find a similarly tiny keyboard."
Needless to say – you cannot actually play it (as we have been informed), but still – pretty nice watch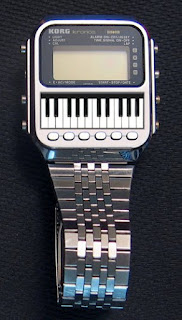 Here's what Aaron Apter has to say about this nice experiment:
"My cat Vincent is actually a synthesizer. A fluffy, orange synthesizer. I'm using Impaktor, which captures Vince's acoustic impulses and uses them to excite various sound modules. With the aid of my iPad, Vinny and I kick out some jams. For more info on my other iOS music ventures, visit www.aaronapter.com"