The bright green, circular building of Mutato Muzika in Los Angeles is easy to spot when cruising down Sunset Boulevard. But most people might not realize it contains the creative hub of Mark Mothersbaugh, a founding member of DEVO turned award-winning Hollywood composer. Famous for his use of the synthesizer, Mothersbaugh has accumulated a vast collection over the years. We had the chance to check out a small selection of Mothersbaugh synths and spent some time talking about the future of music with the prolific artist.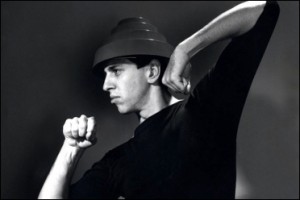 Bob Casale died on February 17th, from conditions that lead to heart failure according to Gerald Casale in a post on Facebook. Born July 14th, 1952 Bob was an original member of Devo. Says Gerald:"Bob Casale was there in the trenches with me from the beginning. He was my level-headed brother, a solid performer and talented audio engineer, always giving more than he got. He was excited about the possibility of Mark Mothersbaugh allowing Devo to play shows again."
Robert Edward Casale Jr. aka Bob was the younger brother to Devo co-creator Gerald Casale. He played guitar, keyboards and bass guitar in the band, and was occasionally background singer in Devo. Trained as a medical radiation technologist, he left the job to join Devo. He was also part of Mutato Muzika, a music production company established in 1989 by Devo co-founder Mark Mothersbaugh.
Rest in peace Bob.
For all us folks who lived through the 80s, Delta has a funny new safety video with tons of references (Atari, the original Teddy Ruxpin and Alf), an inside delta joke (from their last safety video), and none other than Gerald Casale from DEVO!!!
Via Modulate
In this archival clip from May 2010, Mark Mothersbaugh gives us a tour of some of the vintage synths in Mutato Muzika, DEVO's headquarters in L.A.
Mutato Muzika is a music production company established in 1989 by Devo co-founder Mark Mothersbaugh. While Devo members Mark Mothersbaugh, Gerald V. Casale, Bob Mothersbaugh and Bob Casale, with drummer Josh Freese, often meet, rehearse and confer in its West Hollywood studio facilities — Mutato Muzika is, in fact, a full-service music production company.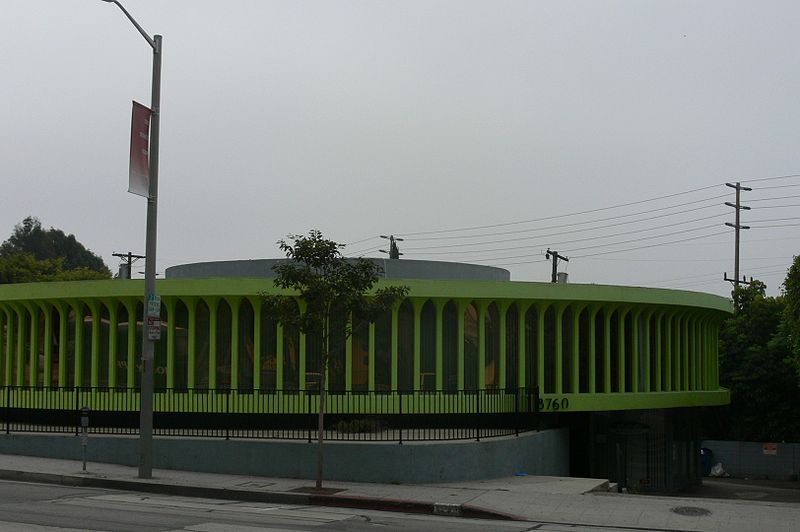 Mutato Muzika has produced music for many films, including Rushmore, The Royal Tenenbaums, The Life Aquatic, Confessions of a Teenage Drama Queen, 13, Lords of Dogtown, Nick and Nora's Infinite Playlist, Cloudy with a Chance of Meatballs, and Catfish. Television music includes Rugrats, Scooby-Doo, Pee-wee's Playhouse, Big Love, Eureka, Shameless, Enlightened and Regular Show. Mutato Muzika-produced video game scores include Crash Bandicoot and Sims. Mutato Muzika also provides music for commercials, including spots for Apple's PC vs. Mac, Martini & Rossi's George Clooney/Giorgio, and Logitech.
Mutato Muzika is housed in a round bright green building on the Sunset Strip in West Hollywood, California.
DevoBots is here. DEVOBOTS is a DEVO-authorized iOS app that is a combination robot maker and synthesizer. Users will be able to create their own DEVO-inspired robot characters from a library of 10,000 robot parts. The designs can be applied to apparel, posters, and other merchandise. The synthesizer app will allow users to create their own music from sounds taken from the DEVO archives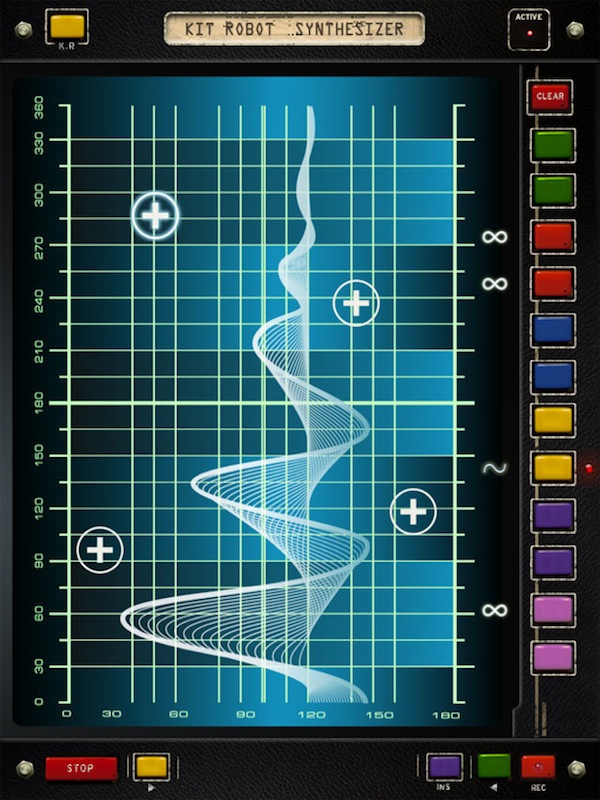 available on iTunes: https://itunes.apple.com/us/app/devob…
Music by Devo from the App DevoBots.
Captured from Facebook


Great album cover by the way
For those of you have not ordered your copy of the recent DEVO September 2012 tour shows recorded by DISCLIVE, they have extended their fall sale for just 48 HOURS so you have a chance to get your DEVO discs at a discount! You will get 15%
This 3-minute preview is the perfect bite-sized length to de-evolve the uninitiated. Produced in cooperation with DEVO, this authorized feature-length documentary has been in development for 3 years. Although the band has been notoriously secretive for nearly 4 decades, they granted us unprecedented full-access to their personal inner-workings and daily lives while on the road, backstage, and at home. Featuring new interviews with contemporaries (Iggy Pop), and fans (Dave Grohl, Tony Hawk), the official film reveals the truth about this important and misunderstood band. From their mysterious origins during the 1970 Kent State shootings to their latest album and tours, this film tells the funny and fascinating story of de-evolution.
This is the first ever DEVO App utilizing one of the most influential bands of the last 40 years. The App includes never-before-heard music and sounds remastered from the DEVO archives that you can use to create new music plus thousands of artistic assets that you can utilize to create your very own DEVOBOT  Robot, digital or Vinyl. This is the DEVO App that fans have been waiting for.
The synthesizer uses original Devo sounds as its main feature. The sounds and music loops used in the app have been remastered from archived DEVO music and sounds that was originally created by DEVO and has been stored in the vaults since the 1980s, AND never heard before. We wanted to bring you a unique selection of sound only found in Devobots, so we spent a lot of time sorting through banks of music to create this. And it won't stop there. Every month or two we will have a new bank of DevoBot sounds available for download at no costs.

Utilizing the buttons available in the Devobot interface, when pressed, the keys will play a loop either once or infinite. You use these in combination to create and record your own music. Other features include a sampler where you can sample your own loop and add it to the existing mix and also Pitch Shift, reverse and volume controls where you can manipulate the sound in real time..

With the synthesizer you can mix up to 12 separate audio parts together while using real time effects to create unique music tracks. You can use the mix as a recording, or play the device in a live session. Using the trackpad you can manipulate the sound by using your fingers to move each sound cross hair around the pad. Each sound can be manipulated in real time, either one by one or up to 5 sounds at a time – or 10 if you have small enough hands. The synthesizer is a powerful tool and can be used as part of any musicians arsenal.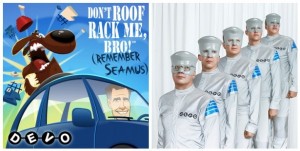 DEVO is taking a swipe at Mitt Romney with a track titled, "Don't Roof Rack, Me Bro! (Remember Seamus)". If you're dodgy on the reference, the forthcoming political anthem revolves around a 1983 incident involving Romney's family dog, a kennel crate, and the roof of their family station wagon.
The track spearheads a new campaign led by Devo founder Gerald V. Casale called Remember Seamus, whose main cause is to "make 2012 the year where animals like Seamus are valued and honesty is praised." It's no surprise then the band's also fully supporting Dogs Against Romney, and is also behind a forthcoming mobile app/game titled, The Crate Escape: Seamus Unleashed. Actually, that last part just has to be surprising.
Fans can look for the track on August 25th via The Orchard. However, the following day, National Dog Day, will see the release of the aforementioned game.
Devo's Jerry Casale wants it to be known that their newest song, "Don't Roof Rack Me, Bro," isn't meant as a partisan statement – even though it viciously mocks Mitt Romney for strapping his Irish Setter, Seamus, to the roof of his car for a 1983 family vacation.

"This isn't a red-state thing or Devo stumping for Obama," he says. "But I think any animal lover that hears the story will learn so much about the character flaw of Romney. It's just a deal-breaker about the man. My God, the world is a scary place with seven billion people. What you want in a leader is a guy with some humanity at his core. I just don't feel that Mitt does."
Produced in cooperation with DEVO, this feature-length documentary has been in development for 3 years. Although the band has been notoriously secretive for nearly 4 decades, they have granted us unprecedented full-access to their personal inner-workings and daily lives while on the road, backstage, and at home. The film is now in post-production, and we need your help to meet our September 2012 goal for Sundance and other festivals.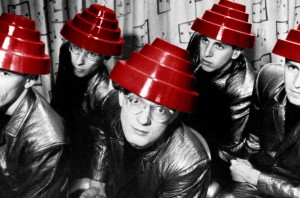 The ARE WE NOT MEN? film delves into the brains — and the souls — behind the concept, music, and spectacle of Devo. Sculpting its music, lyrics and visuals are two men whose personalities seem different but whose worldviews are the same: introspective Mark Mothersbaugh and outspoken Gerald Casale. It is Mark and Jerry's cataclysmic, sometimes contentious, collaboration that birthed what we know as Devo. Rounding out the group are two more members whose position cements the group as a literal band of brothers — Bob Mothersbaugh and Bob Casale. Yes, behind the curtain of this art-school façade are two fascinating and sometimes fractious families, led by Akron, Ohio's twisted version of Lennon & McCartney — with all the genius and precariousness that would imply. It is the stories of these men — together and apart — that drive the engine that is ARE WE NOT MEN?
This is your chance to be a part of the definitive Devo documentary:
 • WHY KICKSTARTER? We're in the process of making the film, but need your help to complete it. That's why we're reaching out to all DEVO fans to lend a hand. In return for your support, we've created some really cool rewards that we think reflects your help in breathing life into this film.
 • STATUS – 95% shot and currently editing. Estimated release date Spring 2013. Help us get this film edited, mixed, and to the festivals!
More info here about the film and how you can contribute >>