Contribute to the world's first DEVO documentary
Produced in cooperation with DEVO, this feature-length documentary has been in development for 3 years. Although the band has been notoriously secretive for nearly 4 decades, they have granted us unprecedented full-access to their personal inner-workings and daily lives while on the road, backstage, and at home. The film is now in post-production, and we need your help to meet our September 2012 goal for Sundance and other festivals.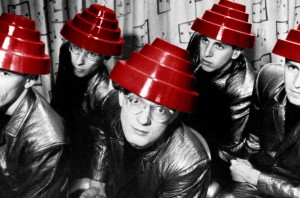 The ARE WE NOT MEN? film delves into the brains — and the souls — behind the concept, music, and spectacle of Devo. Sculpting its music, lyrics and visuals are two men whose personalities seem different but whose worldviews are the same: introspective Mark Mothersbaugh and outspoken Gerald Casale. It is Mark and Jerry's cataclysmic, sometimes contentious, collaboration that birthed what we know as Devo. Rounding out the group are two more members whose position cements the group as a literal band of brothers — Bob Mothersbaugh and Bob Casale. Yes, behind the curtain of this art-school façade are two fascinating and sometimes fractious families, led by Akron, Ohio's twisted version of Lennon & McCartney — with all the genius and precariousness that would imply. It is the stories of these men — together and apart — that drive the engine that is ARE WE NOT MEN?
This is your chance to be a part of the definitive Devo documentary:
 • WHY KICKSTARTER? We're in the process of making the film, but need your help to complete it. That's why we're reaching out to all DEVO fans to lend a hand. In return for your support, we've created some really cool rewards that we think reflects your help in breathing life into this film.
 • STATUS – 95% shot and currently editing. Estimated release date Spring 2013. Help us get this film edited, mixed, and to the festivals!
More info here about the film and how you can contribute >>
Comments